Mothers' Day is just around the corner! Have you got a gift for your momma or grandma friends yet? Why not make those gifts with your kids?
These 12 vases kids can make are the perfect gifts for moms and grandmas for mother's day! Most of these projects only takes one afternoon to make! Gather your scissors, colored papers, and all the fancy art stuff you have lying around, and let's make an afternoon creating these fancy and creative vases for Mothers' Day!
These vases are so beautiful and fun for kids to make! You can use materials as simple as tissue paper roll and plastic bottles to create these fancy-looking vases that will sure put a smile on your mommy friends' faces!
Fancy and Creative Vases Kids Can Make For Mother's Day
1. Decorate Plastic Bottles
If you aren't comfortable letting your kids craft with glass, they can make these gorgeous vases, using plastic bottles by Hands On As We Grow blog!
Totally safe and fun to do, and they can use all the leftover art supplies that you have to create these beautiful vases.
2. Colorful Twines turned into Fancy Glass Jars
Use different colors of twine to make this gorgeous effect, turning normal glass jars into homemade vases by Modern Parents Messy Kids blog.
To learn how to do this adorable craft, check the link above. If you don't have twine materials lying in your house, you can make use of yarn or something similar!
3. Creative Vase Using Wires and Beads
Use wire and beads to make this stunning vase craft by Dukes and Duchesses. Cool, right? Who would think that you can make a fancy vase out of wires?
If you have got older kids or teens in the house, this can take up their afternoon. Knitting with wire isn't as hard as it sounds and it ends up looking beautiful.
4. Turn Regular Drinking Glasses to Beautiful Vases
These colorful vases by Pop Sugar are fun and so simple for kids to make. With your choice of colors these could match any room and will surely be enjoyed by your mom friends.
5. Create Your Mod Podge Vase
This easy mod podge vase by Glue Sticks Blog can add a pop of color to any room. Your kids will definitely love molding the mod podge into a vase and will get their motor skills and energies into good use!
Moms and grandmas alike will love it as a gift!
6. Lego Blocks for Vases? Why Not?
Kids will absolutely love using toys to make this fun gift for mom by Fab Art DIY! Building with blocks has never been quite so fun or ended up so pretty.
Be sure to gather your favorite Lego blocks and get your kids entertained for hours by making this fun and creative vase craft idea!
7. Child's Artwork on a Vase
If you have younger kids, this is a sweet way to make a vase together. This fun vase craft idea by Everyday is an Occasion blog uses your child's latest drawing as inspiration in designing your vase.
What a way to memorialize your kids' artwork by doing this fun and creative vase craft!
8. Fun and Creative Mason Jar Vases
Make quotable vases with this fun mason jar chalkboard idea by We Heart Parties (unavailable). Write a new quote or draw a new design every day for your moms to see!
9. Get Fancy! Paint Your Vase!
Your kids will have fun using paint and wine corks to make this beautiful mother's day vase by Lemon Tree Dwelling (unavailable). It's always fun to make use of easy and simple materials such as paint, in making a beautiful piece of art!
10. Creative Vase Made of Balloon!
They say it only takes 30 seconds to make this fancy and creative vase by Curbly. You'll never believe the vase is made using a balloon! Check the link now to find out how it's made, and be sure to add it to your must-try crafts with your kids!
11. Create a Colorful Vase Using Yarn
Using yarn, your kids can make a fun rainbow vase with this fun idea from My Little 3 and Me Blog (unavailable)! Use all the colors you can find or just alternate with one or two of your child's favorite colors.
12. Upcycled Vase Using Tissue Rolls!
This adorable vase by The Craft Nest (unavailable) is one that can be made on any budget, and will definitely be enjoyed by kids of all ages. When you're done creating the vase, you can even create paper flowers using pipe cleaners and colored papers with beads! So fun!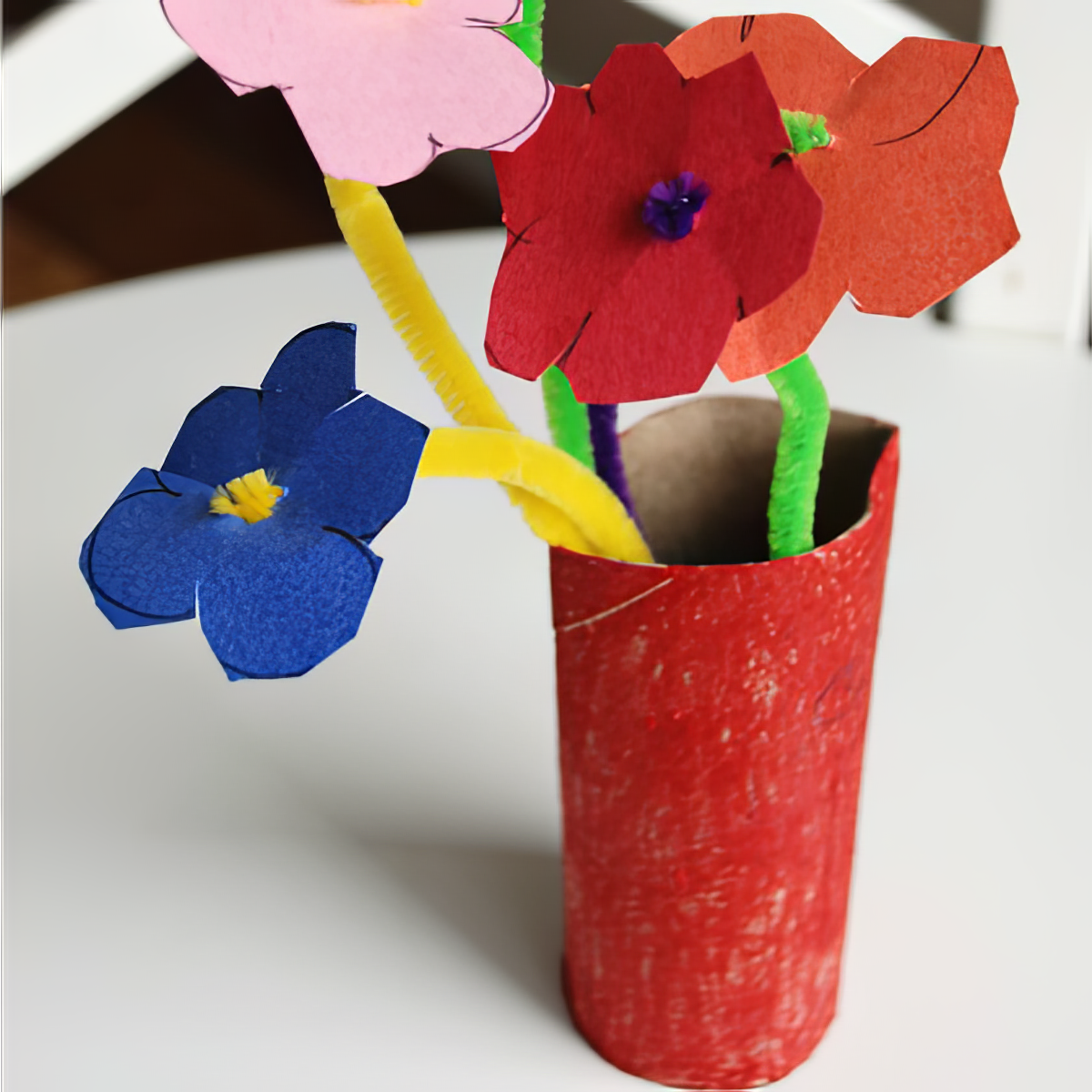 More Fancy and Creative Crafts for Kids of All Ages from Play Ideas
Which fancy vase craft is your favorite?