Why throw away those old plastic bottles when you can recycle them into fun crafts? It's time to dig into the recyclable bin and gather all your plastic bottles!
These 25 plastic bottle crafts for kids of all ages are fun, creative, beautiful, bizarre, and downright awesome!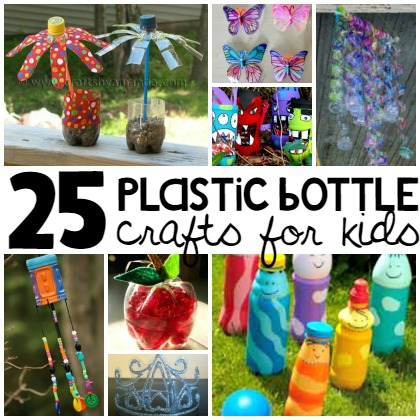 Turn your junk into an afternoon fun that your whole family will love. Happy crafting using all sorts of different type of empty bottles from your recycling bin: empty plastic bottles, water bottles, soda bottles, bottle caps…what fun!
Easy and Fun Plastic Bottle Crafts for Kids
1. Create an Apple Shaped Recycled Container with your kids
Create an awesome apple-shaped container plastic bottle with your kids! While the original link is now unavailable for the step by step tutorial, I love how they the bottom of the bottle from two different clear soda bottles to create the apple shape.
Plus, your kids can make them as gifts for their teacher! Yay!
2. Play Bowling Using Plastic Bottles With Your Kids!
Play Bowling using plastic bottles with the whole gang this afternoon! Our family's favorite backyard fun pastime. See how different plastic bottles from the recycling bin or rescued from the trash were used of all different shapes and sizes:
Find 6 plastic bottles that are similar in size and remove the lid
Spray paint a base coat of different colors to each empty bottle
Add details with a paint and a permanent marker pen
Have so much fun playing a backyard bowling game
Related: Make a plastic bottle bowling game
3. Ride Plastic Bottle Horses with your Kids!
These plastic bottle horses by Tiale Blog are waiting to be ridden by the kids! They're so easy to make that you could easily fill up an entire corral with them. Yee Haw! This is one of my favorite plastic bottle craft ideas!
4. Pretend Play Mini House Platic Bottles
Create adorable mini doll house plastic bottles (instructions unavailable) with your little ones! Who knew playhouses could be made using old plastic bottles? The handles come in handy when you need to relocate! Yay!
5. Grab On These Candy Monster Plastic Bottles with the Kids!
These candy monsters plastic bottles by Craftberry Bush are super cute not to do! These monster bottles are going to nibble your kiddo's fingers if they get too close. Rawr for these scary cute decorations.
6. Let Your Kids Have a Good Sleep With the Glow In The Dark Sleep Time Plastic Bottles!
This is my absolute favorite of all water bottle crafts. Have your child count the stars in this glow-in-the-dark sleep-time plastic sensory bottle great tutorial by Kids Activities Blog! So cool, they'll have a good sleep all night too! Awesome!
7. Create Sparkling Crystal Princess Plastic Bottle Crown For the Little Girls
All you need to make this sparkling princess crystal plastic bottle crown by Paper Plate and Plane is a recycled plastic bottle and some glitter glue. Making little girls like princesses…what a great project!
8. DIY Shrinky Dink Plastic Bottle For The Kids!
Never buy Shrinky Dinks by C is For Craft from the store again once you see this awesome plastic bottle hack! Just follow the tutorial link above with your kids and see the magic. Yay!
9. Make a Glowing Firefly Plastic Bottle Craft With your Kids!
Make a toy insect out of plastic bottles for your kids! Follow this Glowing Firefly Plastic Bottle tutorial by Crafts For all Seasons to see glowing fireflies in no time!
10. Play Catch The Fish Plastic Bottles with Your Kids Today!
Catch the fish plastic bottles by Krokotak teaches hand and eye coordination. A super fun way for your children to have a friendly competition. Yay!
11. Let Your Kids Swim With Those Plastic Water Bottle Fishes!
A true empty water bottle transformation. This water plastic bottle fishes by Meaningful Mama is a fun way to engage your little ones swimming for the first time! Fun!
12. Add Plastic Bottle Flowers To Your Kids Garden Now!
These beautiful and colorful plastic bottle flowers by Crafty By Amanda are made out of recycled plastic bottles! Such a fun rainy day afternoon gardening activity with the kids!
13. Get That Dolly Plastic Bottle Visit The Salon With Your Kids
Grab your glue gun and create a dolly plastic bottle by Handmade Charlotte and have fun styling its hair with your little girls! Follow the tutorial from the link above and decide which hairstyle looks good for her!
14. Awesome Oceans Plastic Bottle With The Kids
Kids will surely marvel at this jellyfish in a plastic bottle by Bhoomplay's Blog! You might end up having trouble convincing them it isn't real instead of plastic bags, water and some food coloring. Genius!
15. DIY Sod Plastic Bottle Jet Pack For the Little Astronaut!
Send your tiny juggernauts blasting off into space with this soda plastic bottle jetpack tutorial by Doodlecraft. Have a blast!
Related: How to make a jetpack
16. Create This Awesome Windsock Koinobori Plastic Bottle Kites With your Kids
Follow and make one of these windsock Koinobori kite plastic bottle tutorials by Childhood 101. Your kids will surely love seeing it flying around in your front yard. It is a great way for kids to practice scissors skills on different materials.
17. Have A Blast Creating This Macaroni Penguin Plastic Bottle Craft with Your Kids
This macaroni penguin Plastic Bottle craft by Parenting Chaos is so easy to make! Your kids will love seeing them come to life. Yay!
18. DIY Milk Jug Butterflies Plastic Bottle Craft for the Kids to Play
These colorful little butterflies are made out of plastic bottle milk jugs by Alpha Mom. Create this together with your kids and fill colors in their room in no time!
19. Have Fun Playing This Water Plastic Bottle Octopus With the Kids!
Create and dress up this water-plastic bottle octopus by Crafts By Amanda together with your kids! How sweet right?
20. Make This DIY Plastic Bottle Piggy Bank For Your Kids
Help your child save for the future and learn about upcycling with this DIY plastic bottle piggy bank tutorial (unavailable). Happy Savings!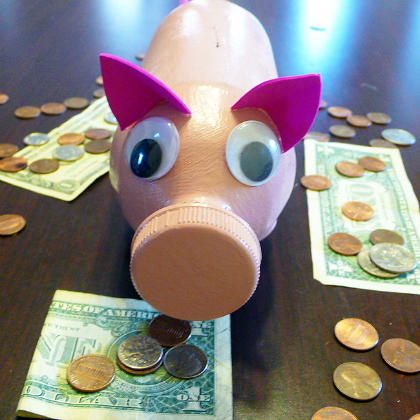 21. Craft This Plastic Bottle Plane For The Boys!
This plastic bottle plane by Inna's Creation will be a sure hit with the little boys! Board this one and take off shortly. Yay!
22. DIY Totem Plastic Bottle Poles To Play With The Kids
Create colorful plastic Totem bottle poles (unavailable) for the kids to play! A great way for kids to express themselves and explore Native American crafts. Awesome!
23. Explore Chihuly Glass Art Plastic Bottles With the Kids!
These Chihuly glass art plastic bottles by Life With Moore Babies will flip, flap, and fly around in the wind. They're super light and will look magical once they get moving. Yay!
24. Make A Plastic Bottle Wind Spinner For the Kids!
Make this plastic bottle wind spinner by Crafts by Amanda together with the kids today! Watch them twirl, and swirl with the wind. Yay!
25. Create Beautiful Wind Chimes Plastic Bottles Craft With the Kids!
Create colorful and beautiful wind chimes plastic bottles by Happy Hooligans with the kids! Hang them around to appreciate the beauty on it!
26. Make Whirligigs from Water Bottles
I love this idea for water bottle crafts from Kids Activities Blog because you don't really even think of it being a water bottle when it is done. You will need a heavier weight plastic drink bottle that is clear and some prisms.
27. Let's Paint with Water Bottles
This easy bottle painting idea is perfect for younger kids like preschoolers and Kindergartners. Use the bottom of a water bottle as a stamp for your floral painting masterpiece.
More Awesome Plastic Bottle Crafts Ideas For Your Kids From Play Ideas
Which of these plastic bottle crafts are you going to make with your kids today?