Why throw away those old plastic bottles when you can recycle them into fun crafts?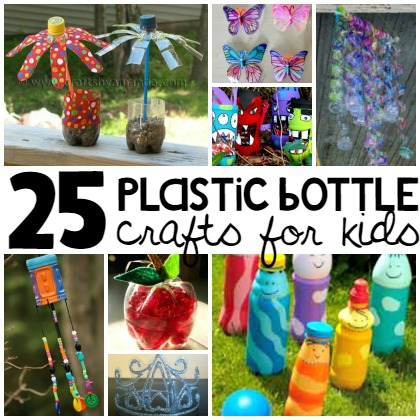 It's time to dig into the recyclable bin and gather all your plastic bottles. These 25 plastic bottle crafts for kids are fun, creative, beautiful, bizarre, and down right awesome. Turn your junk into afternoon fun that your whole family will love. Happy Crafting!
25 Plastic Bottle Crafts for Kids
An apple a day keeps the…recycling bin clear. Plus, you child can make them as gifts for their teacher!
Via Joyful Jewish

Bowling for bottles will be your family's new favorite past time.
Via Good To Know

These bottle horses are raring to be rode. Plus, they're so easy to make that you could easy fill up an entire corral with them. Yee Haw!
Via Tiale Blog
Who knew play houses could be made using old plastic bottles?
Via kisFlanc

These candy monsters are going to nibble your kiddo's fingers if they get too close.
Via Craftberry Bush

Have your child count the stars in this glow-in-the-dark sleep time bottle.
Via Kids Activities Blog

All you need to make this sparkling princess crown is recycled plastic bottle and some glitter glue.
Via Paper, Plate, and Plane

Never buy Shrinky Dinks from the store again once you see this awesome plastic bottle hack.
Via C Is For Craft

Fireflies are always in season with this adorable glowing firefly bottle.
Via Crafts For All Seasons

Catch the fish teaches hand/eye coordination and is a super fun way for your children to have a friendly competition.
Via Krokotak

This bottle fish will be swimming fun for your young crafters.
Via Meaningful Mama

These flowers are made out of recycled plastic bottles and would be such a fun rainy day afternoon gardening activity.
Via Crafts By Amanda

This hairstyle doll comes with a compete DIY tutorial including how to shorten her hair without cutting.
Via Handmade Charlotte

Your children will marvel at this jellyfish in a bottle and you might have trouble convincing them it isn't real.
Via Bhoomplay's Blog

Send your tiny juggernauts blasting off into space with this soda bottle jetpack.
Via Doodlecraft

This windsock is inspired by Koinobori kites and you and your kids will love seeing it flying around in your front yard.
Via Childhood 101

Macaroni penguin is easy to make and your kids will love seeing him come to life.
Via Parenting Chaos

These little butterflies are made out of milk jugs. You and your children could create a roomful in no time.
Via Alpha Mom

How sweet is this plastic bottle octopus?
Via Crafts By Amanda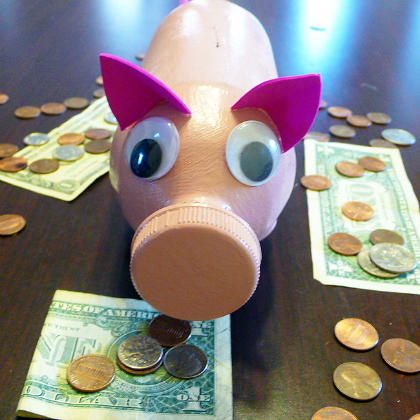 Help your child save for the future and learn about upcycling with this DIY plastic bottle piggy bank.
Via We Made That

The plastic bottle plane is now boarded and will be taking off shortly…
Via Inna's Creations

Totem poles are a great way for your child to express themselves and explore Native American crafts.
Via Ziggity Zoom

These plastic bottle whirly-gigs will flip, flap, and fly around in the wind. They're super light-weight and will look magical once they get moving.
Via Life With Moore Babies

The wind will swirl and twirl this wind spinner around and around.
Via Crafts By Amanda

DIY wind chimes are fun to make and your kids will love showing them off to all their friends.
Via Happy Hooligans