Have you got those fuzzy pipe cleaners lying around the house? Let today be the day that you finally use it and make these easy pipe cleaner crafts.
Today we'll show you some fun and cool ways on how you can make cool crafts from pipe cleaners! Be sure to gather your kids for an afternoon of fun play using only your pipe cleaners!
DIY Pipe Cleaners are your next best friend when it comes to fun afternoon play with the kids! You can use them in so many ways that it's almost impossible to run out of new ideas!
Here are just 25 pipe cleaner craft ideas that you can do with your kids using pipe cleaners, some leftover scrap materials, your imagination, and desire to have fun!
Creative and Cool DIY Crafts from Pipe Cleaners for Kids' Activities
1. Decorate and Disguise Your Entire Head with Pipe Cleaners!
You can try creating so many costumes and disguises made with pipe cleaners by Kids Activities Blog! The options are endless, as long as you're in for fun! Buy pipe cleaners in your nearest craft store or dollar store now!
2. Create a 3D Cat with Cardboard and Pipe Cleaners
Learn how to make a 3D Cat using cardboard, paint, pipe cleaners and glue! We love these colorful whiskers pipe cleaner activity that your kids will surely enjoy and will have a blast!
3. Pretend to Play "Frozen" with Pipe Cleaners as Snowflakes
Here's a fun and easy way to make pipe cleaner snowflakes that look really frosty by Kids Activites Blog! You can pretend to play and act the Frozen movie with these snowflakes as your background!
While you're at it, you can also teach your kids a lot along the way about how different things react when combined. Afterwards, you can use it as your garland for your Christmas trees.
4. Use Pipe Cleaners for Learning Sight Words
This super fun busy bag activity by Mama Miss blog is surely for keeps! Teach your toddlers and preschoolers how to lace letters onto pipe cleaners to spell out sight words!
5. Make Beaded Bracelets Crafts with Pasta and Pipe Cleaners
If your kids are all about jewelry, take note to make these adorable beaded pasta bracelets by Mama Miss blog! First work on sorting the rainbow colors, and then creating the jewelry!
It can be a fun way to teach them about colors, sizes, and shapes as well! It would also be a great gift idea to your friends!
6. Make Colorful Headband Crafts Out of Pipe Cleaners
What an adorable way to spend your afternoon than designing your own headbands with your kids! Try these colorful patterns and designs on your headbands using pipe cleaners by Picklebums!
7. Cool Pipe Cleaner Loops Crafts
Want to get extra crafty? Have fun getting crafty with your kids by doing this pipe cleaner loops activity by Tinkerlab!
You can thread the pipe cleaners through the papers and create your own designs and shapes. Your imagination is the only limit here! Gather your craft supplies and be as creative as you want with your kids.
8. Adorable Flower Decorations with Pipe Cleaners as Stems
Need an additional accessory to your tea party set with your kids? This could be one of your next DIY craft projects!
Use painted coffee filters and pipe cleaners to make these adorable flowers by Tinkerlab!
9. Enjoy Playing Doll House with Pipe Cleaners for Dolls
Enjoy this fun and easy DIY activity with your kids today! Create a family or extra character for your kids' doll house using pipe cleaners and felt by Tinkerlab!
The bendable cleaners make perfectly pose-able arms and legs!
10. Create Your Own Pet Monster Craft with Pipe Cleaners
If your kids are all crazy about getting a pet, why not DIY a pet monster for them? This DIY pipe cleaner pet monster activity by Not Just Cute blog is your best bet!
Using things you probably already have on hand like googly eye, tooth pick and clay you can make your own crazy designs that the kids will love!
11. Create a Community Using Pipe Cleaners!
Ditch the paper dolls and make way for these cool and easy to make pipe cleaner dolls by Red Ted Art blog! Make these sweet little pipe cleaner people, build them a house, and give them a name, and now you're ready to join the Pipe Cleaner community with your kids!
I love the twist of their idea of turning these pipe cleaner people into elves! So magical and fun!
12. Recycle and DIY Used Toilet Paper Rolls and Pipe Cleaners
Put those used toilet paper rolls to good use! Make these fun monsters craft activity by Red Ted Art blog. You can be creative and decorate them to reflect your kids' personality! It will totally put a smile on your kids' faces!
13. DIY Empty Sprinkles Container for Pipe Cleaner Activity
This easy DIY pipe cleaner activity by Hands On As We Grow blog can help your kids exercise their fine motor skills. And it's pretty economical too, since we are only reusing old purchases!
Use an empty sprinkle or spice container and let kiddos push the pipe cleaners through the holes. It can keep them busy for hours!
14. Make Your Own Paintbrushes with Pipe Cleaners
DIY your way into a colorful afternoon by doing your own pipe cleaner paintbrushes by Teach Preschool blog.
It's always fun to use new things to paint! It helps your kids to explore different textures and materials in creating their own.
15. DIY Easy Pipe Cleaner Bead Maze Craft
Make your own easy and fun bead maze using pipe cleaners by Teach Preschool. This activity can help your toddlers and preschoolers with fine motor skills and can keep your little ones entertained for hours!
16. Fuzzy Pipe Cleaner Bookmark Craft
Do you have a little bookworm in your family? If so, this could be the best DIY activity to add to your list.
Make this adorable flower bookmark craft by Your Modern Family to keep spots in books! These bookmarks will surely be approved by your little bookworm! It is also a great gift idea for Valentines.
17. Colorful and Fancy Tye Dye Butterflies with Pipe Cleaners
Make these gorgeous and super easy to make tye dye butterflies by Your Modern Family.
All you need to do for this fun craft with your kids are a couple of pipe cleaners, clothes pins and coffee filters! Click the link above and follow the instructions to enjoy this DIY activity with your kids.
18. DIY Spider Pipe Cleaner Craft
This fun and fabulous spider puppet with pipe cleaners for legs by Lalymom is so awesome your kids might want to make some more!
So much fun to stick fingers through the front as well.
19. Fun Wiggly Snakes Using Beads and Pipe Cleaners
Are your kids lover of snakes? Make your snakes less terrifying by doing this wiggling snakes activity by Frugal Fun For Boys blog.
All you will need to create this fun and easy DIY craft are a couple of pipe cleaners and leftover jewelry beads.
20. Fun and Easy Kids' Wearable Glasses Made of Pipe Cleaner
If you are planning for an afternoon of pretend play with your kids, be sure to make these fun and wearable pipe cleaner glasses (unavailable) by Meet the Dubiens!
You might have to stock up on the neon-colored pipe cleaners because they are the BEST!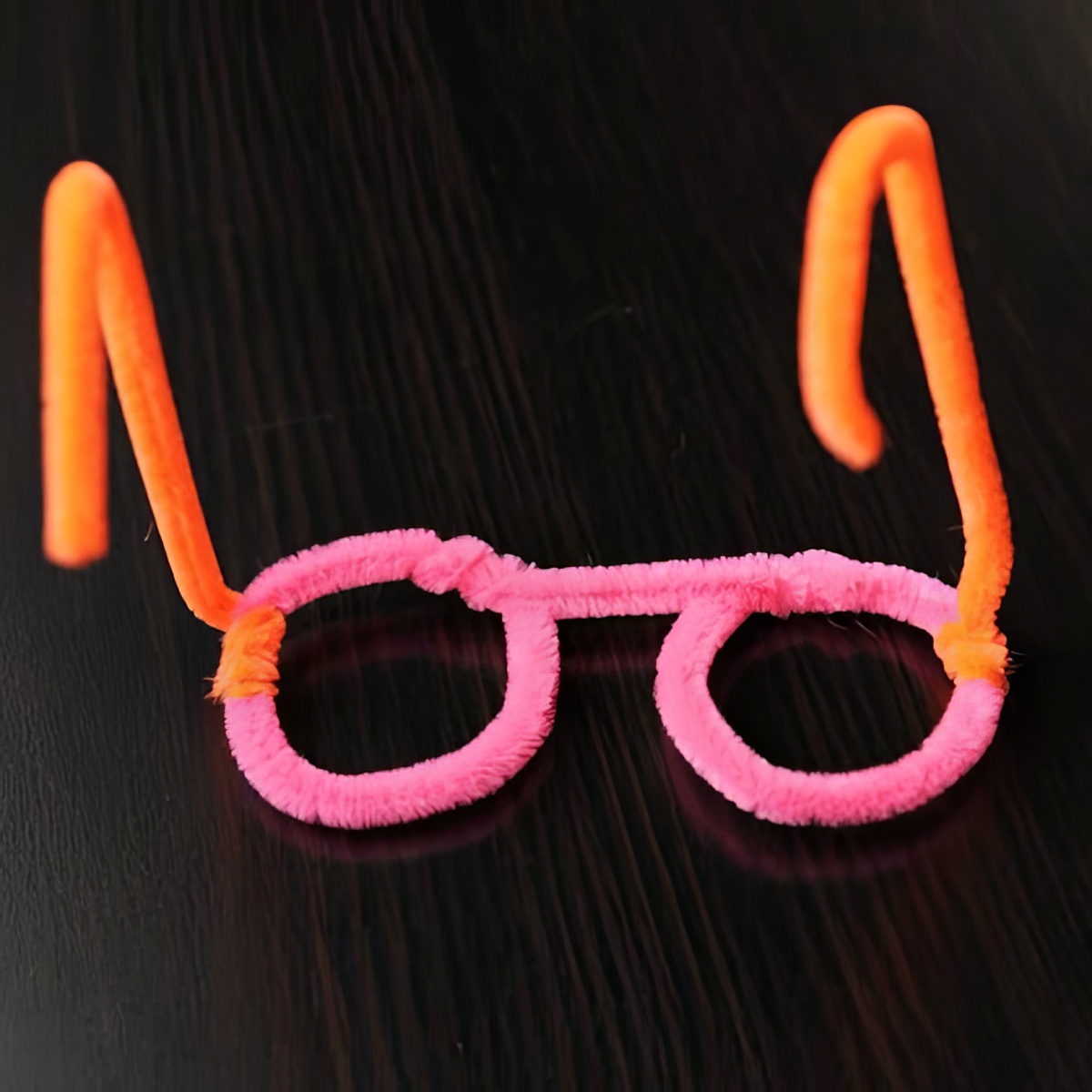 21. Adorable and Fancy Pipe Cleaner Finger Puppets Craft
Nothing is more fun than DIY finger puppets! Play for hours with your kids using these adorable finger puppets by One Little Project blog!
They are so easy to make and the designs are limitless! Enjoy getting crafty with your kids with this fun DIY activity.
22. Magnets, Pipe Cleaners and Empty Bottles for Science Experiment
If you are looking for fun and easy Science experiments to teach your kids about magnetism, this is IT!
Use magnets and an empty bottle to play with pipe cleaners with this activity by Frugal Fun for Boys blog. Be amazed with your kids as they watch the pipe cleaners move!
23. Fun DIY Tiara with Beads and Pipe Cleaners
DIY your princes and princesses' crowns and tiaras by doing this fun and easy homemade tiara tutorial by Be a Fun Mom blog.
Take out all your royal costumes to go with their fancy crowns!
24. Create a Ninja Squad with Pipe Cleaners!
This team of ninjas craft activity by Frugal Fun for Boys will surely be kid-approved! All you need for this fun and easy activity are a couple of pipe cleaners, drinking straws, and beads to make your ninja faces!
You can enjoy an afternoon of playing with your kids and their ninja pipe cleaners!
25 Pipe Cleaner Critters with Wiggly Eyes
Make these fun DIY critters from pipe cleaners by Mom Trusted blog. Use wiggly eyes and add other materials to make them more fun and fancy!
The wiggly eyes make this little critter cute and less terrifying!
More Easy and Fun Pipe Cleaners and DIY Projects Play Ideas
What is at the top of your Pipe Cleaner activity list?