As the famous saying goes, "Start them young". These pasta play ideas are so fun and crafty, your toddlers are going to flip their noodles!
Check out these 25 fun ways to harness your toddlers creativity and work on their fine motor skills. Not only will pasta play activities keep your toddlers busy, you'll only have little to no mess to worry about.
Toddlers love to put things in their mouths…they can't help it! That's why pasta play is so fun for those busy little kiddos. Make use of the pasta inventory that's been sitting too long in your cupboard so they're not completely going to waste!
Stack 'em, string 'em, eat 'em, no matter how you serve them, these 25 Pasta Play Ideas for Toddlers are sure to please.
Fun Pasta Play Ideas For Your Toddlers to Enjoy
1. Build Cute Houses with Pasta and Playdough
Your toddler engineer can make impressive structures using this pasta and playdough play idea by Kids Play Box. Just you watch your toddler engineers go! Not to mention all that vibrant colors at play. A pasta-built structure has never been this cute!
2. Felt Lasagna to the Rescue
This felt lasagna by And Next Comes L is fun cooking play without the mess! Your soon-to-be chef will have the best sensory play experience possible by assembling pasta-shaped lasagna ingredients with just some colored felt as materials.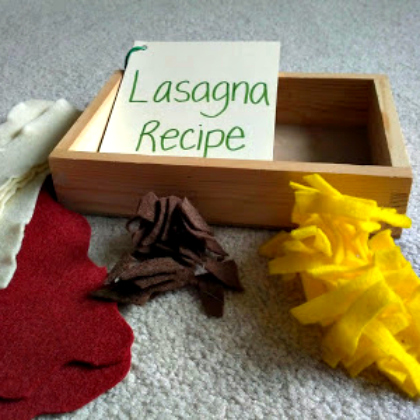 3. Use Felt to Make Tortellini for Pasta Playtime
Felt tortellini by Best Toys For Toddler is perfect pasta fun for those gluten-free toddlers. Besides, if thinking outside the box can be learned at a very early age, I don't see why not! Also, it's amazing what felt can do, right?
4. Count with Pasta
Noodle counting by Cheap Crafty Mama (unavailable) is as easy as 1-2-3. In fact, counting is the idea. Just grab a piece of paper and add in the numbers for your toddler to match with some bow-tie pasta.
5. Noodle Pasta Bath
Splish, splash! I want to get in on this pasta bath by Growing a Jeweled Rose (unavailable)! Such a great toddler activity involving pasta play with little to no effort. Just dye and cook and your little one will be enjoying in no time.
6. 3D Pasta and Paper Collage
This pasta and paper collage by No Time For Flashcards is floaty, 3D fun! The best part is, the sky is the limit. Paper and pasta can do wonders when imagination is at play. Grab your construction paper in different colors, bow tie pasta, markers, glue, and you're all set!
7. Develop Fine Motor Skills With Pasta
Stack beads on pasta sticks courtesy of Happy Hooligans with this fun fine motor development play. Apart from your discarded pasta sticks being upcycled, you'll be sure they never feel so dull again. Just watch your toddler make magic!
8. Learn to Measure with Pasta Shells
Measure your fun in shells with this pasta bin by Mumma Made It. Just scoop, pour and repeat! Make sure to notice their efforts. Little spillage is a milestone!
9. Colorful Bracelet Made of Pasta
Your toddlers are going to love making this pasta bracelet by Kiwi Crate (unavailable)! It's everything you need and more. No bracelet shall ever be dull in your eyes and your toddlers' cute little hands.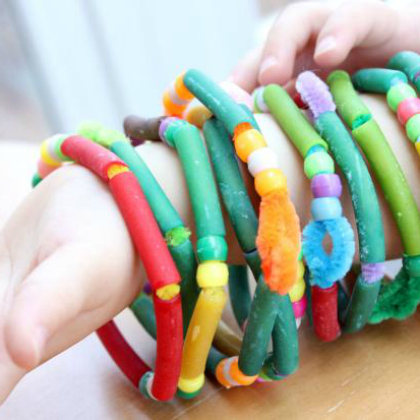 10. Count with Pasta on a Stick
These pasta counting sticks by The Mommy Talks (unavailable) are the kind of fun your toddlers can count on. There's much to be done with pasta and popsicle as far as basic counting is involved.
11. Paleontology Lesson With Dinosaur Pasta
Build your own pasta dinosaur skeletons courtesy of 123 Homeschool 4 Me. No excavation required, just a whole lot of fun and learning about dinosaurs and pasta!
12. Pasta Play Picture Frames
Pasta picture frames by Ceres Childcare are a right of passage for every toddler…and toddler parent. Who doesn't want to upcycle pasta as a design element on a popsicle stick picture frame?
13. Pasta Necklace With Matching Bracelet
This pasta necklace and matching bracelet by Reasons To Skip The Housework are perfect for toddlers who accessorize everything. Imagine all the creative juices flowing. And those colors are divine…perfect for matching outfits!
14. Play with Pasta in a Bottle
Shake, shake, shake up your pasta courtesy of In The Playroom! Get your toddler to enjoy home-made musical shakes for speech and language development. All you need is a bottle and some pasta shells.
15. Use Curly Pasta for Drawings
This pasta princess by Always Something to Learn (unavailable) is perfect for your precious princess toddlers. With a simple doodle on a piece of paper, toddlers can create another dimension with some curly pasta.
16. Sea Explorer Mode Using Pasta
Explore this sea of pasta by Growing a Jeweled Rose (unavailable) to find all sorts of fun treasures! Dyed cooked noodles in true ocean fashion is a great way to set the exploration scene and get those sensory skills to work.
17. Sort Colors and Sizes With Pasta
Pasta sorting and stringing by The Rigneys can teach color and shape recognition. By the looks of it, this pasta play idea could encourage organizational skills that could later on be helpful in your toddlers' developmental stages.
18. Thread Some Colorful Pasta
Make shapes right out of a book with this fun pasta threading by The Connection We Share (unavailable) where all you need are a few sticks, a Styrofoam as base and different colors and shapes of pasta to thread.
19. Rainbow-Inspired Pasta Craft
This colorful pasta rainbow by Teaching Mama is sure to brighten your day with varied shapes of pasta glued on a construction paper and fluffs of cotton on each end of the rainbow. Very few ingredients for lotsa pasta playtime fun!
20. Pasta Play in Penne Necklace Fashion
Toddlers can work on their fine motor skills while they make this beautiful pasta necklace by Nurture Store using bright and happy rainbow pattern penne pasta.
21. Spelling Bee The Pasta Play Way
Know what cooked spaghetti spells? F-U-N. I Can Teach My Child's cooked spaghetti play activity (unavailable) shows spelling as an easy and interactive feat with cooked spaghetti. Start with your toddlers' names and work your way up!
22. Spaghetti Pasta Towers
Reach for the sky with these spaghetti towers by Pre-School Play using playdough as base for uncooked spaghetti as a frame for toddler-friendly pasta towers. Watch your toddlers go as high as possible!
23. Learn Threading Through Pasta
Keep little hands busy by threading pasta courtesy of Kidspot. Threading pasta is a sure-fire way to put those motor skills to work while you sit back and enjoy the progress your toddlers are making!
24. Pasta in Tin Foil
Tin foil pasta by Lessons Learnt Journal is snazzy, fun pasta play and a great alternative to dyeing with no drying time required!
25. Under The Sea With Squid Pasta
After all that pasta play, kids will be excited to sit down to this squid lunch by Ever Never Again complete with squid dogs sporting noodle tentacles, and some ketchup and mustard to complete the scene!
More Fun Toddler Activities From Play Ideas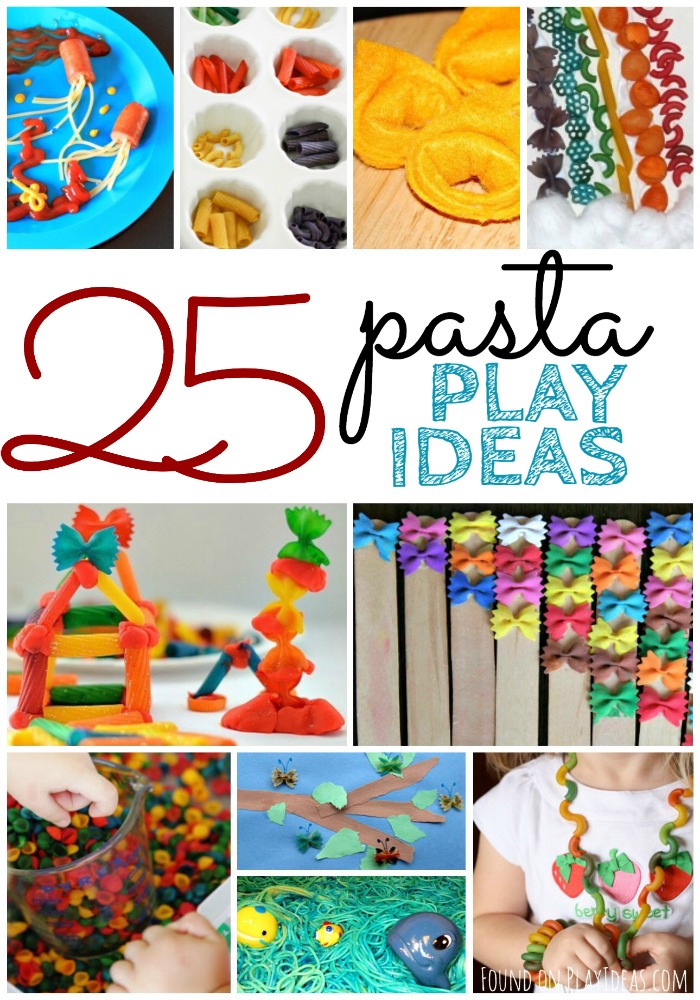 Which pasta play idea do you think you'll toddler will enjoy?