Looking for some fun, mess-free crafts for your toddler? You've come to the right place! We've collected 17 of our favorite crafts that are both engaging and easy to clean up. From finger painting in a bag to creating colorful contact paper window art, your toddler will have a blast with these simple crafts.
No-Mess Arts and Crafts for Toddlers and Preschoolers
Take a look at these terrific crafts that are both fun and mess-free! Which one do you plan on making first?
1. No-Mess Finger Painting
Finger painting is lots of fun, but sometimes you may not want to deal with the mess. Try no-mess finger painting instead. This activity from Kids Activities Blog is great for keeping toddlers and preschoolers busy and engaged, especially for children who don't enjoy getting their hands messy. Instead, they can squish, trace letters, and draw shapes right on the bag to see the print in the paint. Plus, you can create some colorful and fun art this way.
2. Colorful Window Art
Add some fun and color to your playroom or any room with this colorful window art idea from Teaching 2 and 3-Year-Olds. This activity strengthens fine motor skills and just looks stunning when the light shines through! Plus, it's really easy to set up using sticky contact paper and tissue paper cut into circles, squares, and other shapes.
3. Mess Free Leaf Painting
When fall comes around, try this beautiful mess-free sensory autumn leaf painting from Kids' Craft Room. It's a fun way to explore the changing colors of the seasons, especially with blending and mixing those colors.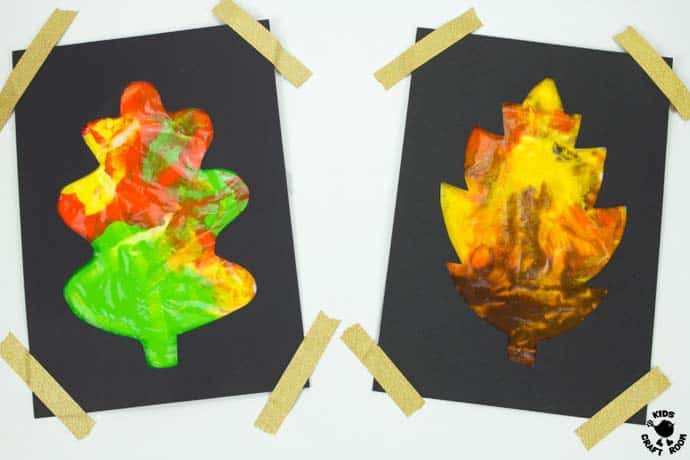 4. Shoe Box Easel and Baby's First Painting
Instead of the high chair, set your baby or toddler up on the floor with this cool shoe box easel and mess-free painting activity from Hello, Wonderful. The paint and paper are contained in a big zip-top bag to prevent any spills. Plus, the easel gives baby a different perspective than "painting" on the tabletop.
5. Paint-Less Watercolor Art
Did you know you can create watercolor art without paint? It's really easy, too! Just grab washable markers, some paper, and a spray bottle filled with water. By spraying your design with water, the colors fade and spread, creating a watercolor effect. Plus, you can put it all in a bag, as you see at Team Cartwright, to eliminate any water mess.
6. Tape Resist Monogram
Kwik Stix are paint markers that are much easier (and less messy) than using a paint and paintbrush. Make a design on the paper using masking tape first, and then let your toddler color over the page with the paint sticks. When you peel the tape off, the design will be nice and clean underneath. This tape resist monogram from The Soccer Mom Blog is great for making a fun piece of décor for your child's room.
7. Mess-Free Bubble Wrap Painting
This mess-free bubble wrap painting follows a similar idea. This time, your child will push down on the air bubbles within the bubble wrap, creating a dotted print with the paint underneath. What a fun activity from Hello, Wonderful!
8. No-Mess Rainbow Art
Use a rainbow of colors to make some no-mess rainbow art with your kiddo. Use the beautiful rainbow prints to create handmade cards like these from Messy Little Monster to send to your family and friends. The heart cards are gorgeous and are perfect for Valentine's Day or any day you'd like to show a little extra love.
9. Mess-Free Valentines
Nothing is prettier than pretty pink colors for Valentine's Day. Add a lacy heart doily to the mix, and you've got the perfect base for a gorgeous valentine. The paint is smeared all over paper inside a bag, and the heart doily is applied to the front, along with some gold stickers. Isn't this mess-free valentine from Glitter Inc. lovely?
10. Shake It Up Painting
No zip-top bags on hand? No problem! Just try shake it up painting instead. This activity from Sunny Day Family is a fun way to both get the kids moving and create some colorful art.
11. Mess-Free Window Painting
Add a few paint splats to a large zip-top bag, and tape it to a window for a new art experience. Kids will love mixing the colors and drawing designs in the paint while they can look outside with this mess-free window painting idea from Laughing Kids Learn.
12. Marshmallow Squish Painting
Life is just more fun with marshmallows! Kids will have a blast squishing and rolling them around inside the bag for this cool marshmallow squish activity from Steam Powered Family. It's especially important to keep the bag sealed well so your little one doesn't taste one! If this is a concern for you, though, instead of paint, add chocolate syrup or something edible to the bag instead.
13. Shark Window Art
You'll love this shark window art from Buggy and Buddy for summer, especially during Shark Week or after a fun trip to the beach. You'll need various shades of blue tissue paper, contact paper, and black construction paper to set it up. It only takes a few minutes and looks super cool!
14. Mess-Free Pumpkin Painting
Here's another terrific toddler art project for fall! This no-mess pumpkin painting by Life Over C's involves making a pumpkin cutout and applying it over the bag with a bit of orange paint inside. When your child works and smears the paint, the pumpkin gets filled in with color.
15. No Mess Painted Butterfly
Celebrate spring or summer with a no-mess painted butterfly craft from Kids Activities Blog. You don't even need to pull paint-covered paper from the bag—the paint-filled bag serves as the butterfly's wings with a simple pipe cleaner to create the body and antennae.
16. Cling Film Art
Turn cling film art into the backdrop for some silhouette cutouts. The sunset project from Arty Crafty Kids is our favorite, but the ocean backdrop for the fish is pretty neat, too.
17. Nature Suncatcher
Finally, this project works well for spring, summer, and fall. Go for a walk (or to your backyard) to gather materials like flower petals, leaves, or grass to add to a nature suncatcher made with contact paper and popsicle sticks. This activity from Messy Little Monster is a wonderful way to preserve some memories together!
These 17 mess-free crafts are perfect for little hands. Plus, they're super cute. What's not to love? Be sure to pin this post so you have it handy when you're ready to get crafty.
More Toddler Craft Ideas: