Got a nature-loving kid? Nature has a unique way of teaching kids! If your kids are such nature lovers, these creative and easy leaf crafts and activities are for them!
Autumn is a lovely season, so make the most out of the fall leaves outside. These fall leaf crafts are loaded with variety of inspiration, from decorations to making garland out of dried real leaves, to leaf painting to wall art, to learning math! Excited? We are too!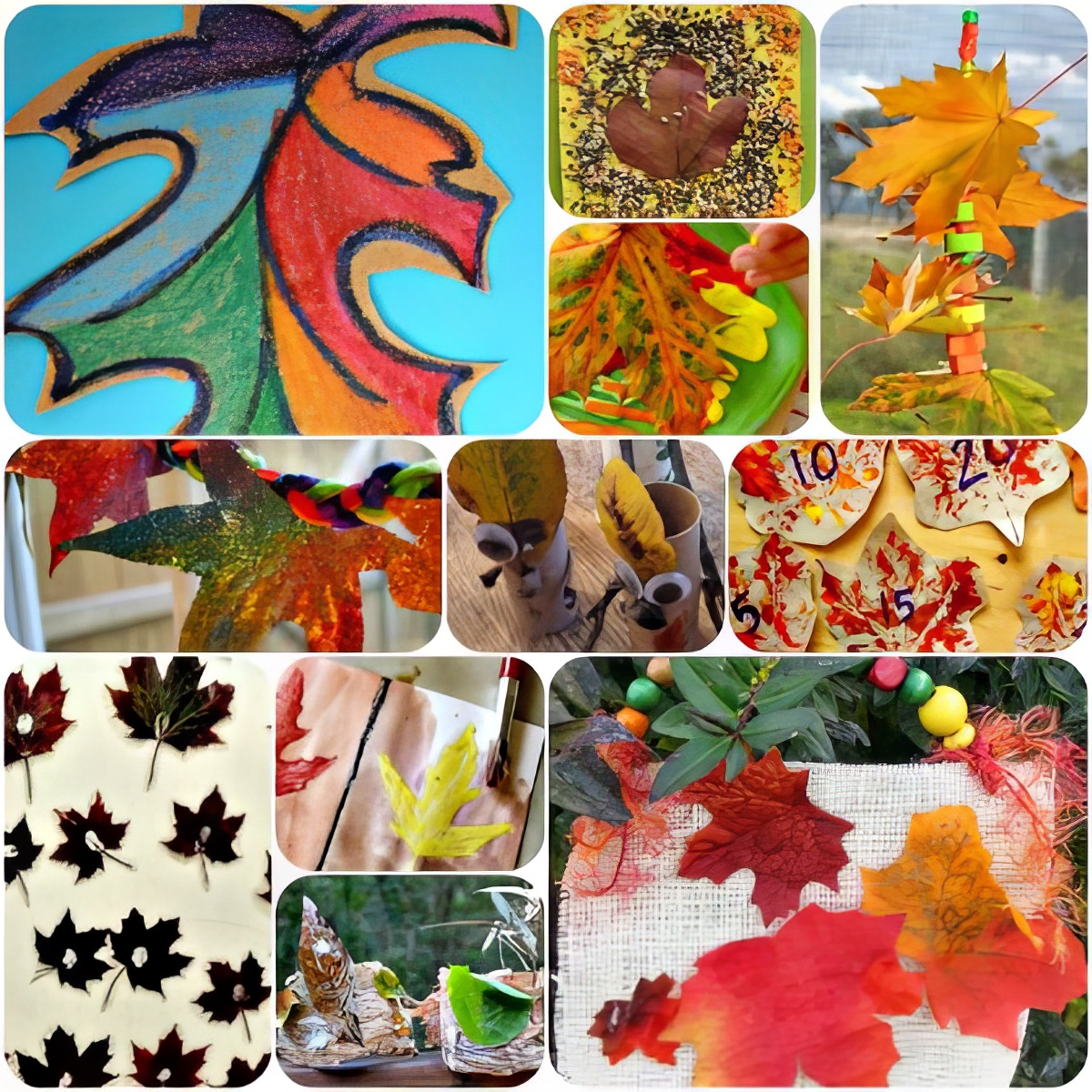 Kids will love playing with nature with these activities!
Fun and Easy Leaf Crafts Kids can Make this Autumn
1. Create a Warhol Leaf Craft!
Your kid will surely love to make a Warhol-inspired leaf craft with this adorable and creative tutorial from Kids Activities Blog! The fall season is the best time to do this!
2. Make a Colorful and Creative Leaf Wall Hanging!
It's time to get to the kids craft room. You and your kids will fall in love while making gorgeous art fall collage to put on the wall! Gather some autumn leaves and try this creative leaf wall hangings activity by Things to Share and Remember!
3. Colorful Leaf Prints for Your Kids!
Use paint and leaves to make this colorful and gorgeous fall wreath hang on the door. The kids will love this activity from Kids Activities Blog! They will be so proud to have made it themselves! Easy Peasy.
4. Help out and Create this Popsicle Sticks Rake!
Kids love the autumn season! Save some foliage and turn them into a fun fall craft. Make this creative rake craft from Kids Activities Blog using leaves and popsicle sticks! Who knows, they'll love raking dried leaves in the yard one day!
5. Try this Creative Sandpaper Leaf Coloring Craft!
Your kids will learn about the autumn season and tactile sensations with this activity! We're loving the texture that the sandpaper adds to this fun coloring leaf art craft (unavailable) from Pink and Green Mama! Perfect for preschoolers.
6. Leaf Crafts + Math = Fun!
Who knew Math and autumn can be perfect together? Use maple leaves or any artificial leaves to create fun ways to learn numbers. Your kids will love to learn math with leaves using this super fun tutorial and game from Kids Activities Blog!
7. More Creative Nature Crafts with Leaves and Seeds!
Nature will never run out of creativity! Looking for an art project using leaves for older kids? Their creative minds will love these leaves and seeds craft ideas from Kids Activities Blog. Fantastic fun!
8. Double the Creative Fun with These Leaf People Crafts!
Your kids will surely fall in love with these leaf people activities from Play Dr. Hutch! Create these adorable people out of tissue rolls, googly eyes and leaves using this super fun idea. Just a small help from mom, of course.
9. Create these Colorful Glitter Leaves with your Kids!
Perfect for decorating or just plain fun, your kids will fall in love with these glitter leaves craft ideas (unavailable) from Pink and Green Mama! Add life to the room with these creative decors made by your kids!
10. Practice Motor Skills with this Creative Leaf Threading!
Put your kids' fine motor skills to good work with this creative leaf threading activity from Picklebums! Use the craft to make hangings or necklaces!
11. Have Creative Leaf Kings and Queens Crafts!
Your kids will surely love making these creative leaf crown crafts! This idea from Mother Natured will definitely show the inner kings and queens in your kids!
12. Try this Creative and Fun Leaf Maze!
For a fun family activity, try this leaf maze activity from Mama Papa Buba. You can try it in the dark for a more fun experience! You and your kids will surely love it!
13. Creative and Fun Leaf Ref Magnets
Make your very own creative leaf magnets with your kids for the fridge with this simple DIY tutorial from Glittering Muffins! Your kids will love to see their own creations!
Moree Fun and Creative Crafts on Play Ideas!
What creative leaf crafts and activities are you doing with your kids today?