If you're like us, you're scrambling to come up with costumes for your kids at the last minute. Never fear—we've got 16 ideas that'll have your children looking spook-tacular this Halloween. From awesome animals to cute cardboard costumes, there's something here for all abilities and budgets.
Easy Last Minute Kid Costumes
Browse through these lazy and last-minute costumes and get inspired. Your child will love dressing up in a unique costume for Halloween this year!
1. Cardboard Emoji Costumes
It doesn't get much more affordable than cardboard! Use an old box or grab some poster board from the Dollar Store to make these cute and fun emoji costumes from Hello Wonderful. It's a cheap idea for the whole family. Paint your favorite emoji faces on each of them. We're partial to the heart eyes emoji.
2. Easy Cat Costume
Looking for a cat costume that's easy, cozy, and super affordable? Try this one from 5 Minutes for Mom! You'll need some faux fur or plush fabric, a headband, some bendable wire (like floral wire), and a needle and thread. But don't worry—you don't need to be a pro at sewing to make it. Add a black nose and whiskers, and your kid will be ready for a purr-fect night of Trick-or-Treating.
3. UPS Delivery Costume
Does your kiddo dream of being a UPS delivery driver? This UPS costume from Moms and Crafters is super easy to make using a brown collared shirt, a brown hat, and UPS badges made out of brown and yellow felt. All that's left is for your child to grab a lightweight box to complete the look.
4. Duct Tape Skeleton Costume
Find a plain black shirt and black pants, and you have the perfect backdrop for a skeleton costume. Use duct tape to create the "bones" of the skeleton. Glow-in-the-dark duct tape is even better. This idea from Crafts by Amanda is the perfect costume for kids who don't like to wear masks.
5. Shower Pouf Costume
All you need is a lot of tulle, a piece of rope, and some elastic to make a fun and colorful shower pouf costume. Get all the details from Crafts by Amanda. If you have more than one child, another could dress up as a rubber ducky!
6. Halloween Bride Costume
Red Ted Art's Halloween bride costume is easy enough for kids to make themselves. It's really affordable, too. Can you believe the veil, bows, and skirt are made with strips of trash bags?
7. DIY Jellyfish Costume
Turn an umbrella and ribbon into a simple DIY jellyfish costume. Find out how from Hello Wonderful. It's the perfect costume for your budding marine biologist.
8. No Sew Bird Costume
Grab a long, fluffy feather boa to construct this cute no-sew bird costume from Fantastic Fun and Learning for your toddler. With a black outfit underneath and the long boa wrapped around like a shrug, it comes together in no time. Even the headpiece is easy to make!
9. Sneetches Costume
Make a pair of sneetches costumes using these instructions from Organized 31 in under 20 minutes. All you need are some yellow t-shirts, white fabric, green felt, and green pipe cleaners to pull them together quickly. Wearing yellow pants would help, too, but it's not totally necessary.
10. DIY Bat Costume Accessories
Use your Cricut to cut these DIY bat costume accessories from Artsy Fartsy Mama. Wear a black outfit and don these accessories for a simple, chic costume idea that's perfect for tweens and teens.
11. Paintbrush Costume
Is your child an artist in the making? Try this paintbrush costume to hone in on their artistic interests! Follow the tutorial from Dukes and Duchesses to make the bristly brush cap and the poster board palette with various paint colors.
12. DIY Bubblegum Costume
Pretty in pink, this bubblegum costume from Studio DIY is lots of fun to make and wear. Any pink outfit will do. Add some pink balloons over the outfit, carry a bundle of pink balloons, and it'll get the point across easily.
13. iPad Halloween Costume
Turn a cardboard box into an easy iPad costume using the printable apps and tips from Kids Activities Blog. With a little bit of time, some paint, and your printer, you can whip up this costume in a couple of hours, and it'll look fantastic.
14. DIY Scuba Diver Costume
Make an inexpensive scuba diver costume using materials you may already have around the house. The oxygen tanks are made with 2-liter soda bottles, while the flippers are simple craft foam sheets. Add some goggles, a net, and toy fish, and the kids will really look the part this Halloween in this costume idea from Delineate Your Dwelling.
15. Bubble Bath Costume
With plenty of white and pink balloons and a white outfit, you can make the cutest bubble bath costume for kids. Add a rubber ducky to complete the look. This costume from Giggles Galore would be the perfect accompaniment to the shower pouf costume mentioned above.
16. Ice Ice Baby Costume
For baby's first Halloween, try this Ice, Ice Baby costume idea from The Thinking Closet. Family costume ideas are always fun! And when you're dealing with a baby, the less fussy the costume, the better. Any millennial will love this costume.
Pin this list for later so you're never in a pinch when it comes to easy and effortless Halloween costumes.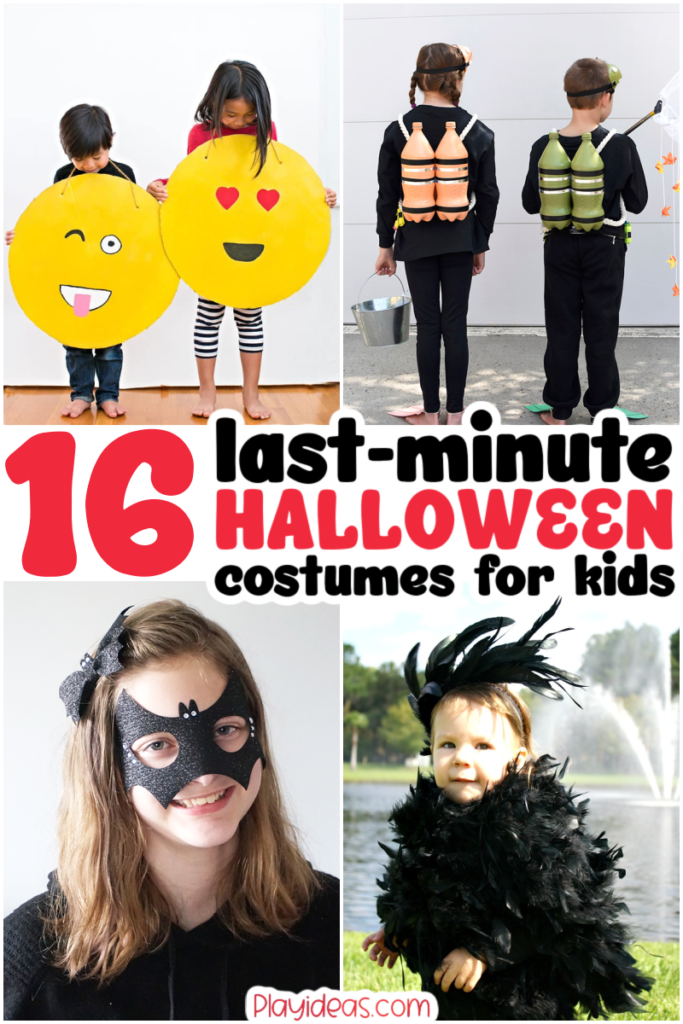 More Halloween Ideas for Kids: