Are you looking for homemade gifts that toddlers and preschoolers will approve? Look no further, as these 15 amazing homemade gifts for preschoolers are sure going to be a hit!
Today, we are sharing 15 Easy and Awesome Homemade Gifts that your toddlers and preschoolers will definitely love.
This is an awesome list of adorable gifts for your preschoolers you can make yourself!
Easy and Awesome Homemade Gifts for Preschoolers and Toddlers
1. Homemade Play Dough Gift
Make playdough at home, using this fun recipe by Kids Activities Blog. Craft your own colors and scents to make it personalized featuring all your child's favorites! This is certainly a great gift that is toddler and preschool-approved!
2. Awesome Robot Busy Bag Activity Gift
Your kids will love this opportunity to build their own robot by Pickle Bums. Such a fun craft that will keep them busy for hours. Homemade toys sparks creativity in kids, always.
3. Fun and Awesome Homemade Puppets
Nothing is more fun for preschoolers than creating these homemade puppets by Glittering Muffins (unavailable). You can create several characters inspired by your little one's favorite underwater crew! Complete them with beads or buttons as eyes. The little ones won't suspect that you made them from wool or fabric scraps, an old sock, or old pillows!
4. Adorable Gift Gardening Set
Who said gardening are just for grandparents? Grab some markers, pencils, craft paint, and popsicle sticks. So many ideas here but one of our favorites was the gardening gift set by Kids Activities Blog. This allows kids to make their own vegetable labels for the garden. Fun!
5. Awesome Fizzing Sidewalk Paint To Do with your Preschoolers!
This fizzing sidewalk paint by Kids Activities Blog is such a fun thing to do in summer! Easy to make and the fizz adds an extra layer of awesomeness from a regular sidewalk! You can make more homemade gift ideas like bath bombs too.
6. DIY That Super Hero Cape For A Super Hero Fan Preschooler!
Make these DIY superhero capes by Busy Kids Happy Mom. It complements the outfit of your preschooler's favorite LEGO superhero characters! Perfect for birthdays as handmade gift ideas.
7. Learn How To Create a Goop At Home
Looking for unique DIY gifts that don't need lots of purchases? Learn how to create a goop at home from a recipe by Kids Activities Blog! Store it in tin or mason jars for keepsake! Preschoolers wouldn't resist having this all along in their little hands. Great for sensory learning!
8. Easy Homemade Pretend Swords To Make At Home
Preschoolers will love play-fighting with these homemade pretend swords by Tips From A Typical Mom Blog. The softness of the foam makes it easier for them to play a little rough! You can make some stick horses to go with your knight as well.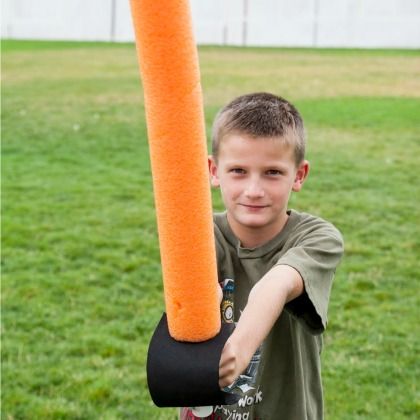 9. Do This Homemade Kids Board Gift
Let your preschoolers work on designs and even letters with this amazing homemade kid's board by And Next Comes! This will keep their little hands busy for hours. Don't worry about making the frames, they're easy to make and the kids will love making loops around them.
10. Save Those Old PVCs For Your Preschooler's Tent!
Here are more gifts kids will love. Learn how to make a tent by Kids Activities Blog, out of PVC pipes and bedsheets in your yard! Saves money and adds lots of fun!
11. Cutie DIY Doll Furniture Gift Set
Send your little preschooler girl's dolls to school too with this adorable miniature furniture gift set by Busy Kids Happy Mom. Perfect for your little girls! Perfect for your girl's dollhouse.
12. Learn How To Make A Crayon Roll Case
Follow this simple crayon roll case tutorial by Feels Like Home Blog. Give this to your little preschooler whose fond of arranging their crayons! Homemade Christmas gifts are so good!
13. No Sew Dress Customes For Your Preschoolers!
These easy no-sew dress-up costumes by Coffee Cups And Crayons are so simple to make! The instructions are so easy to follow. Preschoolers will have so much fun switching from favorite character to another. Cool!
14. DIY Building Blocks From Tree Branches!
Be obsessed over this DIY building blocks by Kids Activities Blog from cut tree branches! Awesome way to keep your preschoolers busy in the backyard. Fun!
15. Little Doll Gift House Made Of Trees!
Create a beautiful treehouse for dolls by Picklebums, following the amazing tutorial! Such a mythical way for dollies to live and for your little preschoolers to have fun!
More Easy Homemade Gift Crafts for Your Preschoolers from Play Ideas
Which homemade gift are you creating with your toddler or preschooler today?