Today we are showing you some fun and cool ways to teach your preschoolers how to learn basic counting! We have several ideas for kids who are energetic, crafty, and those who love to have fun!
Learn and play together with your kids with these 20 counting games for preschoolers!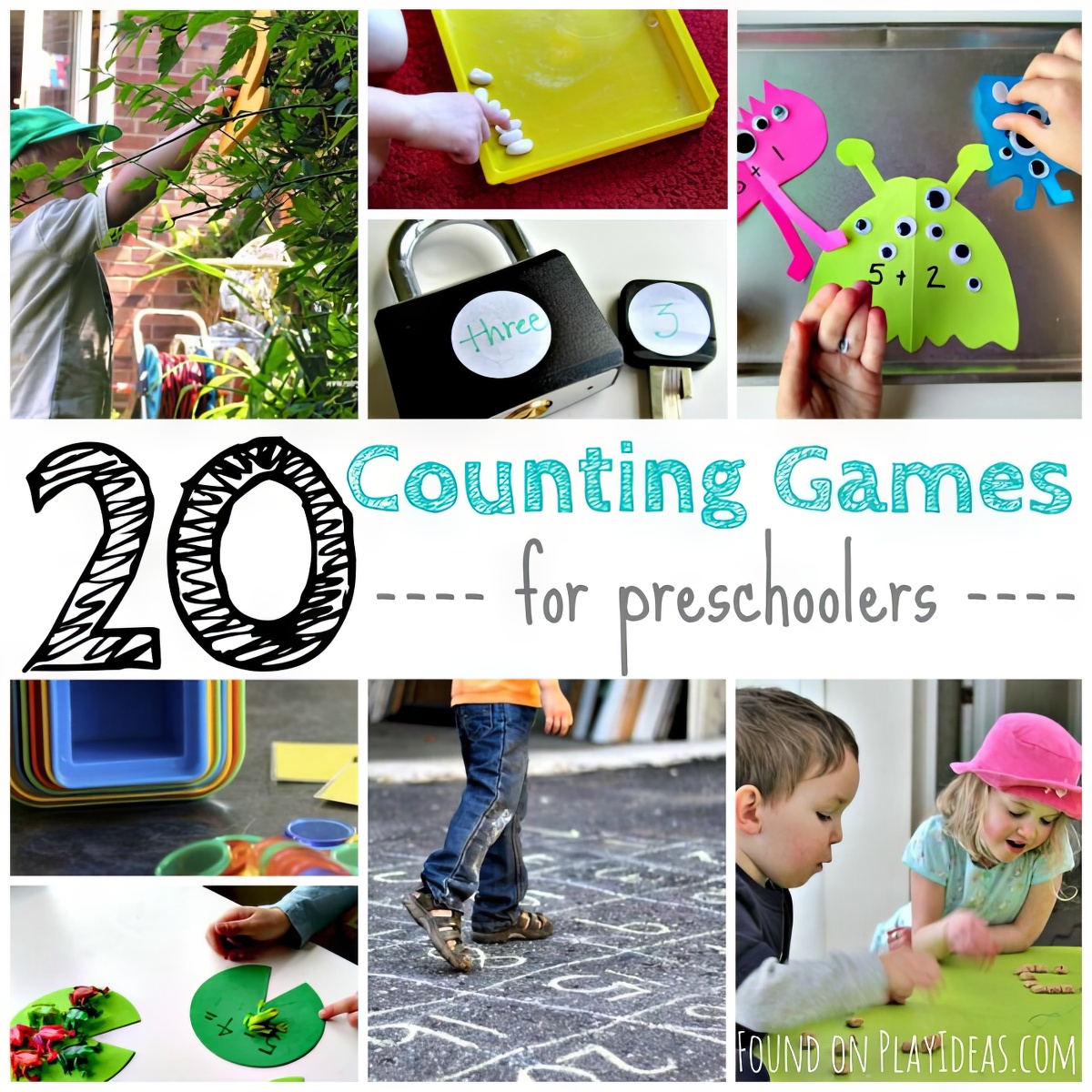 These are such fun ways to work on counting skills together with your kids.
Fun and Easy Counting Games to Play with Your Preschoolers
1. Number Matching with Plastic Blocks
This is a fun game for early counting by Lessons Learnt Journal. Your preschooler can have fun by simply matching the sequences. Kids who love to be handed down tasks will definitely enjoy this cool game.
2. Use Food to Count!
If your kid is that of a muncher, be sure to try this munching counting game with them! Let them work through their hunger with this fun counting food game by Mama Smiles blog! 
3. Backyard Fun Number Game for Active Preschoolers
Make working on number recognition fun with this active game by Rainy Day mum. Send your kids out to find numbers around the house or in the yard.
It will keep your fidgety kids moving and learning all at once and their energies will be well-spent in the afternoon!
4. Outdoor and Active Counting Game Using Chalk
Here is another outside counting game by Hands On As We Grow that is sure to be fun for your energetic preschoolers!
Let them work through the maze. You can make it simple to start with and as they improve increase the difficulty of the mazes you create.
5. Sequencing Numbers Using Nesting Dolls
Work on sequencing numbers and sorting by size with this fun indoor game by Mama Miss Blog (Unavailable).
Nesting dolls make this the perfect way to do this activity!
6. Fun Key-Matching Game with Numbers
This is an awesome number game by No Time for Flash Cards that certainly grows with your child.
At first they can match written numbers with their symbols. As they grow, you can work their way up to math equations to find the right keys.
7. Make Use of the House! Fun Counting Game
A fun way to incorporate counting into your daily routine is to try this fun and cool counting activity by No Time for Flash Cards. Count the doors, sinks, shoes and anything else there is around the house and let your child fill in a fun homemade worksheet.
8. Learn Counting with Sports Cards
Help your kids learn math through sports with this awesome game by Pleasantest Thing. There are four different ways to play this game so you can work through it with your kids.
9. Fun Crafts and Counting FTW
If your have more artistic kids, let them do this super fun counting crafts activity by No Time for Flash Cards. These monsters are adorable and your kids will have fun counting their eyes as they make them unique.
10. Fun Counting Game with Buttons and Cupcake Holders
Learn basic counting with your kids using colorful buttons and fun muffin tray with this activity from Kids Activities Blog. Work through the numbers together and have fun with all of the bright colors that your kids will absolutely love!
11. Preschool Math and Paper Lilypads
Using green colored papers, you can create your own math lilypads for your kids to enjoy! Have fun doing this math problems game by No Time for Flash Cards.
I'm sure your kids will love hopping frogs from one spot to another until they find the right answers.
12. Counting Fishes in the Bowl
Count fish, just like from one of the most beloved of Seuss books! This tutorial shows you how to make your own math game by Mama Miss Blog so more than one child can play at once.
13. Lego Blocks and Preschool Math
For this activity you can use the free printable math cards by Hands On As We Grow. And then, be creative as you teach and have fun with your preschoolers learning Math!
Kids can learn to trace the numbers, count the dots, place their favorite Lego blocks, and so much more!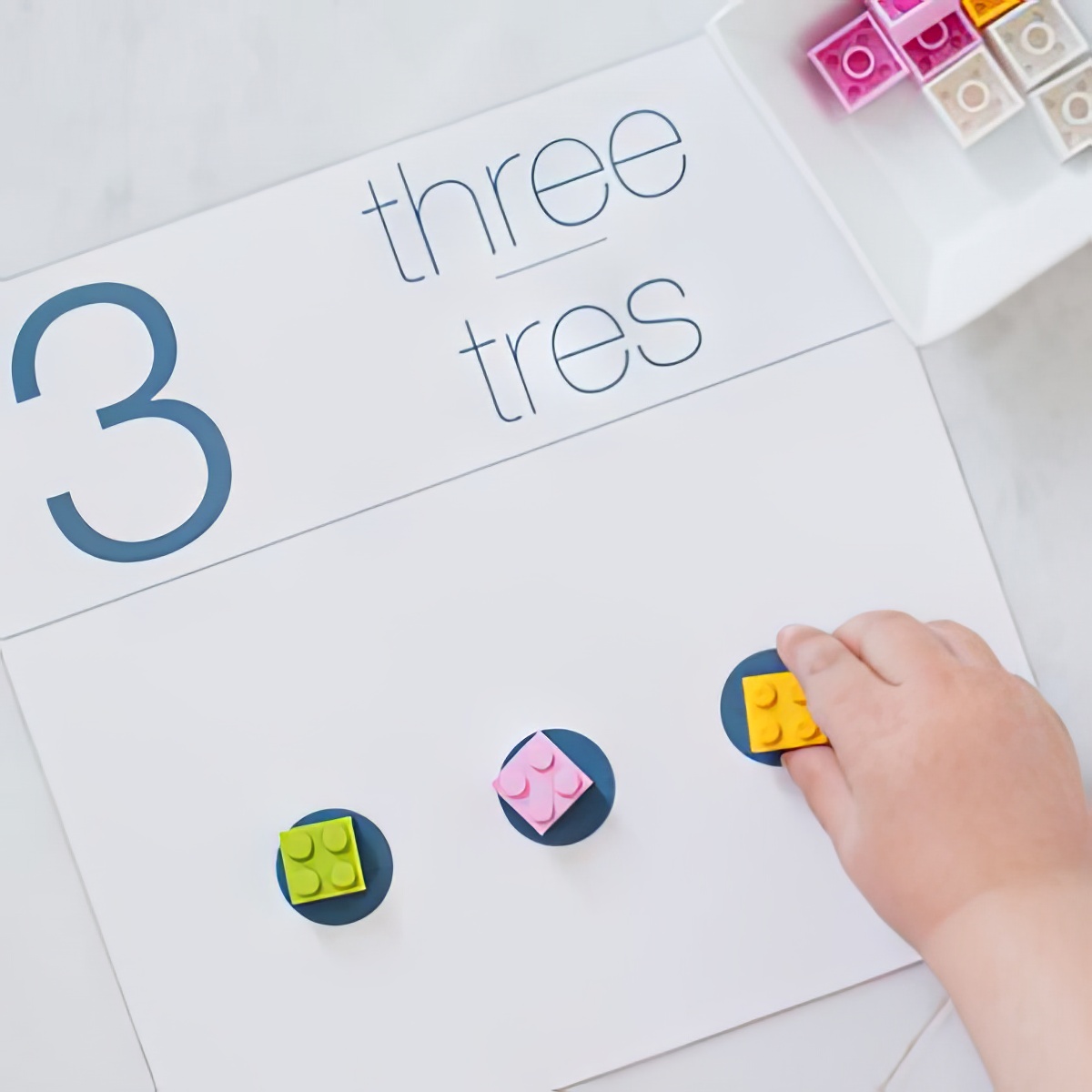 14. Fun and Easy Paper Chain for Counting
For younger kids, you can work on this simple counting down game by Modern Parents Messy Kids blog.
You can put important dates with a fun chain. Each day, break another link and watch as they learn to count up and down with this simple game.
15. Counting Seeds and Planting Trees!
Explore growing and counting at the same time with this creative seed counting activity by Teach Preschool. There is even a book to go with it! Click the link to learn more!
16. Craft a Garden and Do the Math
Make a garden on paper with this adorable garden counting game by LLG Childcare. Kids can choose what color flowers they want to make as the work through each number in turn. Oh what fun!
17. Fun Smack the Numbers Game
Your kids will totally love smacking the numbers with this fun and active game by Mom Inspired Life! The fly swatter makes it a bit noisy, which means more fun for the kids!
18. Teach Counting with Pipe Cleaners
Count with pipe cleaners and beads while you work with numbers with this activity by Mess for Less. Bonus points for exercising your preschoolers' fine motor skills! What a win!
19. Preschool Math using Leaves and Nature
Get crafty with outdoor math and this fun nature + math activity by Your Modern Family.
Gluing and working with colorful leaves makes math more fun, especially for your busy-loving preschoolers!
20. Fun Jelly Bean Tree Activity
Make your own trees at home by doing this extra fun Jelly Bean Tree Activity by Your Modern Family! These adorable Spring trees filled with candy can help you count and make a pretty decoration for your home as well.
Pro-tip: For Fall you can use candy corn instead!
More Preschooler-Approved Activities from Play Ideas
Which counting game are you playing with your preschooler today?