Kids love candies! I mean who doesn't, right?
Candies are not just sweet, yummy, and gummy but they can be a great tool for learning too! Be amazed by these 10 ways we've gathered on how you can use candy for learning!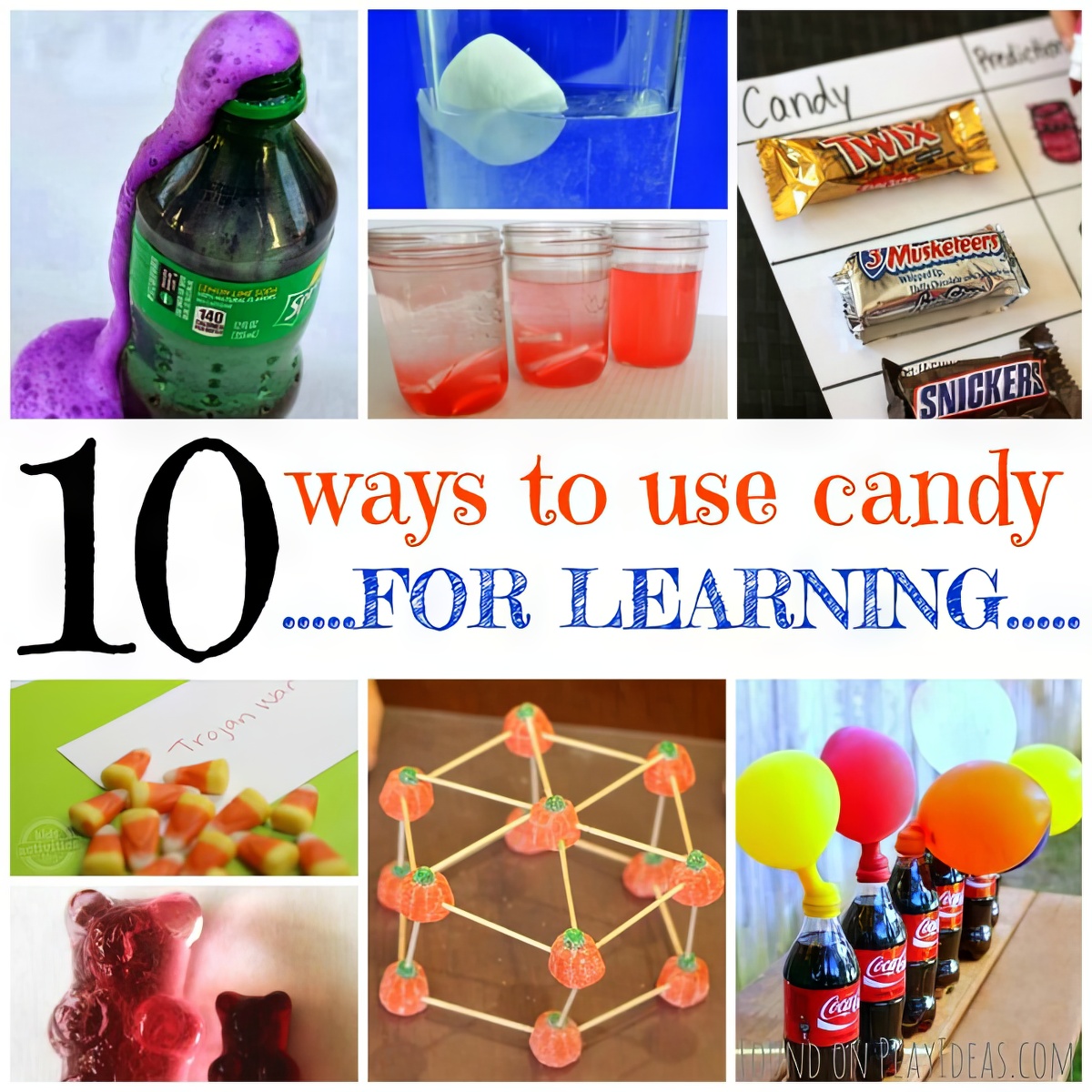 These 10 super fun ways to use candy for learning are going to be epic! Your kids will not just satisfy their sweet tooth, they'll also be able to have fun candy activities!
Be sure to replenish your pantries for these 10 fun ways to learn with kids using candy. Let's go!
Easy and Fun Ways to Use Candy for Learning
1. BALLOON EXPERIMENTS WITH CANDY
Try this awesome balloon experiment with candies by Learn Play Imagine and it will be an instant favorite for kids of all ages! All you need to have is some balloons in different colors, soda, Nerds, and Pop Rocks, and you'll be able to teach kids simple Science in a fun way!
Indoors or outdoors, you'll never get bored doing this Science experiment with candy again and again.
2. CANDY BINGO
Make your afternoon play more fun by trying out this candy bingo game by Kids Activities Blog. It's always cool to add a "candy" twist to your play!
You might need a lot of little candies as reinforcements for this game in case more kids come in to play!
3. CANDY CHROMATOGRAPHY
Let's learn science with the kiddos in this fun and awesome candy chromatography experiment by Mama Miss. What does chromatography mean? Chromatography is a technique for separating different substances.
For this experiment, you'll need to prepare the following:
Plastic tray – to keep all the water contained
One box of Nerds candy – this works best!
Droppers
Coffee filters – you can get one on Amazon
A small bowl of water
Paper towels
Just follow all the steps on the link above and make sure to have tons of candy fun!
4. M&M CANDY EXPERIMENT
Let's dissolve the M off of an M&M candy with this awesome M&M candy experiment by Coffee Cups and Crayons. All you need to have is a bowl of water and M&Ms!
This simple Science experiment is absolutely for keeps! Yay!
5. SINK OR FLOAT CANDY EXPERIMENT
There will be no boring moments with this fun and awesome sink or float candy experiment activity by Reading Confetti! And it's so simple too!
All you need to have is just a pen and paper and a selection of candy bars, of course.
Kids will learn about forming hypotheses and testing their ideas. How cool is that?
6. ERUPTING ART WITH CANDY
Kids will surely love this super fun and awesome erupting art candy activity by Learn Play Imagine! All you need to have is a clear soda, Mentos, tempura paint, and watercolor paper.
Watch as different small geysers form in different colors as you do this candy activity. It will be a reward for your kids for sure!
7. THE GROWING GUMMY CANDY EXPERIMENT
Got leftover gummy bears from Halloween and Easter parties? Worry no more! Try this super fun and awesome growing gummy candy experiment by Mama Smiles.
Microwave these gummies to melt, stir them up, then watch what happens the next morning! Hmmm…
8. BUILDING STRUCTURES WITH CANDY PUMPKINS
Enhance your kid's creativity with this super fun and easy building structures with candy pumpkins by Lemon Lime Adventures! Imagine the different forms and structures that your kids can create as they do this activity.
Toothpicks and candy pumpkins are just the cost to start. Candy craft Fun!
9. SINKING MARSHMALLOW EXPERIMENT
Naturally, marshmallow floats because they are filled with air. Can you make them sink? Learn from the results of this candy science sinking marshmallow water displacement experiment by Parenting blog. It's super easy, that it can be done in just 5-10 minutes! You just need to prepare the following:
Mini marshmallows
Bowl of water
Cornstarch
Make sure to do the experiment on a flat surface and you may use a spoon if needed.
10. CANDY CANES
What a fun and awesome way to use leftover candy canes in a science experiment by A Mom With A Lesson Plan.
While kids develop curiosity about what will happen with the candy canes as they go along with the experiment, informal teaching and bonding moments happen too! Awesome right?!
More Fun Ways To Use Candy For Learning From Play Ideas
Which fun and awesome candy experiment are you going to use for learning today with your kids?