Running out of ideas what to serve for breakfast? Tired of seeing that look on your kids' face when you show the same breakfast every morning?
Worry no more! We've got your back, Momma! Today we will show you 15 Silly Breakfast Ideas that will absolutely make your kids smile!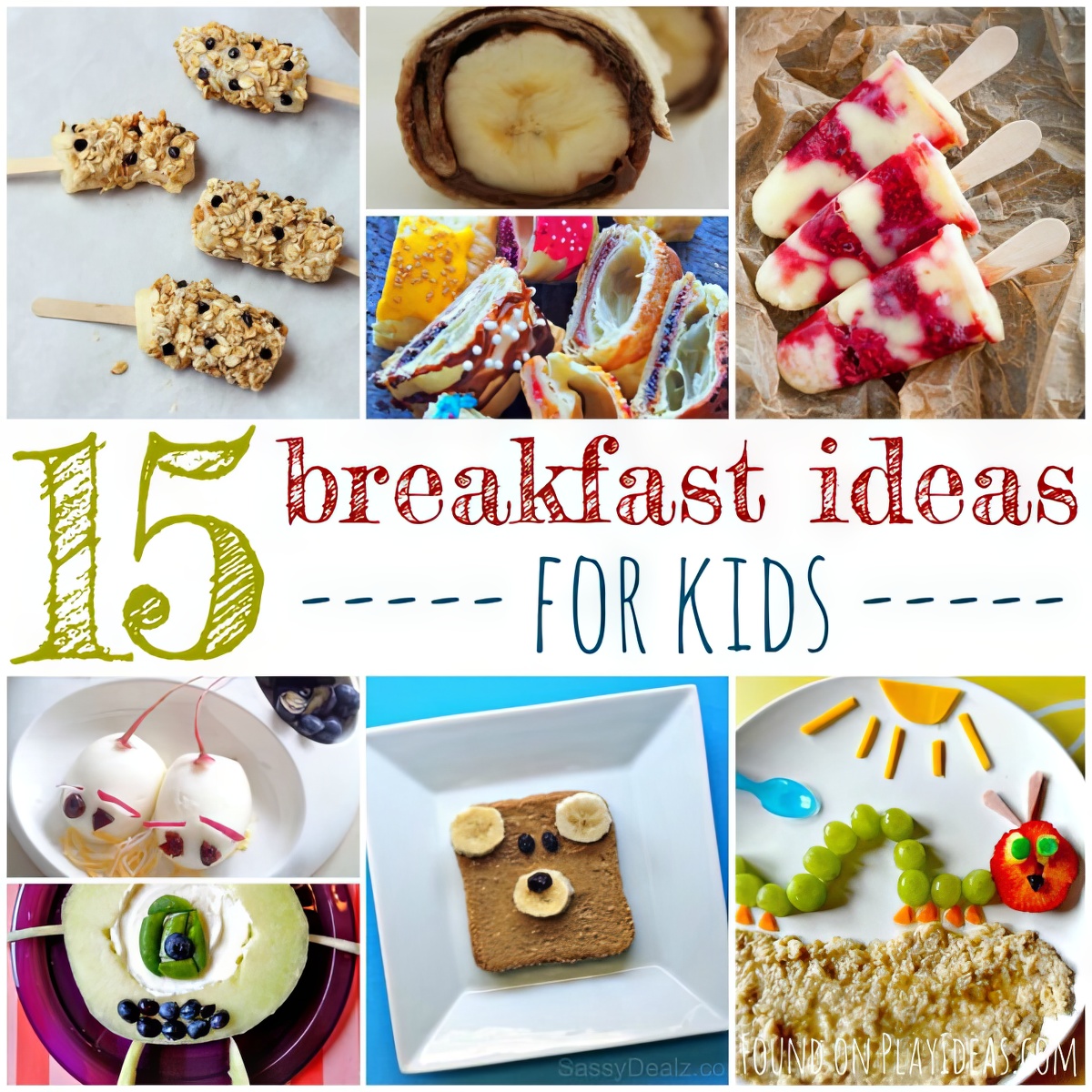 Make breakfast more exciting by trying out these 15 yummy, fun, and silly breakfast ideas with your kids and put an end to your boring meals at home!
Get your aprons ready and let the fun begin!
Easy and Yummy Breakfast Recipe Ideas for Kids
1. PAINTING PANCAKES
Yes, we already know that kids love pancakes. Make a colorful twist to your usual pancakes by trying out these yummy and awesome colorful pancakes recipes by Kids Activities Blog.
It will be a sure hit and kids will enjoy painting their own pancakes! What a colorful and healthy way to start the day!
2. MICE FOR BREAKFAST
How funny it would be when people asked your kids what they had for breakfast and they'll say "I've had mice for breakfast."
Unleash your creativity by making little mice for breakfast (unavailable) by Mama Miss. The body is actually made of egg whites and you can choose different colors and sizes of fruits or veggies to make as its eyes, tail, and mouth.
3. OMELET BARS
Serve these yummy and healthy omelet bars (unavailable) by Kids Activities Blog to your kids and you'll be sure to get that morning smile!
Kids can actually try to make their own as well. All you need to have are eggs, a little bit of creativity mixing different ingredients, and an unlimited amount of fun!
4. THE HUNGRY CATERPILLAR
Be playful with your kids every morning by making this super yummy hungry caterpillar recipe by Creative Kids Snacks.
Let your kids choose their favorite fruits and veggies to make the caterpillar, cheddar cheese for the sun, and oatmeal for the ground. You can be as creative as you can in making this cool breakfast with your kids!
5. MIKE WAZOWSKI RECIPE
Kids will surely enjoy this yummy and awesome Mike Wazowski recipe by Creative Kid Snacks.
Mike Wazowski is made of sliced and dewed honeymelon. His eye is made of yogurt, sugar snap peas, and a blueberry! His mouth is also made of blueberries.
Try this yummy Mike Wazowski recipe with your kids while watching or re-watching Monster Inc. movie and get your kids' instant approval for breakfast. Yay!
6. TEDDY BEAR BREAD
Mornings will be super awesome when kids see this yummy teddy bear bread toast breakfast recipe by Crafty Morning!
Its so easy and quick, all you need to do is a bread, bananas, raisins, peanut butter or chocolate spread. Kids can make their own too, and they choose which spread or fruit they like to drae their own teddy bear bear! Awesome!
7. FRENCH TOAST ROLL-UPS
French toasts are an all-time favorite! That's why this super yummy french toast roll-ups recipe by Cincys Shopper is never out of the menu.
Try this with your kids at any time of the day. Be creative on which filling you will put on, cream cheese or strawberry jam, or more!
8. BREAKFAST BALLS
Revamp your breakfast with these yummy energy bites breakfast balls recipe by Kids Activities Blog! It's packed with proteins that your kids will definitely need in the morning.
And the best part is, it's so easy to make you don't have to bake it!
Remember that you can replace almonds, with walnuts, and vice versa, or skip the chocolate and add the kid's favorite! Awesome!
9. COLORFUL PASTRIES
These super awesome and yummy colorful pastries (unavailable) from Simply Tara Lynn are a sure hit to the kids! Make sure to use colorful syrups, different spreads, sparkling candies, and more! More ingredients to add into the mix means more fun!
10. SILLY SMOOTHIES
What better drink to partner with our colorful pastries or silly pancakes than these silly smoothies! This yummy silly smoothies recipe by Beauty Through Imperfection is so easy to make you'll be done before your kids can say "breakfast"!
You can follow the ingredients listed on the link above or you can make your own with your kids. Just make sure to have their favorite fruit on it. Enjoy!
11. CHOCOLATE GLAZED DONUTS
Kids will surely hop on for breakfast when they see these oh-so-yummy chocolate glazed donuts by Baker By Nature!
Chocolates and donuts are never boring. Kids will surely love this up to the last bite! The full recipe is on the link above and make sure to add some fun while doing this with your kids!
12. FROZEN YOGURT BLUEBERRIES
Enjoy this super yummy, low-calorie, fiber-filled frozen yogurt blueberries by Family Fresh Meals for breakfast. Oh so healthy too!
It's super easy, all you need to have is your favorite yogurt and fruit.
Since these are bite-size frozen yogurts, you may opt to create more of these with your kids. Mmmmm…
13. NUTELLA AND BANANA SUSHI
If your kids love Nutella then this super yummy and easy nutella and banana sushi recipe by Paging Fun Mums can spice up their day!
Just prepare the following:
Nutella
Bananas
Wholeweat wrap or a wrap of your choice
Go ahead and try it!
14. YUMMY POPSICLES
Kids can resist these all-time favorite yummy popsicles recipe (unavailable) by My Life And Kids. Add it with milk or kids favorite yogurt plus a yummy slice of the fruit of the day!
Enjoy these icey, healthy, delicious, and sweet popsicles in your breakfast! Sweet!
15. BREAKFAST BANANA POPS
Make your granola day more exciting by trying out this yummy banana pops recipe by Chocolate Covered Katie! Be sure to involve the kids in making it.
Do it with your kid's selection of their favorite yogurt, granola, chocolate chips, cookies, crushed almonds, bananas, and popsicle sticks – freeze it and enjoy!
MORE YUMMY AND EASY TO MAKE BREAKFAST IDEAS FOR YOUR KIDS FROM PLAY IDEAS
Which easy yummy healthy breakfast are you trying out with your kids today?