Looking for fun and kid-friendly recipes for sleepovers and parties? These yumtastic popcorn recipes for kids will satisfy the little one's cravings, and they can also help make them!
Why settle for microwave bags when you can make truly memorable (and delicious) flavors with your children right in the kitchen?
Get ready for some really good fun snacks with these popcorn recipes!
Delicious and Yum-tastic Popcorn Recipes You Can Try with Your Kids
1. Birthday Cake Popcorn Ball
This birthday cake popcorn ball recipe by A Sweet Spot Home is ready to celebrate a birthday party!
2. Colorful Peeps Popcorn
Peeps popcorn is as delicious as it is colorful! Follow the recipe from Yellow Bliss Road to try it!
3. Delicious Caramel Apple Popcorn
Let's try some caramel apple popcorn by Cookies & Cups and see how your kids will love it!
4. Cherry Vanilla Caramel Popcorn
This cherry vanilla caramel popcorn recipe (unavailable) by Shugary Sweets is tart, sweet, and totally munchable!
5. Cinnamon Bun Popcorn
Cinnamon bun popcorn? Um, yes, please! Thanks to The Big Man's World for this yummy recipe!
6. Colorful Circus-Inspired Popcorn
You might have heard the circus was in town (unavailable)… You just didn't realize it was in the form of popcorn in this recipe from Munchkin Munchies!
7. Fancy Pants Popcorn
This fancy pants popcorn by Smart Schoolhouse tastes just like fancy pants candy. Haven't tried it yet? Make one today!
8. Fun Firecracker Popcorn
You don't have to wait for Independence day to try this firecracker popcorn by The Nerd's Wife! Make some for your kiddos all year round!
9. Classic Honey Butter Popcorn
In need of sweet, but not too sweet? Honey butter popcorn is what you're craving. Follow the recipe from Kids Activities Blog to try it!
10. Hot Cocoa Popcorn Ball
This hot cocoa popcorn ball by Mess for Less is like a cup of delicious in the palm of your hand.
11. Jello-Flavored Popcorn
Who had an idea to use Jello to make delicious popcorn? Recipe By Photo had! Such yummy popcorn!
12. Sweetheart Popcorn
Your sweetheart is going to love you for this amazing confetti sweetheart popcorn idea by Nest Of Posies.
13. Minions-Inspired Popcorn
Give your little Minions a popcorn treat they'll love… like this recipe from Easy Peasy Pleasy!
14. Monster Munch Popcorn
If monsters are what you have, this monster munch popcorn (unavailable) by Parties 365 is right up their alley!
15. Creepily Yummy Popcorn
There's something strange in this popcorn by Mom Dot… it's like it's watching me…
16. Neon Chocolate Kettle Corn
This neon chocolate kettle corn by Totally the Bomb is perfect for those psychedelic nights at home. Groovy, baby!
17. Sweet Oreo Popcorn
Ice cold milk and some Oreo popcorn are perfect for late-night movie time. Make this recipe by Eat This Up tonight!
18. Yummy Peanut Butter Popcorn
This amazing peanut butter popcorn recipe by Favorite Family is a better something than you could ever imagine!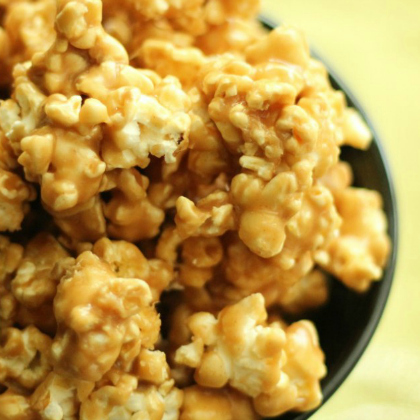 19. White Chocolate Peppermint Popcorn
Hello, love! Have some delicious white chocolate peppermint popcorn to put a smile on your kiddo's face! Get the recipe from Passion For Savings!
20. Snowball Popcorn
This snowball popcorn recipe by Study at Home Mama is definitely not cold. In fact, it'll warm you up inside with how delicious it is!
21. Princess Popcorn
This pretty princess popcorn recipe by Frugal Foodie Mama is perfect for the princess partiers in your life.
22. Shark bait Popcorn
Chum the waters with this shark bait popcorn recipe from Totally the Bomb and your snackers will swim right up for seconds!
23. S'more Popcorns
S'more popcorn, please! Get the recipe to make this for your kids from Bombshell Bling!
24. Snickers Popcorn Recipe
Can't decide between a candy bar or popcorn? Make this Snickers popcorn from Cookies & Cups and you won't have to choose!
25. White Chocolate Popcorn
This buttery white chocolate popcorn recipe from Totally the Bomb is the fast movie night treat your family will beg for.
More Yummy and Healthy Snack Ideas from Play Ideas
Which yummy poppin' popcorn recipe are you trying out for your kids today?