We have the coolest collection of Star Wars crafts for kids of all ages…and yes, you can make them too! Star Wars and kids just go together and making these cool Star Wars for kids ideas will have everyone having an out of this world good time.
Star Wars teaches about right and wrong, about believing in yourself, about doing what's right and it's full of cool fight scenes, too. Your little Jedi's are going to love these out-of-this-world crafts!
Awesome Star Wars Crafts for Kids
Kids love Star Wars, so why not let them use their imagination and create their own crafts inspired by the galaxy far, far away?
Related: More Star Wars crafts for kids and beyond…
These out-of-this-world Star Wars crafts perfect for your kids are going to fill your home with hours of fun Star Wars themed activities. These fun kids crafts are perfect for Star Wars Day which is every year on May 4th, for a Star Wars birthday party or at my house, every day is Star Wars Day!
1. DIY Cool Lightsaber Out of Paper Rolls
Make your kiddo war-ready! To make your own lightsaber from Kids Activities Blog, use old wrapping paper rolls to make battle-worthy lightsabers for the Jedi's in your family! Your little ones will surely have a fun time playing swordfights!
Or try making a pool noodle lightsaber too or one of the other many ways to make a DIY light saber.
2. Craft Your Favorite Character in Star Wars
Looking for a fun Star Wars paper craft? This Star Wars inspired art project is for you and your kiddos! This tissue paper roll character craft by Kids Activities Blog is super easy to make! Your kids will love playing with them or just storing them on a bookshelf, like Princess Leia and this R2-D2 pencil holder.
3. Super Fun and Easy to Make Chewbacca Stuffed Animal
Huge Star Wars fans love Chewbacca! Pretty sure your little one loves him too! Make this cute and cuddly Chewbacca plushie with your kiddo! This easy plushie idea from Make is super soft and adorable…but don't ever tell a Wookiee those things to his face!
4. Help Kids to Stitch Star Wars Logos
Let your kids practice their stitch craft with these Star Wars stitches. This Star Wars Stitch craft printable template from Simplistically Living is free and the fun will last for hours!
Related: Looking for Star Wars cookies that are easy for kids to make?
5. Star Wars DIY Light Switch Craft
This light switch idea by Sisters What! is brilliant for your little star wars fan. Your kids will now have a fun way to turn off the lights! "Go to the dark side", or "go to the light"!
6. Create a Fleet of Planes from Tissue Rolls
Again, there's no end in crafting out-of-this-world stuff with toilet paper rolls! These simple planes by I Heart Crafty Things are so fun to make and your kids can build a whole fleet in an afternoon. Let the battle begin!
7. Make a Simply Cute Paper Yoda
Star Wars crafts don't need to be complicated. In this easy craft by Toddler Approved, your kids can use simple shapes to build their favorite Star Wars characters! Just look at how cute Baby Yoda crafts are!
8. Cool DIY R2D2 Trash Can
This can be your favorite Star Wars Craft. Well, not so sure if R2D2 would be okay with having trash stored inside of him, but I think he'd definitely approve of how cute this turned out! This super cute DIY project by Kids Activities Blog is irresistibly cool your kids will surely throw their trash in the proper place just to take a glimpse of R2D2!
9. Easy Beaded Star Wars Project
This easy plastic bead project from Brain Power Boy is a great way to make Star Wars decoration to hang all year round! Your kids will have a blast doing them!
10. Star Wars Character Peg Dolls
These Star Wars pegs by Filth Wizardry are easier to make than you'd imagine! Your kids are going to love the effort you put into each piece for sure! Can you guess what resources they're made of? Chess pieces and other simple craft pieces!
11. Make Your Favorite Star Wars Hero
If you want more tutorials on how to make different Star Wars characters using tissue paper rolls, you've got it! These paper roll character crafts by Hello Wonderful are a fun way to teach recycling and show the dark and light sides of the force!
12. Super Easy Star Wars Paper Craft
Worried your little ones might get bored with this activity? This simple paper project from Mom Inspired Life has two versions: one for little preschoolers and a more complicated one for bigger kids! How fun is that?
13. Make a Cool Star Wars Helmet Out of Milk Jug
Looking for a cool DIY Star Wars costume? This project from Bit Rebels is perfect for you and your kids! Can you believe this helmet is made out of a milk jug?! Your kids will love making more Star Wars arts for sure!
14. Awesome DIY Tiny Light Sabers
They say that a pen is mightier than a sword, but what if you turn colorful pen markers into swords? Isn't this now the coolest lightsaber? This sword idea by Kids Activities Blog will light up your kid's writing and playtime!
15. Cool Pool Noodle Light Saber Craft
More lightsaber fun by Kids Activities Blog! Know why these pool noodles make great lightsabers? Because your kids can play with them outside and they last forever! Have a cool Star Wars party.
16. Simply Cool LEGO Death Star Craft
Your kids will have some out-of-this-world fun with Star Wars movie and LEGO! Use simple building bricks to make this death star craft by Learning Through Playing! Know what's awesome? Your kiddo can make other great simple bricks projects too!
17. Lovely Star Wars Luminaries from Cans
These can lantern crafts by Frugal Fun For Boys have easy-to-follow directions and would look so cute with a no-flame tea light! Your little ones will surely love watching the figures coming out of each can!
18. Cool Crocheted Star Wars Hat
This winter, bundle your kids with this adorable Star Wars crochet hat (unavailable) by Nesting Sticks! May the force be with you as you show the world that you've got the coolest kid around!
19. Awesome Star Wars Slime
Your kids are going to love digging into this galaxy slime by Parenting Chaos! But beware: you may have some character casualties during the battle! This out-of-this-world slime activity will spread more laughter in the house!
Or try this galaxy playdough recipe that is super easy and fun.
20. Lovely Galaxy Far Far Away Jars
These galaxy bottles by Mom Dot use simple items you already have in your home! Your kiddos will have genuine fun assembling and creating their very own galaxy…in a bottle!
21. Easy DIY Felt Star Wars Puppets
These felt Star Wars finger puppets by Make and Takes are a fun way to let kids act out their favorite scenes using just their hands! Kids of all ages can definitely make these on their own!
22. Star Wars Paper Snowflake
String up some Star Wars snowflakes around the house this winter and dazzle your guests with your kid's paper-cutting prowess! This creative craft from Little Birdie Secrets is simply awesome!
23. Easy Death Star Paper Craft
You can make a creative death star craft out of the simplest things… even a cupcake liner! This death star craft by Fun a Day is super cool your last Jedi won't notice the cupcake liner!
24. Fun and Cool DIY Star Wars Costumes
These fun outfits by Melly Sews are an easy way to let your children play dress-up even if you aren't much of a seamstress! Dress them up and see the force being with you in these cool Star Wars costumes!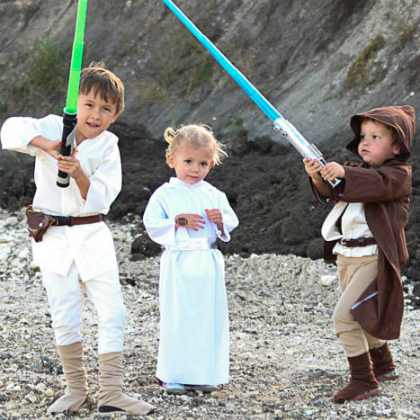 25. Creative Paper Plate BB-8
This BB-8 droid idea by Silly Fun Time actually rolls! Your kids will have to spin it, but that's still pretty darn impressive of all paper plate crafts! Your kids will surely enjoy playing!
More Star Wars Fun and Other Crafts from Play Ideas!
Which Star Wars craft made your kids feel the force within them?