Water beads is a great sensory activity for kids… of all ages! The cool, slick, and whacky water beads are fun to play with, and your kids will love the sensory input they offer. From slime to edible, these water beads activities are a kind of fun that is guaranteed to last for hours.
Cool Ways to Play with Water Beads for Kids of All Ages
Enjoy these 25 whacky ways to play with water beads with the kiddos! Water beads are a type of toys for kids that give a fun experience. Generally they are used with toddlers and preschoolers, but use with caution because they are a choking hazard. With supervision, water beads can be a great sensory play activity. Water beads come in multiple sizes including smaller water beads up to giant water beads.
1. Mini-Edible (Non-choking) Water Beads
These Mini-Edible (non-choking) Water Beads by Fun at Home with Kids are perfect for families that are wanting to explore all the fun of water beads but have younger children who are still mouthing items. Those kiddos will love the sensory feeling of these water beads in their mouth!
2. Satisfying Frozen Water Bead Sensory Bin
Have kids explore different temperatures and consistencies with this Frozen Water Bead Sensory Bin by Parenting Chaos. This clumped frozen water beads are so satisfying to play with and can help kids develop fine motor skills.
3. Cool Luminous Water Beads in the Dark
Water Beads in the Dark by Familylicious (unavailable) is a great way to explore sight and touch while helping your child calm down! Decorate your kid's room with these cool luminous water beads that look great sitting around in a bowl.
4. Shrinking and Growing Bouncy Water Beads
Have your little scientist Observe Shrinking and Growing Water Beads with this fantastic absorption experiment. This fun experiment by Tinkerlab will make your busy toddler excited growing their own big bouncy water beads.
5. Breathtaking Glowing Water Beads
Glowing Water Beads…how cool is that?! This cool slippery squishy marbles by Learn. Play. Imagine. Blog are so mesmerizing, your child won't want to put these down. Water bead sensory play has never been more fun.
6. Colorful Water Bead Sensory Bottles for Babies
Water Bead Sensory Bottles for Babies by Living Montessori Now are another great way to let little ones explore the fascination of water beads without having to worry about mouthing. These bottles filled with a lot of Water Beads will satisfy your kid's playful senses.

7. Awesome Rainbow Water Bead Sensory Bags
Make Rainbow Water Bead Sensory Bags for younger children to explore. These bags full of squishy water beads by Meri Cherry are so easy to make even your kids can make it! Small children will love these fun ideas.
8. Hammer Bouncing Water Beads Activity
Your child is bound to giggle as they attempt to Hammer Bouncing Water Beads. Catch them and they SMUSH. This fun activity by LalyMom is so satisfying to watch!
9. Squishy Water Beads Play
Discover what happens when you add Water Beads to the Blender by Learn with Play at Home Blog! Your kids will surely be amazed seeing these water orbs get crushed by the blender.
10. Edible Water Beads from Tapioca
Who would have thought that tapioca could have been used to make Edible Water Beads? Level up your kid's drinks by adding these colorful yummy tapioca balls by Kids Play Box.
11. Frozen Water Beads Activity
A fun way to chill during the hot summer months is to Freeze Water Beads by Learn. Play. Imagine. Blog. Squishing these cold icy water beads with your children is so rewarding!
12. Fragrant Scented Water Beads
Take your sensory bin to the next level by Adding Scents to your Water Beads. Your kids will love playing with these nicely scented water beads by Parenting Chaos…love that water bead creativity!
13. Easy-to-Make Water Bead Slime
Water Bead Slime…can it get much better than this?! Your children are bound to love this unique sensory experience. This slime full of water bead by I Can Teach My Child Blog will take you to a new level of funness!
14. Water Bead Color Sorting Activity
Water Bead Sorting is a perfect way to sneak some learning into play. This activity by Preschool Inspirations will help your children learn about colors.
15. Cool Coconut Water Beads and Ice Cubes
Get your kids into the summer spirit with this fantastic Coconut Water Beads and Ice Cubes sensory bin. Smelling these coconut scented water beads by Fun a Day Blog will take your kids feeling like they are in a tropical island!
16. Fun Bubble Tea Shop Pretend Play
Open a Bubble Tea Shop. Kids will have a blast with this dramatic play set-up by Mama. Papa. Bubba. Blog.
17. Life Cycle of Water Beads Experiment
Have a smashing fun time exploring the Life Cycle of Water Beads by Montesorri 101 (unavailable). Smashing and squishing water beads with your kids is so delightful to watch !
18. Fun Water Beads Math Games
Have a blast with these Water Bead Math Games by Kids Activities Blog. Play while learning, can it get any better than that?
19. Awesome Water Beads Painting
Painting with Water Beads is a wonderful open-ended art activity by Simple Fun for Kids Blog. Creative sensory for your kids? Yes, please!
20. Relaxing and Fun Fine Motor Water Bead Challenge
Kids will love this slippery fun Fine Motor Water Bead Challenge by Still Playing School Blog. Feel the excitement rolling your arms in these slippery and squishy water beads.
21. Colorful Water Beads and Glow Sticks
Whoa…Water Beads and Glow Sticks. This combination of glow and colors in water beads is so simple, yet, so much fun. Making this activity by Inner Child Fun Blog is a so entertaining for you and your kids!
22. Shaving Cream and Water Bead "Cupcakes"
Shaving Cream and Water Bead Cupcakes by Mess for Less are a great way to sneak in a fine motor activity with a super fun dramatic play shop. Try making these with your kids and let them feel like a baker!
23. Water Beads Cutting Activity on the Light Table
Kids can practice hand-eye coordination with this amazingly fun activity of Cutting Water Beads on the Light Table by Where Imagination Grows Blog. Watch them as they have good time cutting those round bouncy water beads.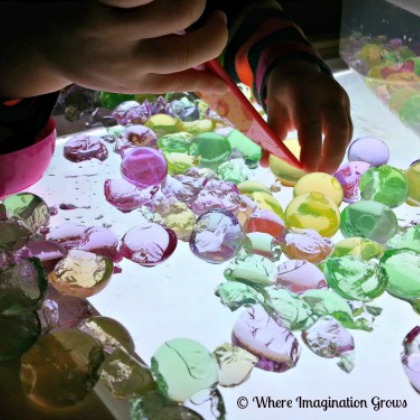 24. Soft Water Beads and Hard Marbles Sensory Bin
Explore different textures and sizes by mixing Water Beads and Marbles in your sensory bin. Kids will learn to distinguish between hard and soft, big and small sizes through this sensory activity by Simple Fun for Kids .
25. Water Beads In-Hand Manipulation for Young Kids
Water beads are perfect for In-Hand Manipulation. Kids will adore this fine motor challenge by Sugar Aunts (unavailable)!
MORE FUN AND WORTHWHILE PLAYTIME ACTIVITIES FROM PLAY IDEAS
Which whacky ways to play with water beads are you doing today?