Nothing's better in the summertime than getting wet on a hot day! Stock up on sunscreen and get your beach towels ready. It's time to start planning some wet and wild fun for your kids this summer.
You won't need a pool to get wet and wild this summer with most of these fantastic water games. Forget about tickets to expensive water parks or long road trips to the beach pier. Create your own magical water memories in your own backyard! Your kids will surely have genuine fun!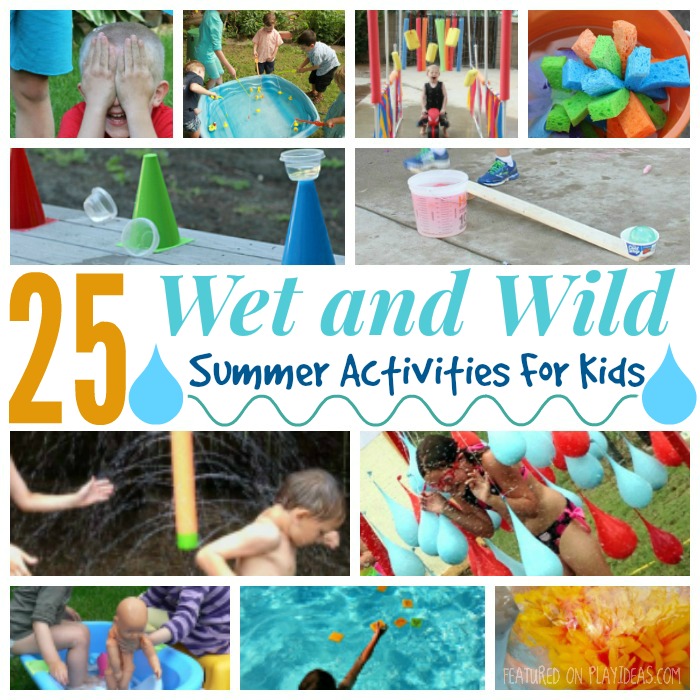 Fun and Fantastic Wet Summer Activities for Kids of All Ages
These super fun water activities are some of our favorite summer activities and will give you and your kids some fantastic and very splash-worthy summer memories that'll keep everyone playing, cool, and happy as can be!
Related: More Summer Activities for Kids of All Ages
1. Baby Doll Bath Activity
Baby dolls need baths, too! Don't wait for baby's bedtime, the best time is outside soaking up the sunshine. So do this fun activity from Mama Pea Pod with your kiddos this summer! Let your little ones give their baby dolls a bath outside and allow them to get wet as they clean!
2. Create Your Own Duck Pond Water Play
Your kiddos will go wild fishing for ducks in your very own duck pond! This idea from Active Kids Club is super fun and reminds me of fishing for treasures.
3. Catch the Balloon Game
Let your kids and their friends play catch water balloons (link unavailable) right in your backyard! They'll have fun as they throw them back to each other in this unpredictably wet game from Love, Play, and Learn! I think this activity is perfect for a backyard party with ice cream and lemonade :).
4. Fun Drip Drip Drop Game
Instead of duck, duck, goose, let your little ones play drip, drip DROP game from The Educator's Spin on It, and everyone is a sure a winner especially deep into the hot summer…August, anyone?
Related: More Summer Games for Kids
5. Water Hose Game with Numbers
Combine learning and fun with this water hose game from Toddler Approved! Your little ones will put out the number fire by splashing water to extinguish them with this water treasure hunt with a little learning packed in.
6. Awesome DIY Boat Canal
Use some old rain gutters to create this boat canal project from Crafty Morning! This will surely keep the kids occupied as they race their boats all day! What a fun Saturday morning activity when the backyard breeze is still a little cool.
7. Easy DIY Sprinklers
No sprinklers? No problem! Make your own with this super easy tutorial from Ziggity Zoom and watch your kiddos have a fun summer blast! Some of the best ideas are free summer activities!
8. Set Up a Wash Area Outside
This "kid wash" set up by Instructables will give the kids a place to rinse off and get wet after a long day of outdoor fun! They'll be squeaky clean before entering the house! Think car wash only for your children!
9. Fun DIY Tricycle Wash for Kids
You can build this tricycle wash from Mom Endeavors! This will surely be the talk of the neighborhood! Your little one will also love visiting this wash area! Another car wash inspired activity which I love and is perfect at the end of summer bike rides.
10. Play Scrabble in the Pool
Got a pool? Let the kids learn and play at the same time with this DIY Scrabble 'tiles' idea by Toddler Approved. Lounge in your pool or kiddie pool with the fun game that even adults will want to play.
11. Cool Wet and Wild Sensory Bag
This wet and wild sensory bag project from Kids Activities Blog is perfect for your toddler's pool play! Toddlers can not resist the texture and cool temperature of this water based play.
12. DIY Multi-Direction Sprinkler
Create this multi-direction sprinkler from a tutorial by Classy Clutter! Let your kids experience the wet and wild water park fun right in your backyard!
13. Play Limbo with Sprinklers
Let your kids play limbo with sprinklers (unavailable) with this fun activity by Home Depot. They will not only have a fun game, but they'll stay wet and cool on a hot summer day!
14. Super Fun Cup Shooting Game
Who has the best aim? Your kiddos will find out with this cup shooting game by Made From Pinterest!
15. Water Shooting Game
Let your kiddos use squirt guns or Nerf guns to shoot the containers of water off the tops of these cones! What a fun wet game from No Time for Flash Cards!
16. Angry Birds Activity with a Watery Twist!
Here's a fun twist on Angry Birds from No Time for Flash Cards! Use water balloons to knock over the chalk pigs and blocks! Have fun little ones!
17. A Wet and Wild Baseball Game
Baseball and summer go together, but hitting water balloons with a bat is WAY more fun! Kids of all ages will love this fun water activity by Overstuffed Life!
18. Water Balloon Catapult
Create a catapult that launches water balloons! This fun wet water activity by Frugal Fun for Boys will have your kiddos go wild!
19. Wet and Fun Water Balloon Piñatas
Don't give the kids candy at your little one's summer birthday party, let them whack these water balloon piñatas instead! This super fun idea from Milk Allergy Mom will make your summer party memorable!
20. Water Word Skills Practice
Work on your kiddo's word skills by figuring out which balloons finish the letters, then throw them! What a refreshing water learning activity by Mess for Less!
21. Water Balloon Yo-yos
These water balloon yo-yos by Inner Child Fun are so much fun to make and create! Your kids will love them especially when they finally POP!
22. Easy Water Blasters for Kids
Create some water blasters with this super easy tutorial from Mom Endeavors and let the kids blast each other with cool, summertime fun!
23. Super Fun Sponge Water Bombs
These sponge water bombs from Our Family of Seven are a blast and can be used all summer long!
24. Super Simple Water Sprinkler
Need a sprinkler on the fly? Make one using tape and a bottle following this tutorial from Housing a Forest! Your kiddos will have a cooler summertime!
25. Wet and Wild Water Obstacle Course
Forget about the water parks! Create this backyard obstacle course from Hey Kerri P and leave your kids giggling and dripping wet!
More Fun Summer Activities for Kids of All Ages
Which fun wet and wild summer activity are you playing with your kids today?