All of us remember our first mud pie. And muddy puddles too! It's in every kid's nature to dig in and play with dirt, so rather than discourage it, jump right in!
These 25 Ways To Play With Dirt will help you find great activities that will allow your children to embrace their messy side and help them become more connected with nature.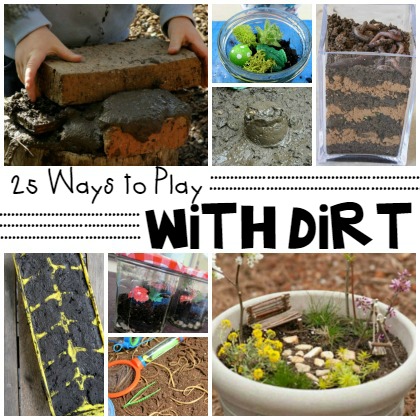 Kids love getting dirty, and these ways to play with dirt are a great way to encourage creative play at the same time. Don't worry too much, it's actually good that they have exposure to some germs in these outdoor activities. Have fun with the mess!
Fun Ways Kids Can Play with Dirt
1. Build Your Own Mud Bricks
Looking for a mud play idea? Your kid will be surprised and excited when they see how easy it is to build their own bricks by Education out of the dirt. Let's start digging!
2. Hunt Those Plastic Bugs Indoors
Hunting for plastic bugs (unavailable) by Bath Activities for Kids is a great way to explore nature inside on those days when it's too rainy to go outside. Discover the planet earth with this cute dirt play with somt some friendly bacteria around.
3. Learn To Make A Cloud Dough Sensory Bin
This cloud dough sensory bin by Growing a Jeweled Rose looks and feels just like dirt, but can be used over and over again. You can make this safe mold mud with natural materials, you know.
4. Explore And Dig Real Worms Outside
Want some real swamp activity that the kids will remember in their early childhood? Show your children how to dig for actual worms by The Chocolate Muffin Tree. They'll love watching them wiggle and roll all over the place.
5. Build a Miniature Dinosaur Habitat
Here's a non-toxic formula of a safe play with the cleanest dirt in your home. If your child loves dinosaurs, help them build a dinosaur habitat (unavailable) by Twodaloo using a planter, actual plants, rocks, and (of course) their dinosaurs.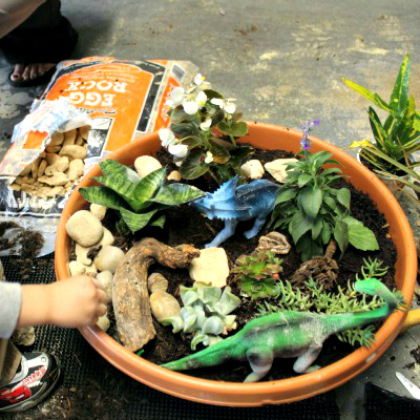 6. Make a Pretend Noodle Worms Sensory Bins
If you don't want your kiddos playing with actual worms, you can make your own out of noodles for this exploring bin by Growing a Jeweled Rose. You'll just have to purchase some noodles or pasta, cook them, put them in some dust or diy dirt patch, and your kiddos will have the wildest play visions! Wise!
7. DIY That Dirt box for Playful Kids
Instead of a sandbox, build your toddler a dirt box (unavailable) by Play Create Explore. They'll love getting messy and exploring all the fun textures.
8. Deepen Kids Imagination with Mud Sculptures
Show your kids how to sculpt with dirt by Casa Maria's Creative Learning Zone and watch their imaginations come to life!
9. Make An Adorable Fairy Garden
If you build this adorable fairy garden by See Jamie Blog and wait long enough, your children might catch a glimpse of a real-life fairy!
10. Build your Very Own Frog Terrarium
This frog terrarium by Teaching 2 and 3 Year Olds uses real plants and dirt. Your children will love checking in with their frogs every day and keeping their plants alive.
11. DIY Dirt With Gummy Worms
If you want to give your kids the wiggly fun of worms and dirt (but don't want to touch worms or dirt) you can make your own dirt and use gummy worms (unavailable) by Twodaloo!
12. Make a Worm Observation Jar
This activity is an awesome way to teach your children about sedimentary layers and how worms live in dirt by Frugal Fun For Boys.
13. Use Dirt as Mortar to Make a Brick
If your little builder likes to get messy, they'll love using dirt as mortar (unavailable) by Play Based Learning and creating their own brick wall.
14. Build Castles Out Of Dirt
If you can't get to the beach this summer, that's okay. Your kids can still build castles…out of the dirt by Sun Hats and Wellie Boots.
15. DIY Moveable Dirt Kitchen
Your tiny chefs are going to love creating mud pies and dirt shakes with this moveable dirt kitchen by Kids Activities Blog.
16. Let Kids Paint with Dirt
Watch your creative kiddos paint their canvases with dirt by Camp Slop. Easy and cheap? Always a favorite!
17. DIY Mud Kiddie Pool
Give your children a chance to really get messy by filling a kiddy pool with dirt and water and letting them play in the mud by Growing a Jeweled Rose.
18. Mud Soup Outdoor Sensory Pretend Play
Dinner's ready! On the menu? Mud soup by No Time For Flashcards. Your kiddo will love stirring up rocks, grass, dirt, and whatever else they can find for this delicious feast. Bon Appetit!
19. Show How To Plant and Grow a Carrot in a Picture
Teach your children how vegetables grow in dirt, then let them create a picture using real dirt to 'plant' their carrots by Along The Way.
20. Spring Sensory Play Tub with Carrots
Or if you want to take it a step further, make this awesome gardening sensory bin by Nurture Store and let them plant real carrots and dig them back up again.
21. Search and Dig for Dinosaur Bones
Searching for dinosaur bones by The Imagination Tree in a bowl of dirt is an awesome way to teach your children about the size and about dinosaurs.
22. Learn About Dirt with Sediment Jars
This amazing sediment jar by Read Science will excite your children. Watch their faces as the dirt separates from the water to form separate layers.
23. Use Dirt as a Writing Surface to Learn Letters
Learning letters? Use dirt as a writing surface by Fit Kids Clubhouse and your kids will spell for hours.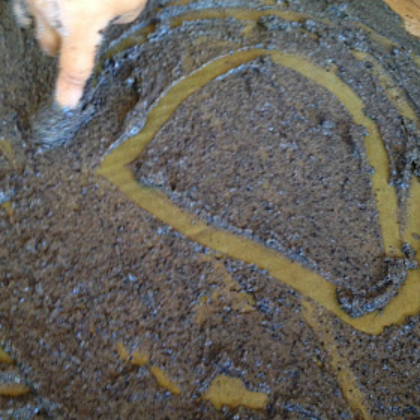 24. Make Adorable Closed Jar Terrariums
These closed terrariums by Teaching 2 and 3 Year Olds use real dirt and plants and never need watering. Your kids will want to make more and more and more.
25. Dirt and Worm Paintings
If your child wants to remember their dirty day, let them paint a picture using real dirt and pieces of yarn as worms by Choices For Children.
More Fun Ways To Play Outdoors With the Kids from Play Ideas
Which ways to play with dirt are you going to do with your kids this afternoon?