When we think about 'giving thanks', we in the USA think about Thanksgiving, but kids need to understand what it means to give thanks year-round!
So while a lot of crafts are Thanksgiving-themed, these ways for kids to give thanks year-round are also great ways for you to talk to your kids about gratitude and what it means to be thankful. Maybe your family can even adapt these and do a different craft each month and make this your year of thanks!
Giving thanks should be all year round! Happy crafting!
Creative Ways for Kids to Give Thanks All-Year-Round
1. Family Gratitude Jar
The entire family can write down what they are grateful for and save them in this gratitude jar ide by Kids Activities Blog!
2. Thankful Pumpkin
Want a beautiful centerpiece that also reminds your family how much they have to be thankful for? This Thankful pumpkin from Burlap and Blue does both!
3. Grateful Turkey Feathers
Kids can be thankful for the big and little things in their lives with these thankful turkey feathers idea by Preschool Alphabet!
4. Lovely Thankful Leaves
There are things in our lives we should be thankful for every day, and these thankful leaves ideas by The DIY Mom are a great reminder of just how great we have it!
5. Appreciation Garland
If your child would prefer drawing what they are grateful for, this thankful garland idea by Sewing School is a beautiful way to show gratitude through art!
6. Thankful Board for Everyday Use
We should find things to be thankful for every day! This dry-erase Thankful board by Happy Deal, Happy Day is a great way to remind us to do just that!
7. Thankful Advent Calendar
This Thankful advent calendar by Happy Home Fairy will give your family a new envelope to open every single day, and a new way to say, "Thanks."
8. Beautiful Thankful Feathers
Create a beautiful nature celebration of thanks with these thankful 'feathers' projects from Katarina's Paperie that you hang outside!
9. Printable Book of Thanks
Want a printable that walks your kids through gratitude? This Book of Thanks from What Moms Love will explore what it means to be thankful in a fun way that they'll understand and enjoy!
10. Sweet Treat Gratitude Jars
Attach things your kids are grateful for to their treat jars and each time they reach for a treat, they'll remember to say, "Thanks!" Wise idea from Toddler Approved!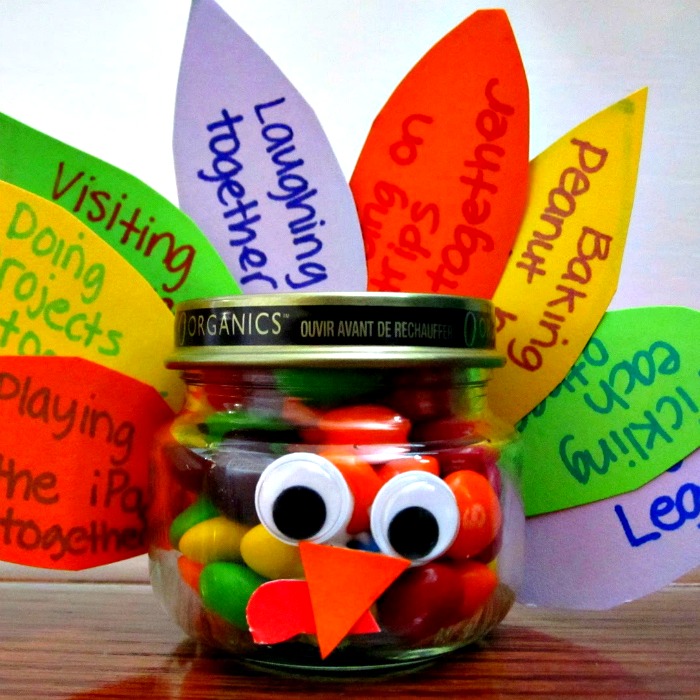 11. Grateful Twig Display
This beautiful craft from Rhythms of Play uses real leaves and twigs to show gratitude and display your family's love inside your home!
12. Thankful Cootie Catcher
A thankful cootie catcher is a little silly, but also such a great way to talk to your kids about gratitude and giving thanks! Clever idea from Bren Did!
13. Appreciative Printable Leaves
These printable leaves from A Life in Balance are fun for kids to color on and after they finish listing off what they are thankful for, you can hang them as a garland in your home!
14. Cute Gratitude Pumpkin
This cute gratitude pumpkin idea from The Joys of Boys makes a great seasonal decoration and lets your kids explore the nature of giving thanks!
15. Gratitude Leaves
Rather than crafting an entire gratitude tree all at once, you can lay out leaves for your children to fill with gratitude year-round! This activity by Premeditated Leftovers lets your kids express thanks to one by one every day.
16. Easy Homemade Cards
This homemade thank you card idea from Inner Child Fun is a great way to remind kids to say "Thank You" for the things they've been given!
17. Grateful Acorn Garland
This acorn garland idea from Creative Family Fun is a cute way to plant seeds of gratitude that will grow with your kids as they get older!
18. A Handful of Gratitude Hands
Create this tree of gratitude idea by The Kassebaum Four on the back of a door, and fill it with handprints from the whole family. Not only will it show what each person is grateful for, but the prints can be saved as a keepsake for years to come!
19. Simple Thankful Jar
Place this thankful jar by Teach Beside Me somewhere where your kids can frequently add to it, and then take some time each week going back and remembering all the good things everyone has experienced.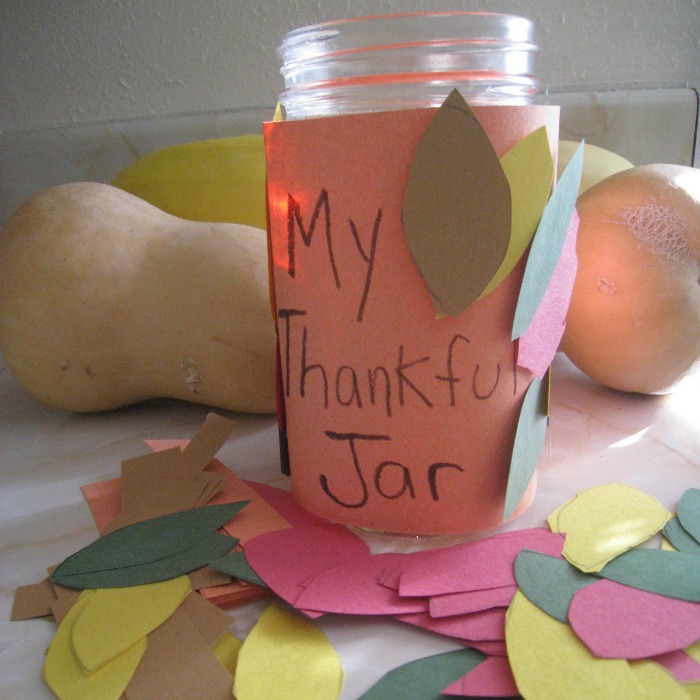 20. Lovely Gratitude Placemats
These gratitude placemats from Meaningful Mama are a great way to memorialize the things and people we love, and remember just how much greatness we have in our lives!
21. Thankful Garland from Old Newspaper
This recycled leaves thankful garland idea from Just a Girl is adorably shabby chic and a cute way for kids to dig into the simple things they love!
22. Crafty Gratitude Pumpkin!
You can gather the entire family together and create a loving gratitude memory with this gratitude pumpkin idea from One Artsy Mama!
23. Gratitude Gratitude Jar Time Capsule
Create a gratitude jar for this year that you save to open next. You'll be amazed at how far your life has come! Clever project by Inner Child Fun!
24. Cute Thankful Turkey
Littles who are exploring color and texture will love this thankful turkey project by The Resourceful Mama! Its feathers list the things your littles love, and it's cute enough to hang in their room!
25. Beautiful Gratitude Wreath
Create this gratitude wreath by Meaningful Mama that lists what you and your family are grateful for, and hang it on the door so it's the first thing you see every time you come home!
More Fun Crafts and Activities for Kids from Play Ideas!
Which art craft is your kiddo making to express his thanks today?