Kids love exploring the ocean – the waves, the fish, the sand, the whales, the mermaids! That's why these under the sea crafts are perfect for making memories with your little ones this summer! The best part: you can pin and make these all in your home!
Whether you go to the beach this summer or not, these under-the-sea crafts are sure to please your kiddos!
Super Cool Under The Sea Crafts for Kids
1. Adorable Starfish Made Out of Baking Soda
Kids of all ages are always amazed by starfish. Help your little one create to make in the comfort of your home! This starfish craft by Hometalk is pretty enough to frame, and believe it or not – it's made using baking soda. Easy peasy!
2. Make Mermaids from Clothes Peg
Does your kiddo love mermaids? This craft by Red Ted Art is perfect to make with them! How adorable are these clothes peg mermaid templates? Your littles will love playing with them for hours!
3. Cute and Easy to Make Coffee Filter Jellyfish
If you have lots of coffee filters in the house, you and your kiddo can make an awesome under the sea craft out of them! This coffee filter jellyfish craft ideas by Happy Hooligans is floaty, colorful fun, and so easy to make!
4. Adorable Paper Plate Octopus
Grab some paper plates and ribbons and let your kiddo make this adorable octopus craft by Reading Confetti! Another great thing with this under the sea craft is that you can homeschool your little one by practicing how to count with its curly little tentacles!
5. Colorful and Lovely Cup Cake Liners Fish
Your kiddo knows the fishes under the sea come in different colors. If you have cupcake liners, you can make this colorfully sweet fish craft or other sea creatures by 4 Crazy Kings! Your kids will surely have fun crafting this!
6. Fabulous DIY Aquarium for Kids
Your little one will love having their very own "sea" at home. Help them build their own fantastical aquarium using this DYI sea sand idea from Paging Fun Mums! It would be fun to see a submarine inside, shh…
7. Create Floating Turtles from Old Plastic Bottles
This floating turtle craft by Krokatak is super adorable! Help your kids make this from old plastic bottles! Don't forget that secret slot on the turtle's belly for storing all your children's summer finds!
8. Awesome Footprints Made of Plaster and Sand
Make memories to last a lifetime with these footprints (unavailable) best ideas from Balancing Beauty and Bedlam! These sweeties are made out of plaster and sand, your kids will love making them with you!
9. Paint a Pufferfish Using Fork
Pufferfish is one of the magical creatures under the sea! Toddlers can now paint one on their own! This pufferfish painting idea by Crafty Morning was made with a fork! How cool and easy is that?
10. Precious Handprinted Mermaids
Some painting crafts are especially great for the younger ones, like this mermaid painting activity by Education. This fun handprint mermaid picture is a perfect way to save those precious little artsy craftsy kids handprints!
11. Jumping Jellyfish Craft Idea Out of Styrofoam Balls
These jumping jellyfish crafts by Yesterday on Tuesday can't wait to jump into your kiddo's under-the-sea adventure! Guess what? All they'll need are creativity, glue, cute ribbons, and styrofoam balls or egg carton!
12. Paint a Colorful Marbled Seahorse
A seahorse is one of the most magical creatures under the sea. Help your kiddo create one their own! This marbled seahorse craft by I Heart Crafty Things is exactly what your child needs in their imagination tree bedroom window this summer!
13. A Cute Shark Puppet with Dual Purpose
Want a craft that'll double as an activity? This cutie shark craft by Dollar Store Crafts is for your little one! Make this shark puppet using an oven mitt and have fun playing with it!
14. Colorful Seashells Collection
Melted crayons are all your preschoolers will need to paint these seashells! Make your afternoon art time a blissful one with this arty crafty kids idea by The Artful Parent!
15. Creative Paper Bag Jellyfish Crafts
Your kiddo might just love to save those lunch bags when you start to make these creative crafts by the Dollar Store Mom! Recycle leftover lunch bags into these floaty jellyfish and swim the fun away!
16. Realistic Starfish Art Project
Starfish is a very lovely under the sea creature! Your kiddo will love creating this super realistic art craft by Preschool Inspirations for sure! All you'll need to make this sweet starfish is some plaster of paris and paint!
17. Shiny Glittery Rainbow Fish
This shiny, happy rainbow fish art craft by Living Well Spending Less will look so lovely on your refrigerator this summer! Your kiddo will have a blast while adding shiny glitters to it!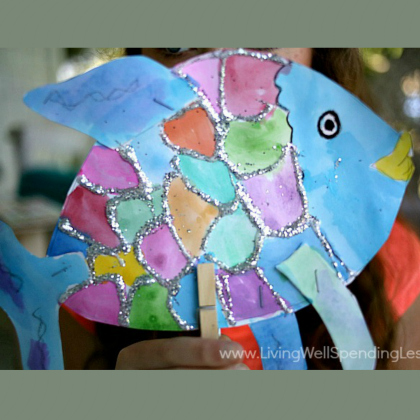 18. Awesome Sand Dough Sandcastles
If your family can't go to the beach at the moment but your kids want to make sandcastles, this art idea by Meaningful Mama is for you! You don't need a beach to make sandcastles, all you need is sand dough! Add bits of your little one's seashells collection and voila! You'll have the coolest sandcastle in town!
19. Cute Seashell Crabs for Kids to Make
These cute little crab crafts by Yesterday on Tuesday will keep your kiddos busy and happy all afternoon! Grab some seashells, pipe cleaners, and glue, and let the crafting begin!
20. Simple and Lovely Shell Necklace
Want some wearable art to remember your summertime fun? Your kiddo will fall in love with this shell necklace craft by Kids Activities Blog! Your little one can wear it any time of the year!
21. Colorful Paper Plate Fish
Creativity has no limits! This paper plate rainbow fish idea from Parenting Chaos is a fun open-ended activity! Take out all the art materials in the house and let your kiddos use them however they want! Kids will have a blast exploring colors and textures!
22. Turn Styrofoam Cups into Fabulous Crabs
These styrofoam cup crabs are going to crab-walk into your children's hearts! This is an art idea from Crafts by Amanda that shows recycling at its best!
23. No-Paint Rainbow Fish Art
Want to make crafty fish without the paint? Your little one will enjoy making this art craft from Homeschooling Mom 4 Two! The secret? Use tissue paper instead!
24. Cute Little Fishes from Toilet Paper Rolls
These toilet paper roll fish crafts by No Time For Flash Cards are a little bit of crazy, but a lot of fun to make! How many can your little one make?
25. Creative Octopus Art Crafts
Recycled paper towel rolls are a great way to make these animated octopus crafts by Kids Activities Blog! Create and decorate them in your kiddo's room!
More Fun Under The Sea Crafts To Make from Play Ideas!
Which under the sea craft is your kid's favorite to create?