Are your kids saying they're bored inside the house? You don't need to go far to have fun outside! Kids of all ages will surely have a great time doing these best outdoor games, DIY backyard games, and activities!
Enjoy a backyard barbecue and play everything from giant Jenga, backyard scavenger hunt, and hula hoops to your very own version of Angry Birds all in the space of your backyard! Have a great family backyard games time!
Get your fun gears on with these awesome easy diy family backyard activities!
Amazing DIY Backyard Games and Activities for the Whole Family
1. Creative DIY Angry Birds Barricades
Get those carrying case cartons boxed out and make your own barricades with this fun activity by My Four Misters and Their Sister! Your kids are going to have a blast knocking down the blocks in their own giant version of Angry Birds DIY game!
Bring those pigs down and rescue the eggs!
2. Your Very Own Creative Backyard Board Game
Take the family out for a lawn game and some sidewalk chalk with you. Get ready for a board game bond your kids and guests can play on the back deck! This activity by The 36th Avenue is going to be fun from start to finish!
3. Unbelievably DIY Backyard Bananagrams
Take out some cardboard and paint letters on the patio! Backyard Bananagrams is the kind of word game fun your entire family will talk about for years to come! This fun game by Constantly Love Struck will surely tap more vocabs for your kiddos!
4. Super Fun Giant Checkers
If your kids love checkers, they're going to go bananas for this diy giant backyard version of checkers or chess by Halmark Channel! The whole family is sure to have so much fun playing this right in your backyard!
5. Play this Fun Tightrope Balancing Game
Want to practice some gross motor skills? Work on your kid's skills with this amazing backyard tightrope balancing game by Kids Activities Blog! Your kids will surely have an easy transport blast playing this yard game!
6. Crab Soccer Game for Kids of All Ages
Got a big group? Make things super fun with bocce balls, crab soccer, or volleyball entertainment by Kween Mama! This game is so fun your kiddos will roar out and ring toss with laughter and glee! Best part? They get to play with the whole neighborhood!
7. Giant Dominoes for Giant Fun
Set up a simple diy game of giant lawn dominoes for your kids! This fun activity by So You Think You're Crafty will make your family roll out with genuine laughter as you play them in your backyard!
8. DIY Dot-to-Dot Game in Your Backyard
Dot-to-dot (unavailable) is a road trip favorite classic games, but now your kids can play it in the space of their own backyard! Thanks to Say Yes, your whole family will have a great time playing this without going too far!
9. Awesome Frisbee Tic-Tac-Toe
Looking for a new twist on tic tac toe game bolas? This version by BHG lets your kids play it with Frisbees! Awesome, right? Now the fun times will literally fly straight from your outdoor space!
10. Unbelievably Cool Gnome Bowling
Gnome bowling is way cooler than regular bowling! This outrageously fun game by Makezine lets your kids enjoy the warm sun in your own backyard! Plus, you won't have to tell the kids not to throw things in the house or try using a beach ball too!
11. Awesome Giant Jenga Game
How amazing is this gigantic Jenga stakes set? This craft by Creative Green Living is easy to recreate and the perfect game to get kids playing outside an alley! Super great for family reunions!
12. Colorful Kerplunk Craft in Your Backyard
KERPLUNK! Let those colorful big balls hoop, drop, and bounce! This activity by All Parenting is easy to recreate! Your little ones will surely have great fun making those balls fall to the ground. Even so much fun with water balloons!
13. Paint a Monster and Shoot the Bean Bags!
This monster bean bag toss game by Missy Ballance is a monstrously great time! Your little monsters are going to giggle as they view gallery and try to make those bean bags or balls go through the monster's mouth!
14. Have a Great Movie Set up in Your Backyard
This one isn't really a game, but still so much backyard fun! This idea from Running with Scissors lets you and your little one set up your own movie screening a little bigger and enjoy a movie night under the stars with the whole family!
15. Unbelievably Creative Backyard Obstacle Course
You can make an awesome obstacle course bucket for your kiddos! Create a classic lawn game mud run obstacle course that'll keep your kids running and competing for hours! Follow the tutorial by Under the Sycamore for a fun afternoon activity!
16. Classic Matching Games with a Twist
Check out this lawn twister old matching games by Dollar Stone Crafts! Now instead of sitting at a table and guessing where the match is, your kiddo will be running all around the backyard and having some outdoor fun!
17. Giant Backyard Pickup Sticks for Kiddos
The pickup sticks game is fine, but this giant backyard pickup sticks game by I Heart Nap Time is so much better! The whole family might just want to play it too!
18. Pool Noodle Race Track in Your Backyard
This pool noodle race track by Ramblings From Utopia is fantastic for those impromptu Hot Wheel car races! Take your boys out to your backyard and let the race begin!
19. Play this Huge Connect Four Game
Forget about playing Connect Four at the kitchen table. Create a giant outdoor four-in-a-row game from Home Depot in your backyard and enjoy some fun in the sun! Check out the instructions, the whole family will love it!
20. Soak Your Kids in a Fun Splash Zone
Set up your own splash zone water guns and see who can hit the target! On hot days, this fun idea by The Happy Housewife is the perfect way to beat the heat while having fun with the whole family right in your backyard!
21. Tree Stump Tic-Tac-Toe with Bees and Ladybugs
Here's another super fun version of tic-tac-toe by Chicken Scratch NY that'll give your kids hours of backyard fun. Just paint some rocks from the sidewalk to make them look like ladybugs and bees, and then sit back while they play!
22. Awesome Water Wall from Recycled Things
You can create an unbelievably awesome water wall using recycled objects from inside your house! This cute water wall idea from Kids Activities Blog lets the littles create waterfalls from their own imaginations and plastic cups!
23. Gigantic Water Blob for Kids of All Ages
This gigantic water blob by Clumsy Crafter is easier than you could imagine making! It is fun for kids to play on in your backyard! They are sure to have a blast on a hot afternoon!
24. Play Giant Dice in Your Backyard
Your kids will love playing backyard Yahtzee with these giant homemade dice by The Pinning Mama! Roll the fun and roll out with laughter with the whole family!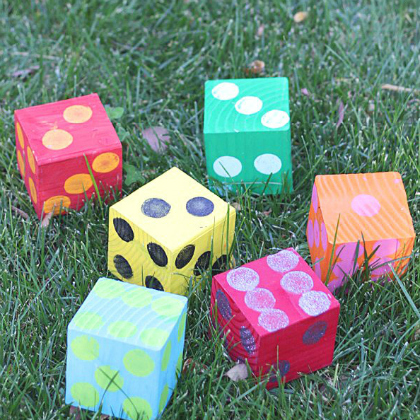 25. Colorful Twister Game in Your Backyard
Give your kids a new twist on Twister with this diy yard games idea from Eucharisteo! Spray paint the circles on the grass and they'll want to play for hours! Have awesome twisted fun!
More DIY Backyard Games and Fun Activities from Play Ideas!
Which of these unbelievably fun backyard games are you doing with your family today?