These Totally Awesome Summer Crafts for Kids are the best! So playful, colorful and absolutely beautiful!
These Sensational Summer Crafts for Kids are so much fun for kids of all ages. Summer is the perfect time to try simple and fun projects with the kiddos. There are so many fun interactive activities perfect for kids of all ages. Whether you are stuck inside on a super hot sunny day or you are looking for a great activity to enjoy the beautiful weather, these summer crafts and activities are fantastic. Enjoy!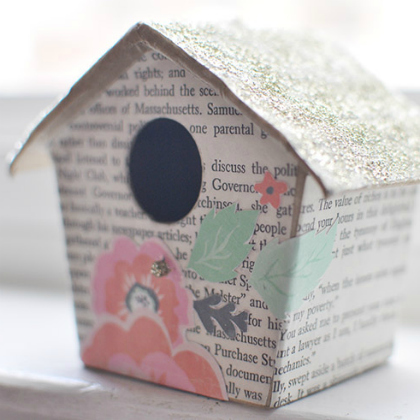 Make those beautiful little birdies an adorable home to live in for the summer, with this fun little Bird House Craft Project! Your kiddos will love watching the birds come and go all day long.
These Bottle Cap Bugs are great for kids for all ages, they can be as simple and intricate as you want. Kids can create all different types of bugs, whether it be bees, lady bugs, beetles or their own imaginary bug!
These Bow-Tie Noodle Butterflies are so much for for the kids to make! They can make their own mural, using whatever colors and designs they fancy. This makes the perfect craft for any occasion!
Aren't these Stick Planes so much fun? Reminiscent of those antique airplanes.  Kids can decorate them however they want making them as bright or uniquely designed as they please.
Your kids will love helping you decorate your outdoor space with this DIY Backyard Flower Garland. With only 3 supplies and a few steps later and you can light up the night with this twinkling strand! How cute is that!
Via Inspired By This
Brighten up your desk with these gorgeous Cupcake Paper Flower Pencils. This craft is so simple for the kids to make as gifts for friends, family and teachers!
Via Living Chic Mom
Bad dreams are no fun! But these Dream Catchers sure are! Add a pop of color and culture to your kids rooms with this beautiful craft.
Via Jane Can…
Splish! Splash! All summer long with this adorable little Egg Carton Whale Craft. Aren't these little guys just so cute?!?!
Flowers are the best part of Spring and Summer! This Paper Plate Flower Craft is the perfect way to bring in the beautiful colors of outside, indoors.
Summer doesn't have to be so hot with these fun Fruit Fans. Kids love fans of all sorts, but these Fruit Fans are definitely the coolest!
Via The Idea Room
If you are looking for a bright colorful, oceanic craft that makes very little mess…this Jelly Fish Craft is perfect.
Pretty, bright, flowery and simply beautiful. These Mason Jar Tea Lights will make a great addition to your outdoor decor this summer!
Via 365 Designs
I don't think anyone can ever tire of owl crafts. They are seriously so cute! These Big Eyes Owl Cups are a great way to use up those left over Styrofoam cups laying around!
Bright and colorful these Clothes Pin Painted Doily Butterflies will surely enjoy soaring through your home.
You can spend all day in the sun while playing with this incredible fun Mermaid Paper Bag Puppet! If you have a little girl who loves mermaids you won't want to miss out on this awesome craft!
So bright and colorful. These Paper Daffodil Flowers will make a beautiful addition to your mantel place decor.
Via Make and Takes
Here's a great summer project that will take your kids outside on a hunt, then spend the a afternoon making fun Pinecone Pineapples!
What a beautiful way to upcycle, with this fantastic Plastic Bottle Flower craft project.
Via The Chilly Dog
These creepy crawling Caterpillar Clothes Pins are sure to bring so much joy to your kids this summer!
Via We Made That
You won't have to worry about a drippy mess with these Bright Paper Popsicle. Just a little glue and paper and your kids will be having a grand ol' time!
Via Craft Whack
If you have leftover water bottles, you and your kids can turn them into these gorgeous Bottle Art Pieces.
Cool down with these super fun sponge Water Bombs. Not only will the kids have fun making these sponge bombs, but they will entertain the kids for hours while they soak them up and enjoy some water play.
Make your own Tulip Garden! Your kids will love creating their own little garden out of cardboard, Popsicle sticks and yarn. All the beauty without the worry of them wilting away!
Via Reuse Growen Joy
These Twirling Lady Bugs swirl and twirl and look so cute, and all you need is a little breeze.
Via Crafts By Amanda
How much fun are these Firefly Spoons? These are so easy to make and the kids will love flying them around and playing with them after creating them.