Sprinkles are colorful and fun and kids love them!
Sprinkles are so much fun to play with! From decorating cookies to creating crafts, drizzling a cascade of colorful sprinkles is something everyone can enjoy. These 25 Sweet Sprinkle Ideas for Kids will give you and your kids some fun ideas with what to do with all those leftover sprinkles in your cabinet! Enjoy!
25 Sweet Sprinkle Ideas For Kids
These sprinkle accented bottles would make a great kid-made gift for their teacher!
Via Ruby in the Rough

Unicorn poop cookies are sugary sweet, sprinkled, and adorably simple to make.
Via Hallecake

You won't believe what they used to make this sprinkle covered tag!
Via Creme de la Craft

This time of year, people LOVE homemade cookies. Get the kids in on the action with these simple sprinkle cookies!
Via Julia's Album

This adorable sugar cookies gift is a blast for kids and parents alike.
Via The Partiologist

Sprinkle covered marshmallows add a little crunch to this already amazing treat.
Via Catch My Party

These sprinkle filled snowmen are super easy to make, and your friends won't believe how cute they are!
Via Hungry Happenings

Reindeer food is important to keep on hand for when that big day arrives…
Via Split Coast Stampers

This sprinkle LOVE picture would look adorable in a nursery.
Via A Joyful Riot

These pom pom milkshakes will give your kids something fun and sprinkle covered to play with!
Via Pink and Green Mama

How fun would this sprinkle necklace be to give as a gift?
Via Sugar Bee Crafts

These sprinkle pops are super easy to make! Even your kids will love making them.
Via Makoodle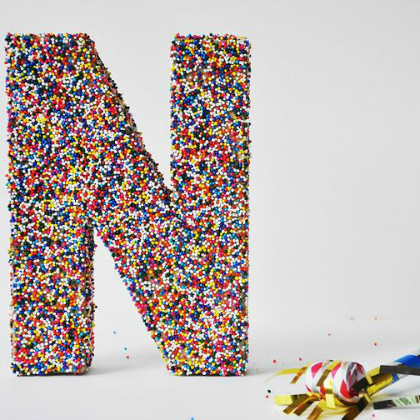 Make a monogram of your initial to put on the fireplace, or let your kids make one for their scout leader.
Via Momtastic

Sprinkle Oreo bark is a delicious treat to keep out for visitors this holiday season.
Via Kids Activities Blog

With the New Year approaching, get your kids excited about fireworks with this sprinkle fireworks picture.
Via Little Page Turners

This fairy sandwich is a cute way to tell your kids you love them without saying a word.
Via Kids Activities Blog

You won't believe how easy these sprinkle cake pops are to make!
Via Kids Activities Blog

Edible jewelry? Every child's dream come true!
Via Cute Food For Kids

Kids are going to hove getting in on the action when you make these candle cupcakes.
Via Radmegan

Cover the rim of these cups in sprinkles, then host a hot cocoa party that Everyone will want to attend!
Via Dukes & Duchesses

As the weather gets colder, make this sprinkle popcorn and snuggle down under the covers to watch a movie.
Via Easie Peasie Co

Sprinkle ornaments are easy to make and such a colorful addition to your Christmas tree.
Via Little Gray Fox

Tell someone you love them with this happy day sprinkle pop picture.
Via CASology

These sprinkle bangles are made with a resin mold and your older kids are going to love making them for their friends.
Via Dream A Little Bigger

Sprinkle acorns are such an easy and adorable treat to set out for friends and family who come to visit!
Via Juneberry Lane