Snacking has never been so much fun! Muddy buddies, puppy chow, whatever you call it – these snack mixes are little tiny tasty bites of fun. And your kids are going to love these 25 super silly muddy buddies recipes. With themes like unicorn poop and Minecraft to fun flavors like bubblegum and butterbeer, there's something in here for every kid…and the fun-loving adults in their lives. Enjoy!
25 Super Silly Muddy Buddies Recipes For Kids
Accio these butterbeer muddy buddies for your Harry Potter loving kid, stat!
Key lime muddy buddies are the tangy sweet treat your kid's been craving.
Via Totally The Bomb
The hardest part about making these banana cream muddy buddies is not eating them all up as you go.
Via Bread With A Side Of Butter
Delicious banana split muddy buddies are fun to make and so much fun to eat.
Ever think to yourself, "I wish bubblegum was crunchy and didn't get stuck in my hair?" If so, these bubblegum muddy buddies are exactly what you've been wishing for!
Via Totally The Bomb
Cake batter muddy buddies are all the fun of cake batter, minus the possible tongue-in-mixer injuries.
Via Fun Squared
These caramel apple muddy buddies will satisfy your taste for fall year round.
Who wouldn't love cookies and cream muddy buddies?
You won't be saying, "Oh bother" with these Charlie Brown muddy buddies. You'll be saying, "Oh yum" instead!
Via Totally The Bomb
Do not get me started on how amazing these cotton candy muddy buddies are. Okay, I'll start – they're SO amazing!
Via House Of Yumm
I'm not sure what unicorn poop muddy buddies taste like, but I'm guessing they're colorfully delicious.
Via Mom Dot
Get your kids ready for the big game, or a little game, or any game with these football muddy buddies.
Frosted animal crackers muddy buddies are everything you love about frosted animal crackers, with just a little extra crunch.
You will not want to let go of these Frozen muddy buddies – not for your sister, or anyone.
Via Hip 2 Save
Leprechaun muddy buddies are like finding a pot of gold, and then realizing that it's green.
Via Cooking On The Front Burner
Your kiddo's will think it's their lucky day when they try these Lucky Charms muddy buddies!
Minions muddy buddies are adorable and could definitely double as Cookie Monster with a couple cookies thrown in.
Via Totally The Bomb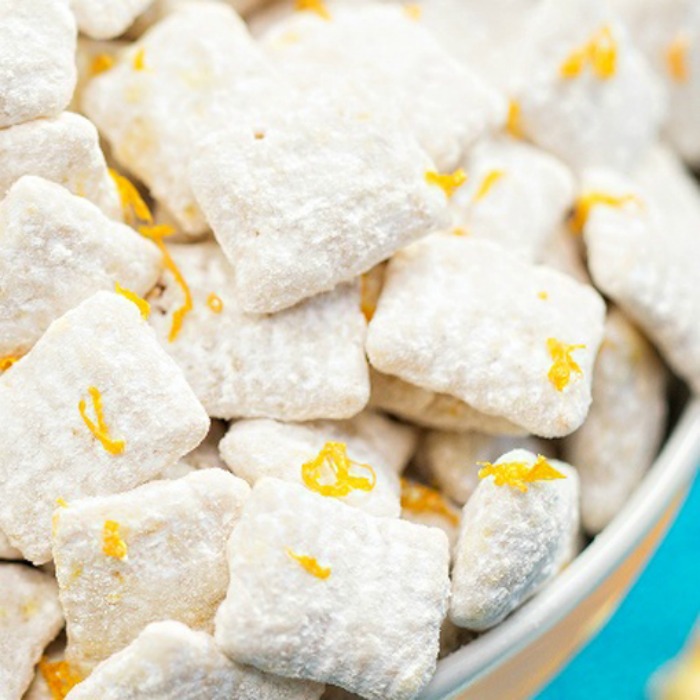 Delicious orange creamsicle muddy buddies are tangy and creamy and perfect on a hot summer day.
Via Chex
Speaking of hot days and things that make you go Mmm…check out these sherbet muddy buddies!
Via How Of Yumm
Your not going to believe how super easy these rainbow muddy buddies are to make, but trust us – they're much easier to eat.
Via Tablespoon
Next time you're craving something creamy and sweet, check out these classic root beer float muddy buddies.
Via Tasty Kitchen
Snickerdoodle muddy buddies use Cinnamon Toast Crunch to make, and boy are they tasty to eat.
How adorable is this basket of strawberry shortcake muddy buddies? Not too cute to eat, mind, but adorable.
Sugar cookie muddy buddies are the snack you keep in a jar for everyday kind of munchies.
No need to worry about creepers with this Minecraft muddy buddies recipe. These are more Ssssss Sssssss Mmmmmm.
Via The Tiptoe Fairy