Summers are meant for sunshine and beaches. And beaches mean seashells by the seashore! What we love about seashell crafts is that they are great ideas to keep your beach vacation memories at home!
These summery seashell craft ideas for your kiddos are the perfect way to remember all those fun-in-the-sun days for years to come.
From painting to collages to cute summer critters, these cute seashell crafts will keep the fun going long after the sun goes down. Enjoy!
Lovely Summer Seashell Crafts for Kids
1. Tropical Seashell Fish Craft Idea
This beautiful tropical seashell fish craft from Crafts by Amanda will bring color into the darkest days with this fun, bright craft! Your kids will love making these cuties!
2. Lovely Seashell Wreath
Painted shells make this kid-made wreath all the more amazing decoration at home! Your little one will enjoy crafting this easy project from Hello, Wonderful!
3. Cute Seashell Snails Craft
These seashell snail crafts from Meet the Dubiens will slip and slide their way into your child's happy heart.
4. Easy Seashell Puppet Crafts
These fabulous seashell puppet crafts by Zing Zing Tree are fun and easy for arty crafty kids to make and great to play with all summer long!
5. Sea Shell People Crafts
Let's Do Something Crafty gave these fancy seashell folk crafts which are ready to party, play, and be styled in whatever way your child wishes. A great gift idea too!
6. Shell Collage Memory Box
Even toddlers can help make this fun and memorable sea shell craft collage picture project from Two-Daloo!
7. Colorful Painted Seashell Crafts
Preschoolers will love to paint these colorful shells! This craft from Fantastic Fun and Learning gives the seashells bright colors and interesting textures that will make this a fun sensory project too!
8. Peacock Seashell Crafts
This beautiful playdough peacock project from Crafty Morning is easy to make and will brighten your child's day. Lovely!
9. Salt Dough and Seashell Hearts Crafts
Salt dough hearts are even more beautiful with lovely seashells placed into them. These adorable and easy seashell crafts from Hoppin' Up lets your little one imprint shell fun memories!
10. Seashell School of Fishes
Simple seashells make cute fish with this easy seashell craft idea from Crafts by Amanda! Blub, blub!
11. Shell Collages Cool Enough to Frame
Your little ones can create collage pictures that are fun, memorable, and whimsical with this great seashell tutorial from Alpha Mom. What a great craft!
12. Colorful Doodle Seashells Crafts
This simple but fun project by Creative in Chicago lets your kids decorate seashells with sharpies and make art that'll last! Even more, fun using their own handprint!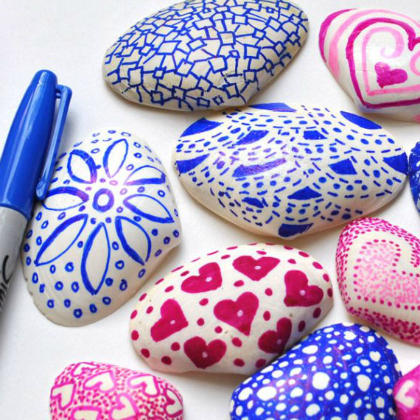 13. Ocean Seashell Discovery Bottle
This beautiful DIY seashell discovery bottle idea from Education is a fun way for your little ones to remember that trip to the shore!
14. Water Color Seashells Crafts
Paint your kiddo's seashells with watercolors and give those shells beautiful texture and depth in this colorful idea from Fun-a-Day. Make colorful pendants too!
15. Melted Crayon Shell Art
Your kiddos can have a blast melting crayons onto their shells and watching the colors run in this fun idea from Fun at Home with Kids!
16. Lovely Ladybug Seashells Crafts
Let your preschooler create fun little shell ladybugs that are guaranteed to NOT bug anyone! Enjoy this simple craft by Still Playing School!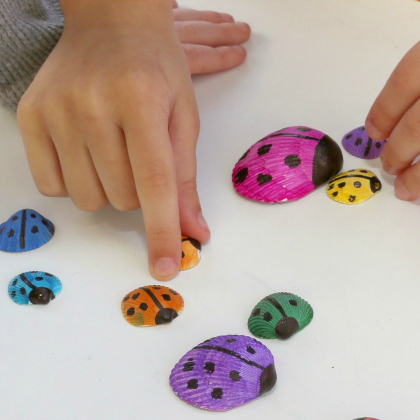 17. Creative Shell Creatures
Create fun summery critters (unavailable) with shells you collect on the beach. This great tutorial from Martha Stewart will help you and your kids!
18. Seashell Necklaces
Does your little one love to take the shells with them? These lovely shell necklace ideas from Get Crafty are as beautiful to look at as they are fun to make!
19. Colorful Dyed Seashell Crafts
Use color theory to dye shells gorgeous pastel colors for whatever projects your kiddos have in mind! Follow this quick tutorial from Rainy Day Mum!
20. Awesome Seashells Mural Craft
This fun sea picture project from Glued to My Crafts is a great way to save those shells and create lasting art with your little one!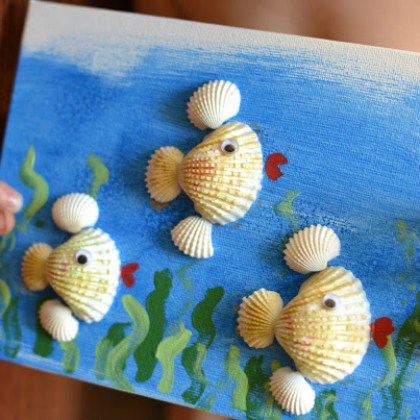 21. DIY Sea Shell Earrings
Wear the seashells your little girl finds this summer by turning them into sweet earrings! This lovely craft from Moms and Crafters is so fab to make!
22. Gorgeous Crystal Seashells Craft
How gorgeous are these crystal-filled shells? Your kiddo will find out how to create them with this tutorial from Little Bins for Little Hands!
23. Beach Memory Jars
Store some of the colorful sand and seashells from the beach in a cute bottle! Your kiddo will love to see this cute project from Fireflies and Mud Pies!
24. Sea Shell Frames
Let your kiddo create a picture frame to keep the beach memories alive! This awesome craft tutorial from Canadian Living is easy to follow with your little ones!
25. Shell Learning
Instead of crafting, do this fun learning activity from Pre-K Pages and let your preschooler dig for the alphabet!
More Fun Summer Seashell Crafts Summer Crafts for Kids from Play Ideas!
Which lovely summery seashell craft is your kiddo's favorite?