Light the torch, it's time for the Olympics!
Whether your family is into the summer games, or your kids like to play pretend, the Olympics is a huge event and should be celebrated. That's why you're going to love these 25 Spirited Olympics Crafts For Kids. They celebrate the victories of the Olympic games, and the hope that brings so many nations together at the same time. Enjoy!
DIY large Olympic rings take a little work to create, but are beautiful once they're done!
Via Uncommon Designs
DIY Olympic medals using mason jar lids are sturdy, and perfect for budding crafters.
Via U Create Crafts
Want to get toddlers involved in crafting? These easy Olympic torches truly are easy to make, and perfect for little hands.
Let those littles make this preschool Olympic torch craft and they'll feel like they're part of the action.
Via Happy Hooligans
These felt medals would be great to give away at an Olympics watching party at your house!
This flag handprint wreath is perfect for learning about national flags, and celebrating the victories of all the participants.
Via Activity Village
These flag rocks are fun to make, and your kids can learn about the flags for all of the nations participating in the Olympics.
Via Non Toy Gifts
This Olympic glowing torch really glows! How cool is that?
Via Oh My Creative
DIY Olympic medals are a fun way to watch at home, or create pretend games with your kids.
Via Homemade Ginger
These nature Olympic circles are a great way to celebrate the games and nature at the same time.
Via KCEdventures
This abstract looking rings with feathers craft is a beautiful craft for holder kiddo's to freehand, or for littles to do with your guidance.
Via Popsugar
This easy Olympic ring art project is perfect for littles and a great way to get them involved in the games.
Via Happy Hooligans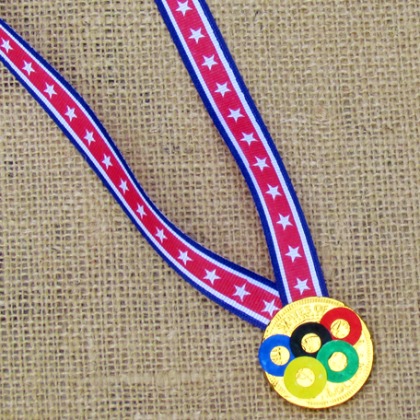 These gold chocolate medals are a craft you could really sink your teeth into!
Via Uncommon Designs
Via All For The Boys
The Olympic stadium in Brazil might be too far away for you to visit, but that doesn't mean you can't celebrate with this craft at home!
Via Activity Village
Olympic wreaths have been around since the beginning of the games, and this craft is a great way to talk about the history of the Olympics with your kiddo.
Via Education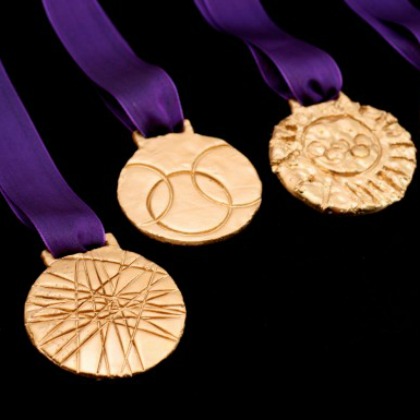 Don't worry about making official looking medals, create these DIY medals in any pattern you like!
Via Paging Supermom
This easy paper plate Olympic rings craft is fun for younger crafters, and such a great way to celebrate the games.
Via Meaningful Mama
Celebrate your country's victories by making a patriotic bracelet in your colors.
Via Buggy And Buddy
Create this pipe cleaner Olympic flag as an easy craft for littles who want to craft the Olympics.
Watch the games with these Olympic ring glasses and feel like you're part of the action.
Create your own salt dough Olympic medals and award them to the winners in your home.
This Olympic medal and flag are all about celebrating the victories of the games.
Cut up some tissue paper and make these tissue paper rings to celebrate the joining of the nations in Brazil.
Via Mess For Less
These Olympic rings on a flag are beautiful and could be used to celebrate any country as they enter the games.