You'll never throw away another plastic spoon once you see these 25 spoon crafts for preschoolers!
Looking for a fun craft that lets you recycle those old wooden and plastic spoons? Look no further! These 25 super adorable silly spoon crafts for preschoolers will give your kiddo hours of silly fun! Enjoy!
25 Silly Spoon Crafts for Preschoolers
The ant-spoons go marching one by one, tra-la-tra-la.
Via Danielles Place
Imaginations will soar with these paper plate birds!
Via Krokotak
This recycled bird feeder is 'cheep' (and fun!).
Via Heck Fridays
These are the only bugs you'll want hanging out with your plants.
Via Paging Fun Mums
These little bugs on a branch couldn't be any cuter if they tried.
Via Crafts By Amanda
No translation necessary, these little butterflies are going to fly right into your heart.
Via Krokotak
This plastic spoon catapult will make your kids flip!
Via Devin Collier
How proud will your kiddo's be when they show off this chrysanthemum mirror to their friends?
Via Suzy's Sitcom
These little bugs are adorable and so easy to make!
Via Paging Fun Mums
These Dia de los Muertos spoons are so cute and simple!
Via Scrumdillydilly
These sweet wooden spoon dolls Belong in your child's playbox.
Via Skip To My Lou
Teach your kids entomology with these adorable wooden spoon bugs.
Gardening was never as fun before these wooden spoon garden stakes came along.
Shake, shake, shake those spoon maracas!
Via Dana Made It
These Disney Princess spoons will inspire hours of fun, creative play!
The only thing scary about this jar of monsters is how much fun you're going to have!
Via Home Talk
These wooden spoon puppets have a story to tell, and your preschooler is just the person to tell it.
Via Teach Me Mommy
Here comes Peter Cottontail, hopping down the plastic spoon trail! Seriously, though, how sweet is he?
Via The Guardian
This little chickie is waiting to come home with you.
Via iVillage
Grandpa, is that you? Your preschooler will have a blast making their own spoon family.
Via Handmade Website
Have a roaring good time making this lion!
Once upon a time there was a little spoon puppet…
Have fun making Frosty the Spoonman!
Watch imaginations bloom with these spring blossoms!
Via The Star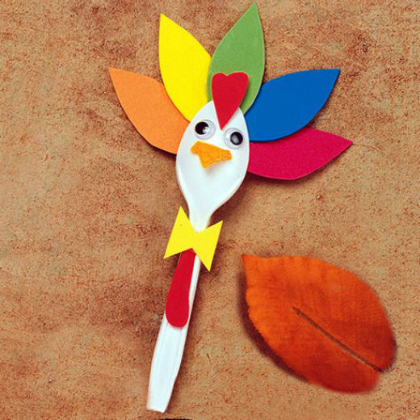 Your preschooler will gobble up their lunch lickity split if you tell them you're making this spoon turkey when they're done!
Via Barnacle Bill