Krispie treats are fine, but why not spice them up a bit? Kids love silly. Ever spent an hour in a car with a five-year-old? More knock knock jokes than you can imagine!
Classic rice krispie treats are super easy to make, all you need is some rice krispies cereal and fresh marshmallows (or mini marshmallows). So instead of plain rice Krispie treats, why not make some silly ones? They are great as a simple baking activity for anyone of any age! These silly rice Krispie treats for kids are hilariously adorable and will definitely be talked about for years to come.
Enjoy making these super silly rice Krispies for your kids!
Silly and Delicious Rice Krispie Treats for Kids
1. Cute Krispie Cheese Burgers
These Krispie cheeseburgers by Dine & Dish are perfect for your next cookout! add some chocolate chips for garnish!
2. Silly Alien Krispies
These alien Krispies from Kids Activities Blog are out-of-this-world fun! following this rice krispie treat recipe is sure to be a blast! Great to serve with peanut butter cups!
3. Cute Caterpillar Krispie Snacks
There's something so cute about these caterpillar Krispies from Hostess with the Mostess, and your little ones will be super happy to eat them!
4. Whimsical Krispie Wands
If you could grant your kiddos one wish, I hope it's that you want to make these Krispie wands for your next slumber party! Such a creative snack from Mom Endeavors!
5. Lovely Krispie Christmas Tree
These Krispie Christmas trees by Raining Hot Coupons are such a fun way to usher in the season!
6. Cookie Krispie Monsters
Cookie Monster is now a Krispie monster in this fun recipe from Kids Activities Blog! Nom, nom, nom…
7. Tasty Fall Leaves Krispie
These tasty fall leaves Krispie ideas by Two Sisters Crafting are so perfect for autumn! These fall themed rice crispy cakes are delicious and melt in your mouth!
8. Groovy Flower Krispies
Marbled or tie-dyed, these groovy flower Krispies by Hallecake are amazing! Making these with cookie cutters is super easy!
9. Silly Krispie Footballs
Give me ten, twenty, heck, just give me all these Krispie footballs by Divine Lifestyle for your kiddo! Go, team, go!
10. Super Silly Frankenstein Krispie Treat
This Frankenstein's monster Krispie idea by Clean and Scentsible is probably the funniest of all the Krispies that your child will see! This treat is great for Halloween!
11. Boo-tiful Rice Krispie Ghosts
These Krispie ghosts by The Idea Room are spooky-easy to make! Aren't they boo-tiful? just melt some white chocolate and then dip the rice krispie treat into the melted chocolate!
12. Cool Ice Creeam Krispies
If your kids are screaming for Krispie treats, these ice cream Krispies from Totally the Bomb are exactly what you've been waiting for!
13. Spectacular Rice Krispie Sushi
No gummy fish were harmed in the making of this Krispie sushi by The Village Cook… but it will be once your little ones bite into them! with these Swedish fish candies on top and melted marshmallow in the rice krispies not child could resist!
14. Silly Chicken Drumsticks… Krispies!
Does it get sillier than a bucket full of fake chicken drumsticks that are really Krispie treats? Try this super silly treat from Kitchen Fun with my Three Sons today! these are great for any peanut butter lover as they are peanut butter rice krispie treats!
15. Fun Krispie Lawnmowers
These Krispie lawnmower ideas by Cute Food for Kids are hilarious fun for anyone who loves to be outside!
16. Cute LEGO Krispie Treats
Everything is awesome with these Lego Krispie treat ideas from Stay at Home Chef! these rainbow colored bricks are a blast! just cover them in your favorite colored frosting!
17. Minecraft Krispies
These Minecraft creeper Krispies by Parenting Chaos are the kind of boom fun your creeper-kid craves!
18. Silly Minion Krispies
These Minion Krispie ideas from Kids Friendly Things to Do are naughty fun, but not always. They're actually super cute, even for your kids to feast on them!
19. Lovely and Delicious Krispie Ornament
You can't hang this Krispie ornament from a tree, but maybe you can make them for a tree decorating party! Such a fun treat from Canadian Family! Also great with sprinkles!
20. Outrageously Silly Pizza Krispie
This silly pizza is one that is made out of Rice Krispie treats by Rice Krispies! Your kids will love to have a slice! these bake desserts are delicious (even if they don't look like desserts!).
21. Spectacular Robot Krispies
This robot Krispies by Catch my Party has rebooted and transformed itself into a yummy Krispie treat! Beep boop beep!
22. Krispie Sesame Street Characters
It's super fun to make and eat these Rice Krispie Sesame Street by Two Sisters Crafting!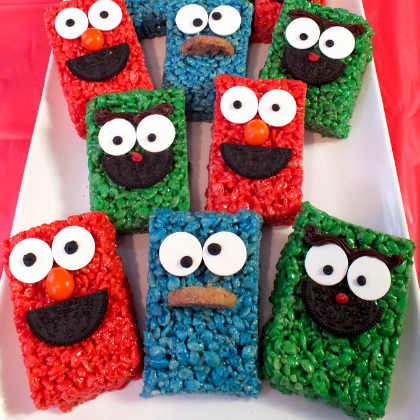 23. Itsy-Bitsy Spider Krispie
The itsy-bitsy spider crawled down the water spout and straight onto your dessert plate! Your kiddos will ask for more of this cute Krispie treat from Cookies and Cups!
24. Cute and Silly Pumpkins
These silly pumpkin Krispies by Kids Activities Blog are hiding a secret sweet chocolate surprise!
25. Witches' Hats Krispie
These Rice Krispie witches' hats from Two Sisters Crafting are adorable fun for any fan of Hocus Pocus!

More Delicious and Fun Snack Ideas for Kids from Play Ideas
Which delicious rice Krispie treat are you making for your kids today?