These crafts have teeth!
Do your kids love sharks? Are they obsessed with all things toothy? Does the theme song from Jaws make them clap their hands with glee? If so, these 25 Scary-Fun Shark Crafts For Kids are Exactly what your littles have been craving. Whether they love Bruce from Nemo, or think tiger sharks are the cat's meow, they're going to have a blast with these fun crafts. Enjoy!
Make sure your kids know where they stopped reading with this ominous shark fin bookmark.
I'm pretty sure this fish is a goner, but this clothes pin shark couldn't be cuter if it tried.
Via Kix Cereal
Cootie catchers are so much fun to make, and this one is adorable…even if it bites.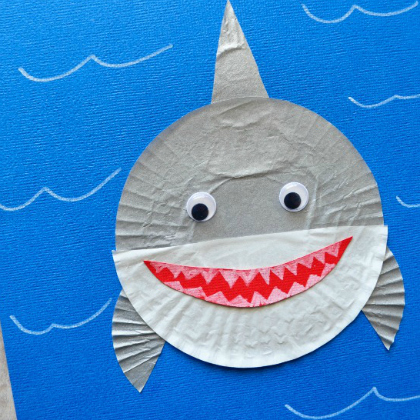 It may not feel safe to go into the pantry once you've made these cupcake paper sharks.
Keep a shark observatory in your own home with these amazing shark discovery bottles.
This duct tape shark has seen some things…and your kids are going to love making him.
A felt finger puppet shark may not look intimidating, but just look at those chompers!
Paper plates are awesome for creating sharks that can stand on their own two fins.
Via Artsy Momma
These shark hats are perfect to wear during shark week, sharknado, or any time you go to the aquarium.
Via Modcloth
How about a page corner bookmark with teeth! This shark bookmark is a fantastic way to keep track of where you stopped reading.
This paper plate shark looks like he's coming right at you. But it's okay, because he knows that fish are friends, not food.
Via Crafty Crafted
This tube shark has a tale that swishes back and forth. But it's okay, because he can't really bite down.
Via Hello, wonderful
After you make this pool noodle shark, you may never feel safe going in the water again.
Via JDaniel4's Mom
This shark sensory bottle is like a little bite of ocean in your own home…
Via Stir The Wonder
Shark binoculars will help you see if the big one is coming…or at least help you imagine it.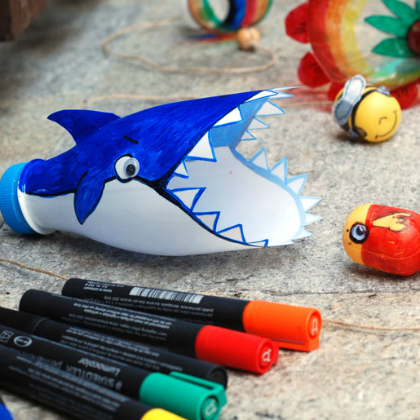 This shark catcher game is fun to make and to play with. Simply make the shark using a plastic bottle, then 'catch' the fish.
Via Krokotak
These paper cup sharks are perfect for a shark-themed birthday party, or any party with bite.
Via The Joys Of Boys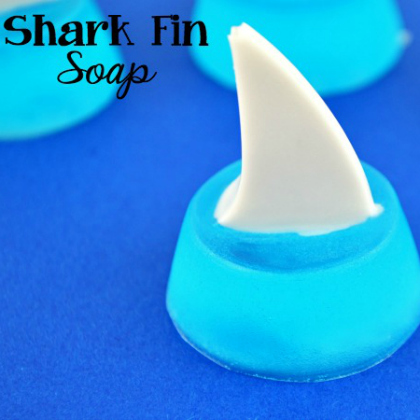 Get scary clean with this shark fin soap. Not only will it be safer getting into the water, it'll be more clean.
Via Totally The Bomb
Shark footprints are probably not found in nature, but will look completely natural among your other refrigerator art.
This shark monster swims toward it's prey before delivering that mighty, final CHOMP!
Give that Sharknado-loving teacher a gift they'll love with this shark vase!
Via Craft Klatch
Create your very own shark melodrama with this sock puppet shark.
Via BHG
This shark sun catcher gives the illusion of sharks swimming a little ways away…which is exactly where you want them to be.
Via Buggy and Buddy
This tp roll shark is a fun afternoon craft for kids, and you can create a whole ocean of sharks in no time at all.
How much fun is this wooden spoon shark? I don't know if it actually bites, but with those teeth I'm guessing it can at very least nibble.
Via Activity Village