Who says summer's too hot for treats? Slushies, ice cream, delicious frozen fruits, even yogurt bites will give you that little bit of healthy yum.
These 25 Refreshing Ice Cold Treats For Kids will keep them chill, even while the temperatures soar outside.
Stay cool while tasting a sweet treat. Enjoy!
Yummy Ice Cold Snacks at Home
1. Banana Chocolate Chips Ice Cream Bites
Try these amazing two-ingredient banana chocolate chip bites by The Baker Mama next time you're little chunky monkey's craving!
2. Berry Parfait Yogurt Popsicles
These berry parfait popsicles by Well Plated are way better than regular ol' boring parfaits. Perfect for that hot weather today!
3. No Churn Bubble Gum Ice Cream
I don't know about you, but to me, bubblegum ice cream by Cincy Shopper is poppin' good. Try out with the kids!
4. Chocolate-Covered Banana Pops
This chocolate-covered banana pops by The Healthy Maven are a delicious treat, and pretty darn good for you, too! Get the kids in the mood for the holidays with this yummy snack!
5. Cotton Candy Frozen Yogurt
Cotton candy is an all time favorite of all flavors, and this cotton candy frozen yogurt by House Of Yumm will make your kids heart flutter with happiness.
6. Dr. Pepper Ice Cold Slushie Recipe
I'm a pepper, you're a pepper, but these Dr. Pepper slushie by The Frugal Girls drinks are way more pepper than any pepper I know.
7. Frozen Coconut Limeade Drink
Forget that trip to the tropics, try this frozen coconut limeade by My Recipe Magic next time you're kids crave fun under the sun.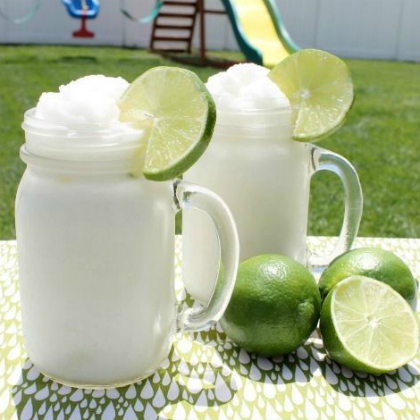 8. Frosted Lemonade Chick-Fil-A Copycat Recipe
Or if you're craving Chik-Fil-A, this copycat frosted lemonade by Living Chic is the kitten's meow.
9. Frozen S'more Sandwiches
Who wants to build a bonfire in the middle of July? These frozen s'mores by It's Always Autumn are all the delish, without the heat.
10. Frozen Berry Smoothie
Fix yourself a sweet, frozen treat with this frozen berry smoothie by Simplistically Living. A yummy simple smoothie recipe at home with the kids.
11. Frozen Yogurt Button Bites
These frozen yogurt bites by Lady Behind The Curtain are way easier to make than you could imagine! A definitely must-try cold treats with the kids.
12. Easy Pureed Fruit Popsicles
Your kids are going to love these pureed fruit pops, by A Cultivated Nest and you'll love knowing they're eating healthy!
13. Vanilla Greek Yogurt Funfetti Popsicles
These funfetti popsicles by Salt And Lavender are all the fun of a funfetti cake, but on a stick.
14. Homemade Fudgesicles
Craving for chocolates? Try this amoizing fudge bar by Cincy Shopper. It's easy to make and will kill that craving in a blink. Summer's heat can be so overwhelming, but these homemade treats will help you beat the heat in the kitchen.
15. Yummy Ice Cream Tacos
Mmmm…tacos. Even more Mmmm…ice cream tacos by Mostly Homemade Mom.
16. Jello Sherbet Ice Cream
Make your own delicious Jello sherbet by Smart School House right in your own kitchen! What a cool summer treat for your kids this summer season!
17. No Churn Cookie Monster Ice Cream
Is your kiddo a monster? Make them this cookie monster ice cream by Our Family Of Seven!
18. CopyCat Orange Dole Whip
Why leave your home when you can make this copycat orange dole whip by Cincy Shopper from the comfort of your kitchen.
19. Chocolate Chip Cookie Dough Stuffed Oreos
Your entire family will flip over these delicious chocolate chip cookie dough sandwiches by Recipe Boy using simple ingredients you can find at home!
20. Raspberry Lemonade Slurpee Recipe
Every day is slurpee day when you can make this raspberry lemonade slurpee by Cincy Shopper. You can add sprinkles to make it more fun!
21. Unicorn Ice Cream
We love our unicorn cookies. Our unicorn dip. And now our unicorn ice cream by Bread Booze Bacon! Mmmm…
22. Yummy Watermelon Ice Pops
Taste this delicious watermelon ice pop (unavailable) by Eat Yourself Skinny when you crave something sweet, fruity, gummy, and fun cold treat with the kids!
23. Watermelon Strawberry Sorbet
Or you can check out this Watermelon strawberry sorbet by The Dashing Dish. It's creamy, sweet, fruity, and delicious in all the right ways too. Kids will love!
24. Strawberry Watermelon Popsicles
These strawberry watermelon pops by One Lovely Life are tart tangy treats that will leave your tastebuds tickled. Take your popsicle sticks and watermelons out and make a cold, yummy afternoon with the kids!
25. Chocolate Chip Cookie Dough Ice Cream Sandwich
Make this cookie dough ice cream sandwich by Mel's Kitchen Cafe next time you want hot cookies. Think of this as the Frapp version of the hot original.
More Tasty Treats For Kids From Play Ideas
Which ice-cold treat are you going to have with the kids this afternoon?