Preschoolers love exploring the world around them, and the fall is a great time to do so. With cooler weather, vibrant colors, and changing seasons, your child will have plenty of time to enjoy nature.
These 25 Pretty Pinecone Crafts for Preschoolers are whimsical, playful, colorful, and everything you and your child will love about fall crafts. It is amazing what you can do with pine cones!
Your child will love exploring nature then crafting with these fun diy pine cone crafts. In many cases all you need is some hot glue, acrylic paint, wax and twine. Enjoy!
25 Pretty Pinecone Crafts for Preschoolers
1. Pinecone Bee Craft
This busy little pinecone bee by Easy Crafts for Kids is such a happy little crafting buddy. Your preschooler will have a blast painting his black and yellow stripes. great for mini pine cones.
2. Easy Pinecone Dinosaur
Bring this pinecone dinosaur (unavailable) by Art Craft Ideas to life with items found in your own backyard.
3. Felt and Pinecone Turkeys
Make these funny pinecones and felt turkeys by Lia Griffith with your preschooler – they'll make great decor come November!
4. Pinecone Gnomes Craft
Pinecone gnomes by We Bloom Here protect the forest all autumn long, and these are looking forward to protecting your home, too. these guys look great outdoors but also sit well on a mantel over the fireplace during Christmas.
5. Pinecone Hummingbird
This bright pinecone hummingbird by Birds & Blooms is gorgeous, even if it is much bigger than normal hummingbirds.
6. Little Nut Job Pinecone
This little Nut Job pinecone (unavailable) by My Kids Guide is super adorable and so much fun to make.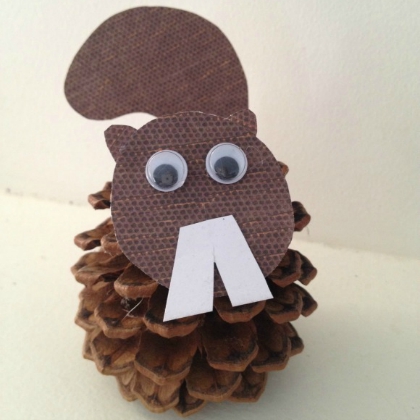 7. Owl Family Pinecone Craft
Owl families by Meaningful Mama make for great crafting time for you and your preschooler!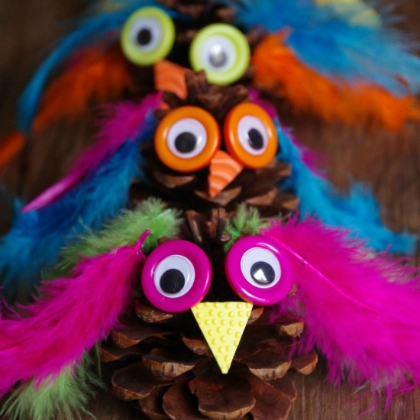 8. Royal Penguin Pinecone Craft
Bring your child's imagination to life with this Royal pinecone penguin by Crayon Box Chronicles
9. Pineapple Pinecone
Explore compound words with this pinecone pineapple by Dizzy for Kindergarten!
10. Rustic Pinecone Apples
This pinecone apple by Fireflies and Mud Pies is a great way to spend time painting with your child and makes a great gift for their teacher.
11. Pinecone Bunnies
These tiny pinecone bunnies by Fireflies and Mud Pies are going to hop into your child's heart.
12. Pinecone Crown for the Little Girls
Bring on the magic of autumn with this pinecone crown by Playtivities for the little girls!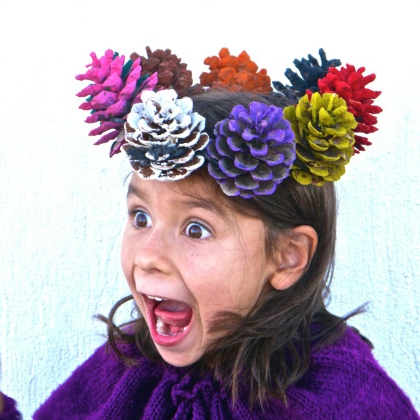 13. Autumn Natural Fairy Pinecone Craft
Your young fairy lover is going to be so happy when they make this pinecone natural fairy by The Magic Onions! These pinecone elves also makes for excellent Christmas ornaments!
14. Pinecone Fairy Ornament
Make this love fairy pinecone ornament by Hello, Wonderful, and watch the love in your child's eyes grow.
15. Pinecone Field Mouse Craft
This little pinecone field mouse by Empress of Dirt is ready to scurry into your preschooler's hearts.
16. Pinecone Robin Birds
This beautiful pinecone robin by Kids Craft Room is super easy to make and you'll love hanging it on your tree where your preschool can show it off proudly.
17. Pinecone Roses Craft
Roses are red and violets are, wait roses are also yellow and pink…at least these pinecone roses by Creative Green Living are! These are a ton of fun to create and make for some great home decor or a coffeee table centerpiece.
18. Little Miss Pinecones Goes Skiing
Your preschooler will love bringing these pinecone skiers by Bella Dia to life! they are like little pine cone elves!
19. Pinecone Craft That Turns into a Snake
This creepy, crawly pinecone snake by Kids Activities Blog can't wait to slither its way into your craft calendar.
20. Sticking Pinecone Spiders Craft
Even if you normally don't like spiders, you have to admit these pinecone spiders by Fireflies and Mud Pies are pretty darn adorable. They are also great for halloween!
21. Wool Balls Pinecone Pom-pom Trees
Make these beautiful pinecone and pom-pom trees by The Wool Acorn with your preschooler and they'll love to show them off to everyone this winter! These pinecone trees are so much fun to make and during the holiday season they can even be turned into pinecone Christmas trees with glitter, ribbons and jingle bells!
22. Make a Red nose Reindeer Pinecone
Rudolph the red nose reindeer pinecone by Kids Craft Room is going to make your preschooler giggle and break into a spontaneous song.
23. Fluffy Pinecone Squirrel
This pinecone squirrel by Super Fun Kids Crafts is happy to keep his nut as close as possible.
24. Washi Tape Pinecone Turkey Craft Tutorial
Your preschooler is going to love making this washi tape and pinecone turkey by Craftaholics Anonymous
25. Large Eyes Pinecone Owl
This whimsical pinecone owl (unavailable) by Whimsy Love is an adorable addition to your fall decor.
More Fun and Easy Crafts Kids can do From Play Ideas
Which pretty pinecone craft are you going to do with the kids today?