Telling stories is a huge part of childhood, and so much more fun and easy with puppets.
These 25 Playful Puppet Crafts for Kids will help your kids come up with characters for their stories and stretch their imaginations.
Puppet-play is a great way for kids to get crafty and creative with characters. Creating these diy puppets can also be helpful in developing young kid's fine motor skills. Putting on puppet shows can be helpful in telling stories and language skills. Have fun!
Easy and Playful Puppet Crafts For Kids
1. Making Turkey Puppets out of Cereal Boxes
These turkey puppets by Plum Pudding are made from cereal boxes, kids will definitely love them! they are super easy to make, you just need some cardboard, markers, popsicle stick and scissors!
2. Five Little Farm Animal Puppets
Five little farm animals by The Idea Room went out to play…on your child's fingers (and thumb).
3. Classic Craft Paper Bag Puppets
These classic paper sack puppets by Kids Activities Blog are super fun and will tell amazing stories. yarn makes for great hair!
4. Cute Stick Crows Puppets
Cute Crow puppets by Kids Activities Blog are funny, easy, and great decorations for Halloween. these little guys can be made following only a few very simple steps and are a ton of fun! just look at their beak!
5. Fantasy Wiggly Stick Puppets
These crazy fantasy puppets (unavailable) by Crafts N' Coffee are wiggly, giggly, and full of silly fun.
6. Five Little Christmas Tree Finger Puppets
Five little Christmas trees by Simplistically Living on your fingers… The googly eyes truly make these glove puppets great, don't they?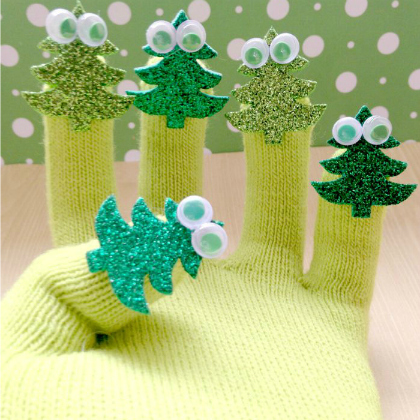 7. Easy Halloween Popsicle Stick Puppets
Wiggly Halloween stick puppets by Crafty Morning are easy to make and fun to play with the kids!
8. Itsy Bitsy Spider Hand Puppet
The itsy bitsy spider by Lalymom not only crawled up the spout but has four wiggly fingers to help his journey.
9. Adorable Made Kid Puppet
Your kiddo can draw their own character from Kids Activities Blog and turn it into a puppet with this easy craft!
10. Minion Finger Puppets
Minion fingers by Kids Activities Blog are up to no good…but boy are they cute!
11. Little Ghost No-Sew Finger Puppets
These ghost fingers by Kids Activities Blog are spooky fun…to play with!
12. Monster Finger Puppets
And for scary fun, check out these monster fingers (unavailable) by eHow. These are great for a Halloween costume, don'tcha think?
13. Easy and No-Sew Sock Reindeer Puppets
This easy no-sew reindeer by Happy Hooligans is a sock puppet anyone can make.
14. Make Paint Stick Funny Clown Puppets
Make these funny clowns by Kids Activities Blog using paint stir sticks. You'll have a silly great time.
15. Fun Paper Dragon Puppet
This dragon puppet by Ruffles and Rain Boots looks like he breathes fire, fly with his wings and can actually talk! this paper puppet is so much fun to make and is one of the coolest puppet projects!
16. Paper Bag Monster Puppet
Crazy monster puppets by I Heart Crafty Things made from lunch sacks are a fun way to get into the monster spirit.
17. Paper Bag Halloween Witch Puppet
And this witch puppet by I Heart Crafty Things has wiggly finger hair and will put a spell on you…with her cuteness!
18. Personalized Photo Finger Puppets
These personalized finger puppets by Still Playing School are a great way to let your kiddo tell stories about their own family.
19. Pipe Cleaner Finger Puppets
Make these super easy pipe cleaner puppets by One Little Project next time you have a rainy afternoon and want a fun, simple craft.
20. Printable Horse Finger Puppet
This printable horse puppet by Handmade Charlotte fits over a finger and can shake his horsey main.
21. Silly Shark Sock Puppet
How adorable is this sweet sock puppet by Kids Activities Blog? Believe it or not, he's also super simple to make!
22. Stickers Stick Puppets
Want to make some puppets but don't have much time? These puppets are made from stickers by Totally The Bomb! Smart!
23. Learn How To Make a Talking Puppet with the Kids
Learn how to make this talking puppet by Molly Moo Crafts. It might look hard, but it's really super simple.
24. Pilgrim and Indian Paper Bag Puppets
These paper sack Pilgrim and Indian puppets by Preschool Crafts for Kids are a great way to talk about Thanksgiving.
25. DIY Turkey Finger Puppet
Have even more Thanksgiving fun with this adorable turkey finger puppet by Handmade Charolotte. Because its made out of a piece of fabric its also comfortable and cute! Gobble, Gobble!
More Playful DIY Crafts for Kids From Play Ideas
Which playful puppet craft are you going to do with the kids today?