Send your kids back to school in style with these 25 Playful Pencil Topper Crafts for Kids. They'll have a blast showing them off to their friends and sharing them with friends who 'forgot' their own pencils.
Make going to school more fun and create great memories with your crafty kids with these. Happy Crafting!
These playful pencil topper crafts will be fun for your kids and all their friends!
Colorful Playful Pencil Toppers Crafts for Kids
1. Felt Heart Pencil Toppers
Send your kids to school with a smile with these happy heart gift pencil toppers by Kids Activities Blog.
2. Fun Monster Pencil Toppers
All the little goblins and ghouls will want these halloweenie pencil and pens toppers by Echoes of Laughter this year!
3. Arrow and Sheath Pencil Toppers
Hunger Games fans will go Katniss crazy for these arrow and sheath pencil toppers decorations (unavailable) by Popper & Mimi
4. Colorful Clay Pencil Eraser Toppers
You and your kids will have a blast on his birthday while making their own pencil clay erasers by E-How.
5. Pom Pom Kitty Pencil Toppers
Pom pom kitty toppers (unavailable) by Yarnspirations are purfect threads for your cat-loving kid.
6. Lego Pencil Toppers
Everything is awesome! Especially these awesome Lego pencil toppers antennas (unavailable) by Molly Moo Crafts.
7. Rainbow Loom Bands Pencil Toppers
Loom bands, loom bands by Make and Takes everywhere, and now your kids can top of the pencils with a matching pencil case!
8. Monsters University Pencil Toppers
Is your Monsters U by One Artsy Mama fan excited about school? Send them with Mike and let the cartoon fun begin.
9. Minion Loom Bands Pencil Toppers
Loom band Minion toppers by Loom Band are crazy fun to make and will make your Minions fan super happy. Have it in different colors!
10. Yellow Felt Minion Pencil Topper
More minions fun with this sweet and silly yellow felt Minion topper by Michelle Made This!
11. Fun Homemade Pencil Toppers
These fun toppers and markers by Quirky Inspired will slither up and down your child's pencil as they write.
12. Monster Heads Pencil Toppers
Monster heads pencil toppers (unavailable) by Waffle Flower make for great writing fun. Nothing scary here, except for the scary amount of fun your kids will have!
13. DIY Muppets Pencil Toppers
These Muppets are most wanted by My Sister's Suitcase…in your preschooler's classroom.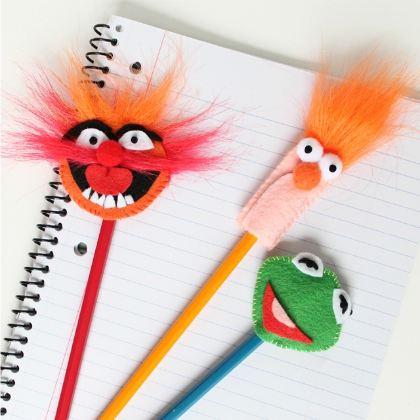 14. Olaf Pencil Topper
Thank goodness Olaf's inspiration by One Artsy Mama survived summer! Now his pencil topper can help your kids make school amazing.
15. Colorful Paper Mache Pencil Toppers
How awesome are these paper mache pencil toppers (unavailable) by Tiny Rotten Peanuts ? Add some beans and you can make music, cha cha cha.
16. Whimsical Pencil Toppers
Paper stickers make for adorable and whimsical pencil toppers by Ribbons & Glue.
17. Pinwheel Valentine's Pencil Toppers
Who says writing has to be all work? These playful pinwheels decoration by Momdot will give your child a smile every time they twirl.
18. DIY Pencil Toppers with Pipe Cleaner
Hand over that bag of pipe cleaners by Make and Takes and see how many fun toppers your kids can make on their own!
19. Pipe Cleaner and Pom Pom Pencil Toppers
Or mix the pipe cleaners with foam and pom poms (unavailable) by Texas Roadhouse and watch their imaginations really take off. These toppers are super cute!
20. Paper Rocket Pencil Toppers
These paper rocket pencil toppers by Goh Li Kim are going to help your child's grades soar.
21. Monster Pencil Toppers
Even math isn't scary with this scary cool monster topper (unavailable) by Creative Hands!
22. Fun Mushroom Pencil Toppers
These mushroom toppers by Scissors Paper Wok are perfect for any Mario fan, or anyone who's just a fungi.
23. Sugar Skull Pencil Toppers
Get ready for Dia De Los Muertos with these incredible and colorful Sugar Skull toppers by Look What Mom Found!
24. Dr. Seuss's Things Pencil Toppers
Dr. Seuss's Thing 1 and Thing 2 by Skip To My Lou promise to behave themselves while they accompany your child in the classroom…
25. Car and House Pencil Toppers
These adorable car and house toppers (unavailable) by One Crafty Mumma are easy to make and perfectly playful for that first day of school.
More Fun Pencil Topper Crafts To Enjoy From Play Ideas
Which of these fun pencil topper crafts are you going to try out with the kids today?