Have a project in mind but out of paint? Save yourself a trip to the store with these super fun playful paint recipes!
There are so many fabulous homemade paint recipes for kids to do! We have compiled a list of our top 25 Playful Paint Recipes. Some of these are even edible so your littlest ones can craft with you.
25 Playful Paint Recipes
Kids will love creating open-ended art projects with Kool-Aid sand paint. We love how it stimulates sight, touch, and smell!
Via Learn. Play. Imagine.

Get kids into the summer spirit and take the mess outside with this fun scented sidewalk chalk! You won't believe how simple this is.
Via Parenting Chaos

Encourage creativity and recycling with these vibrant liquid water colors.
Via Happy Hooligans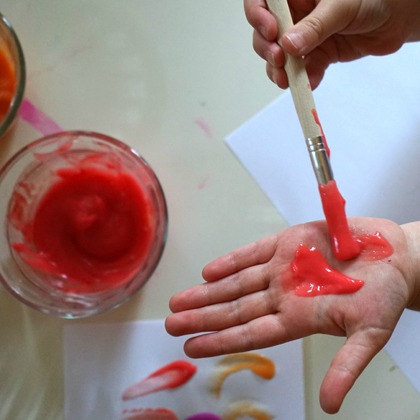 Short on paint? No worries! This simple homemade finger paint recipe is made from everyday home items and doubles as a super fun science experiment.
Via Tinkerlab

Wish your home cake with stained glass windows? Now it can! Create these washable window paints and let your little artist make you a mess free masterpiece.
Via The Imagination Tree

Curious about which puffy paint recipe works best? Then make sure to check out these four fun recipes and see if your family's results are the same.
Via Meaningful Mama

Are you in need of an allergen free solution? This all natural (no dye) finger paint recipe is free of the most common allergens…which also makes it a great paint for babies and young toddlers.
Via Fun at Home with Kids

Sensory play is a great way to get your children exploring the world around them and is a vital part of language development. Take your sensory play to the next level with these textured finger paints.
Via Parenting Chaos

Make bath time a blast with these simple bubble bath paints.
Via Simple Fun for Kids

Have a little one that is ready for food? Make meal time a chance for some creative learning with these edible infant finger paints.
Via Munchkins and Moms

We adore everything scratch and sniff and these scratch and sniff paints are no exception. This vibrant paint is bound to bring your child's creations to life.
Via Kids Activities Blog

Candy lovers unite! Just make sure you don't eat all your Skittles before making this stunningly beautiful (and great smelling) Skittles paint.
Via Mama. Papa. Bubba.

Starburst paint is another fantastic paint that is perfect for the sweetie in your life.
Via Learn. Play. Imagine.

Jello Pudding paint is the perfect excuse to play with your food.
Via Craftulate

Make bath time extra colorful with this wonderful bubble bath spray paint.
Via Mama. Papa. Bubba.

Sparkly, vibrant colors that just beg to be created with. These simple glitter glue paints are perfect for creating fun collages and are even super fun on their own.
Via Mama. Papa. Bubba.

Mix science and art with these brilliant ice paints. Kids will love exploring temperatures, textures, and consistencies while creating their masterpieces!
Via Messy Little Monster

This taste safe rainbow finger-paint recipe is the perfect boredom busting solution that is easy on the pocketbook.
Via Fireflies and Mudpies

Children will have a blast with making abstract creations while observing chemical reactions through painting with milk.
Via Babble Dabble Do

Edible toast paint is a lively way to brighten your mornings.
Via In the Playroom

You simply won't believe what these easy recycled paints are made of. As an added bonus, they will leave your hands feeling silky!
Via Tiny Tot Adventures

We are in love with these shimmering creations! This sparkly ice crystal paint is bound to melt your young Monet's heart, too!
Via Fireflies and Mudpies

Take your puffy paint creations to the next level with this super easy DIY glitter puffy paint recipe.
Via Frogs, Snails, and Puppy Dog Tails

Paint that explodes?! How fun is that! Kids will be amazed with this simple experiment of erupting baking soda paints.
Via Learn. Play. Imagine.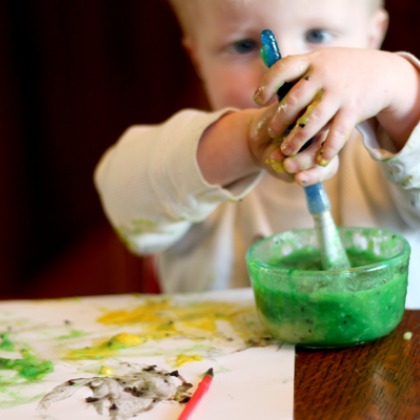 Edible fruit paint is a delicious solution to get younger kids creating without the worry of them eating their paints.