Working in clay lets kids be creative and expressive. They will LOVE these ideas!
Pinch pots have come a LONG way since I made my little birds back in elementary school. These 25 Pinch Pot Ideas for Kids will let you and your kids explore so many beautiful and creative pinch pot ideas together! They also make for amazing kid-made gifts, so have a blast! Enjoy!
These air-dried clay planters would make a great kid-made gift for anyone who loves growing!
Via Totally The Bomb
Believe it or not, two pinch pots were used to make this turtle. You're going to love how it's done!
Via Glynnis Lessing
These pinch pot Christmas trees are adorable and so rustic. I'd love these in my home.
Pinch pot bowls are colorful, and a great place to store little family baubles…keys, marbles, coins…
Know why this piggy is smiling? Because he's actually going to be a handmade piggy bank. And your kids can make him, too!
These pinch pot pets have as much personality as the kids who made them. So adorable!
Via Cassie Stephens
Your child can make pinch pot sculptures that are like the Sumerian statues.
Via Art Is Basic
It's so much easier than you'd imagine to make this large-mouthed pinch pot sea beast.
Via Emo Portfolio
This clay lotus is so zen and beautiful. Your kids are going to be so proud of their work when they make this one.
Pinch pots with lids give you a great place to tuck things away in shared bedrooms or maybe bathroom counters.
This hunny bear is scared you'll steal his bounty…which makes him all the more adorable.
Via Being Cr8iv
This pinch pot planter uses the plant as hair! Oh goodness, how fun is that!
Via HSES Arty Party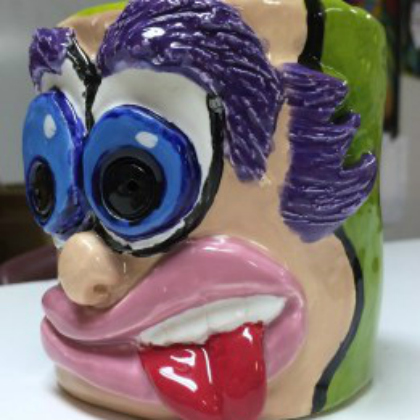 Make this silly faced pinch pot mug with your older kiddo's. I'm guessing this is one you'll be keeping for years.
Looks like this frog has his eye (and tongue) aimed at something delicious. How cute!
Via K-8 Art
This pinch pot fish is beautiful and would make a great addition to your living room mantle.
If you have a fairy fan in the house, this pinch pot fairy house is something they will Love working on.
Via Fun Art For Kids
Let your kids make an adorable sweet pinch pot treat with this super frosted cupcake.
Via ArtSonia
This little cow would be so cute in your kitchen, would she?
These pinch pot colored bowls are great to make with your kids, then use as sorting bins for color related games.
Via Hello, Wonderful
Your kids can come up with intricate designs for their pinch pot bowls and make lasting art you're going to love for years.
Via First Palette
These clay pendents look as beautiful as anything bought at the store, but they're entirely kid-made!
Via Artolazzi
How beautiful are these black and white designs on pinch pot clay?
Via Meet The Masters
This wide mouth monster is super adorable and super easy to make with your kids.
How sweet are these apple dishes? I can imagine making them for teacher appreciation week.
Via Amazon AWS
Doesn't it look like these pinch pot creatures are just waiting for you to rub their tummies?