Anyone who loves purple knows there is no better color around. These perfectly purple crafts for kids are so fantastic! Your kids are going to love playing with all this purple, and they going to go crazy when they see what other fun there is in store. Enjoy!
Fans of purple color are going to go fanatical for these purple crafts and surprises!
Fantastic Purple Crafts for Kids of All Ages
1. Make a Grape Painting Using Bubblewrap
Do your kiddos love eating grapes and making cool craft ideas? They are probably going to love these bubblewrap-created grape painting idea from Meet the Dubiens!
2. Masterpiece Using Different Shades of Purple
Does your preschooler love to blend colors? Check out this fun purple art activity from Splish Splash Splatter Art! This fab art activity lets your kids explore the different shades of purple!
3. Surprisingly Fun Purple Fizz
This purple fizz idea from No Time for Flashcards is going to surprise your young children… mostly because they won't see it coming, even in a classroom!
4. Purple Play Dough Out of Crayons
Did you know you can make purple play dough out of crayons? It's true! This purple playdough from Sugar Aunts is exactly what your kid's been wanting, and you couldn't ask for a prettier shade! Now that's some crafty purple crayon activities
5. Lovely Purple Fingerprinted Flower
This fingerprint flower art craft by Meet the Dubiens is lovely for spring and will look beautiful on your refrigerator or your kid's purple fan's wall as a decoration. This can be a finger-paint masterpiece! Simply beautiful.
6. Purple Falling Star Glitter Jar
Your kiddo will be very curious about this activity from Kids Activities Blog. Make this falling star glitter jar and look into the purple glitter abyss of the night…
7. Make a Giant Purple Crayon
Does your kid love Harold and the Purple Crayon? Now they can have their very own gigantic crayon to color with as they please with this easy tutorial from Meri Cherry! Color more purple things!
8. Grape Art Craft for a "Grape" Father!
This Father's Day, make a card with your kiddo! Follow this tutorial by Crafty Morning and let him know just how 'grape' he is! You can also do this on his birthday, and add a "grape juice" for him as well.
9. Draw Your Own Purple Dinosaur
This free printable doc from Blog Lovin' is fantastic! Why? Because it'll show your child step by step how to draw their very own purple dragon! Such a cute creature…
10. Precious Purple Flowers Made Out of Handprints
Handprint flowers are beautiful and such a great way to remember how little your kiddo was once upon a time! Thanks to Candice Ashment Art, those little hands are preserved!
11. Cool Purple Hippo
This purple hippo collage idea (unavailable) by I Heart Crafty Things is full of fun and whimsy! Your kids will love it! You can even make a purple cow out of purple paper, if you want to. Just glue different stuff together to make any purple collage!
12. Beautiful Purple Pinwheel
Pinwheel, pinwheel, spinning around! This homemade purple pinwheel art craft (unavailable) by Hub Pages will look beautiful spinning in your preschooler's room!
13. Cute Purple Bird Feeder
This purple juice box bird feeder craft by Red Ted Art is so lovely! Your kiddos will have so much fun watching the birds come to feed!
14. Cute Bad Minions Page Markers
Minions fans will love these bad Minion page markers by One Creative Mommy! Purple paper make them what they are. Are your kids Minion fans too?
15. Easy Purple Moon Sand
Purple moon sand is a blast to dig your kid's hands into! This awesome sensory idea from The Imagination Tree is made up of play sand, cornflour, water, purple paint, and glitters! Such a fun way to learn about our senses.
16. Draw Anything in Purple Goo Bag
Your kiddo will love drawing with this bag of purple goo for hours! A drop of red food coloring and a drop of blue food coloring will make this one so lively. This idea from Sensible Suggestions is the bomb!
17. Cute Purple Clothespin Butterfly
This purple butterfly art craft by Love to Laugh and Learn is fun to make and will look adorable hanging around in your little one's room!
18. Awesome and Cute Purple Cat Painting
Brown Bear fans have always had a special obsession with the purple cat, and now your kids can create their own! This lovely idea by Terrific 2's also preserves those little hands as a handprint! Totally a thumbs up!
19. Purple Flower Craft Made of Cupcake Liners
This lovely purple flower art craft by No Time for Flashcards is perfectly easy for kids of all ages to make year-round!
20. Cute Splashy Purple Octopus Art Craft
These purple octopus art crafts by Crafty Morning are playful and fun! It's so easy to make for kids of all ages too! Careful when cutting cardboard using the scissors!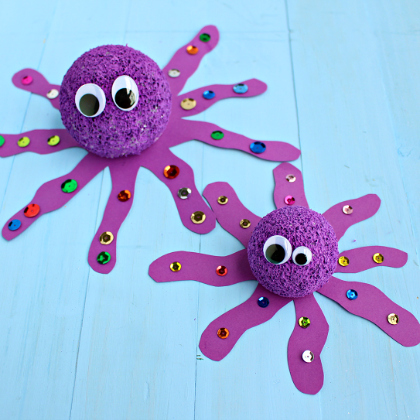 21. Crafty Purple Purse Made of Paper Plates
This purple purse craft by Preschool Book Club is going to be so much fun! It's made up of paper plates and fun to carry around by your kiddos! Add some sequins to make it more purply glittery.
22. Learn Shapes with Purple Flowers
Is your preschooler studying shapes? Make a purple flower while doing all that shape learning! This fun activity by Toddler Approved will put the fun in the dull afternoon! I love the color pastels in this combination so much.
23. Amazing 3D Purple Umbrella Card
This 3D purple umbrella card craft from Crafty Morning is super easy to make and will be such a surprise for your little one once it's made!
24. Make a Cute Octopus Out of Tissue Paper Roll
This purple octopus art craft from Kids Activities Blog will never last under the sea, but it's okay, because he's a huge fan of land! Your kiddos will love crafting this one from tissue paper rolls!
25. Lovely Purple Doll Made of Yarn
Can't remember what you were going to do with that giant ball of purple yarn? This is the ultimate purple yarn art! Make this purple octopus project by Free Baby Projects with it. Your kids will have a great time playing!
More Colorfully Fun Crafts and Ideas from Play Ideas!
Which perfectly purple craft are you making with your kids today?