These adorable and colorful owl crafts will keep your six year old occupied for hours.

Six year olds give a hoot about everything and that's why they'll love these 25 owl crafts picked out just for them. From real feathers to paint to supplies found outside, this is hootin' hollarin' fun that'll let your young grade schooler express their creative and colorful side…'owl' from the comfort of your kitchen table. Happy Crafting!
25 Owl Crafts for Six Year Olds
These tiny owls made out of acorns are adorable and super easy to make.
Via Curly Birds

This lunch bag owl might look threatening, but really he just gives a hoot about recycling.
Via Sweet and Simple Living

You won't be barking up the wrong tree when your kiddo makes this owl out of, well, bark.
Buttons, buttons, who has the buttons? This button owl!
Via Do Small Things With Love

Corrugated cardboard owls will be all the rage this fall.
Via Upcycle That

You'll never guess what was used to stamp this owl…oh, we'll just tell you…a celery rib!
Via Crafty Morning

Colorful owls made out of paper plates are super cute and will be super fun for your six-year-old to assemble!
Via I Heart Crafty Things

Have you been gathering corks for a while? Put them to use with these sweet cork owls.
Via Happy Hooligans

'Owl' suggest you don't make cupcakes with these papers after your kiddo uses them for crafting owls, but, hoo would want to?
Via Parents

Professionally crafted work of art, or paper traced onto foil? This foil owl is amazing and you won't believe how easy he is to make.
Via Make It…A Wonderful Life

These owls have to hand it to you…this is crafting creativity at it's best.
Via Emma's Diary

Don't you just heart owls?
Via Housing a Forest

What should you do with old jar lids once you're done with the jars? Why make owls out of them, of course!
Via Crafts By Amanda

These cupcake paper owls are as silly as they are adorable. You're kiddo will hoot with laughter when they make them.
Via Kids Activities Blog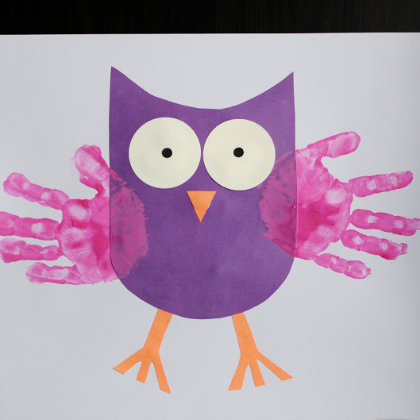 Jazz wings? Yes, and this cool owl is all about style, too!
Via Meet the Dubiens

Spare buttons? Time to make some button owls!
Via Learn Create Love

Your six-year-old will love this owl pencil topper for when they work on homework.
Via Speedy Creativa

This paper cup owl is amazed at how crafty you and your kiddo's are.
Via Parents

Snow owls like to give big paper plate owl hugs. Aww.
Via I Heart Crafty Things

Owls made from pinecones are a perfect way to craft and explore the great outdoors.
Via Lia Griffith

Psst. I have a secret…these pom-pom owls are stinkin' cute. Okay, so it wasn't a big secret.
Via Craftster

Potato stamp owls will stamp their way into your child's creative heart.
Via Crafty Morning

How do you teach recycling and crafting at the same time? With a recycled materials owl pendent.
Via Small Hands Big Art

Toilet paper roll owls are way easy to make and 'owl' bet you don't just make one.
Via Centsible Life

Leftover plastic egg? You should make a tissue paper egg owl with it!