Spend some colorful time outside with these fun activities!
Get ready for amazing fun under the sun with these 25 Amazingly Outrageous Outdoor Activities For Kids! Bright colors, chalk play, bubbles, and all the messes that can be made will keep your kids outside and having a blast longer than you could ever imagine. Plus, most of it is homemade, so you won't have to break the budget for them to have a great time! Enjoy!
Use a water gun to create fun splash art that your kids will be proud to show off!
Create the ultimate calming experience using soap foam with this fun activity!
Via Teaching Mama
Use sidewalk puffy paint to make fun memories as your kids decorate the sidewalk in front of your home.
You won't believe how this chalk paint is made. Yes you will. It's made using recycled chalk!
Via Rhythms of Play
This homemade puffy paint is perfect for colorful outdoor play and outrageous 3D art.
This chalk drawing is amazing because instead of drawing, your kids use a pendulum.
This sticky foam sand is ooey gooey fun that your kids won't be able to wait to get their hands into.
Learn to make gigantic bubbles with homemade bubble wands!
Via Inner Child Fun
Homemade chalk is easier to make than you could imagine, and so much prettier than the chalk you find at stores!
Via Living On A Dime
Set your kids' imaginations on fire with this chalk nature painting.
Via Meri Cherry
Bubbly, fuzzy, fizzy rainbow slush is a great way for kids to get their hands messy, and create great process art.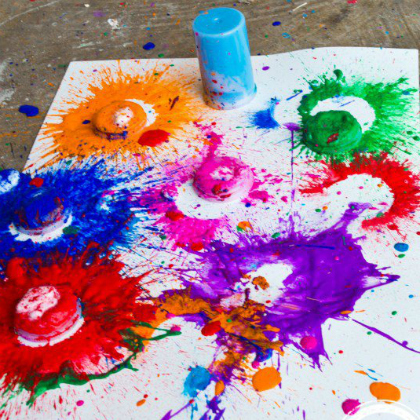 These exploding paint bombs are so much fun to make and play with! You'll want an afternoon just for this one.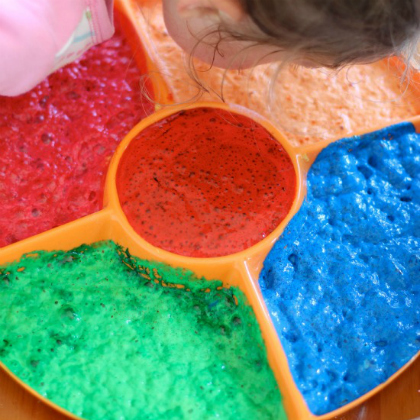 You won't believe how amazing this magic scented foaming paint smells!
Via Two Daloo
These floating chalk prints are gorgeous, and super easy to make!
Via Picklebums
Don't just draw with chalk; this erupting ice chalk lets your kids experience chalk on a whole new level!
Looking for a great upcycling project? This spool chalk table lets kids draw, and doubles as a table without hardly any extra effort.
Via Teach Me Mommy
After a hard day of play, what could be more fun than throwing shaving cream balloons at one another? Mix in some powdered paint for extra colorful fun!
Via Totally The Bomb
Sponge darts are a great way to play darts, without worrying about all those pointy tips.
Via The Seasoned Mom
These chalk rocks are fun to play with, and perfect for little hands to grip.
Make this paint powder using old chalk. It works great when added to bubbles, shaving cream balloons, and any other project you want to add a splash of color to.
This DIY sidewalk chalk is a fun way to let the kids create their own designs, and colors!
Via Project Nursery
This sidewalk chalk paint let's kids paint on the sidewalk in so many different ways that their imaginations are the only things holding them back.
Via Burlap & Blue
Amazing chalk eggs are fun to crack, to store chalk in, and are great for drawing.
Or you can make chalk bugs that are so much fun to play on the sidewalk with.
Via Finding Zest
This bubble snake will ooze feet upon feet of bubbles for as long as you want to blow! Add chalk powder to make the bubbles colorful.