Looking for awesome no-sew cloth crafts for your kiddo? We got you! These creative no-sew cloth crafts are perfect for any parent and kids who can't (or doesn't want to) sew!
Here are no-sew cloth activities perfect for all you sew-free parents out there. Have fun!
Fun and Creative No-Sew Crafts for Kids, and Parents!
1. Cool Baby Doll Bikinis
Got a girl with cute dolls who want to go to the beach? Baby dolls need bikinis, too! This bikini idea by Doll Diaries is made out of napkins and perfect for a day at the beach!
2. Barbie Clothes Made of Washi Tapes
Your little girl may be bored with Barbie's wardrobe. This creative no-sew craft is perfect for your kids! Even your little one can help to make these Washi-tape-designed Barbie clothes by Stella 123!
3. Cute No-Sew Bunny from Old Socks
Bunnies must be an all-time favorite stuffed toy! Create your own bunny out of old socks and play Toss the Bunny with your kids! This no-sew craft idea from Canadian Family is a fun activity for any time of year.
4. Adorable No-Sew Caterpillar for Kids
This caterpillar craft from Love and Lollipops is cute and cuddly! What a perfectly easy and no-sew project for you and your little one to work on together!
5. Yummy-looking Cinnamon Rolls Craft
These no-sew cinnamon rolls craft by Inner Child Food looks yummy enough to eat! You and your kids will surely love making these! Just don't let them eat it, okay?
6. Cute No-sew Cloth Dolls
These adorable little cloth dolls by Babble Dabble Do are fun to make! Your child can make each one as unique as the person who is making it! Plus, it's so easy to make with 100% no-sewing activity!
7. Super Cool No-Sew Dinosaur and Volcano Play Mat
Your little boys will have so much fun with this craft by Fun at Home with Kids! The fun will erupt with this no-sew dinosaur play mat using felt cloth glue!
8. Cuddly No-sew Dolls Out of Cute Socks
Old socks will have more purpose when turned into art crafts! These little dolls by Craft Ideas for Kids are adorably cuddly and a hundred percent no-sew project for you and your kids on a rainy day weekend!
9. Make a Yummy-Looking No-Sew Donuts!
Time to make the donuts! Even though this no-sew donut activity from Inner Child Fun is made of cloth, your kids will still love playing with them!
10. Pretty Blossoming No-Sew Flowers
Want to add more color? These no-sew flower crafts by Scattered Thoughts of a Crafty Mom would be adorable on clothing, bows, or even as part of a pretend bouquet!
11. Go Anywhere with Felt Travel Boards!
Kids can't go out yet? Your kids can go anywhere and will enjoy putting their favorite place into a travel board! This felt travel board idea from Something is Done is 100% no-sew and fun for pretend play on the go!
12. Cute No-Sew Felt Finger Puppets
Make storytelling time more fun with this creative idea by The Idea Room! Give awesome storytelling time with these no-sew felt finger puppets!
13. Make a No-Sew Hopscotch and Have Fun!
Hopscotch can be played inside with this no-sew mat craft by A Girl and a Glue Gun! Your kids will have a enjoy creating, hopping, and skipping all day long!
14. Super Cute Horse Puppet
Your kids will surely say yes to another easy no-sew craft using socks! Would you like to know if this horse puppet by Ret Ted Art is difficult to make? This horse says, "Neigh!"
15. Make this No-Sew Portable Crayon Holder
Driving long hours? Your kids will love bringing along this cute, no-sew craft anywhere! This portable crayon holder by Small + Friendly is perfect for trips to the grocery store, restaurants, even time spent in the car! No more dull moment for your kiddo!
16. Easy Pillowcase Dress for a Cute Doll
Who says you need to sew to make a dress? A pillowcase is all you'll need to make this sweet baby doll dress by Terrell Family Fun! Your little one will surely love making the dresses! (Just remember to keep an eye on your kiddo, or else you'll run out of pillowcases!)
17. Make Pretty Princesses' Dresses from Felt
Does your little one love princesses? She can make countless no-sew princesses' gowns on their own (unavailable), with patterns from Fynes Designs! Get that felt cloth and glue out and start the fun!
18. Fun No-Sew Quiet Book for Babies
You can make this no-sew quiet book by Powerful Mothering for your little one! Your little one will adore this colorful and cute book, and made with love!
19. Cute No-Sew Sock Bunnies
You'll never run out of craft ideas with old socks! These adorable no-sew little sock bunnies by Brisbane Kids are super cute and a perfect craft to share with your kiddo!
20. Awesome Owl Craft Made Out of Socks
Our socks craft list goes on and on! Your kids will love making these super cute no-sew owls made of socks, felt, and buttons by Baby Centre! So much fun!
21. No-Sew Wand to Make your Wish Come True
If your one wish is for cloth crafts you don't have to sew, this no-sew wand by Lu Bird Baby is granting it! Your kids will surely love this craft!
22. Creative No-Sew Fox Masks
Looking for a no-sew mask for a costume party? These no-sew masks by Country Woman magazine are the best! Your kids will surely mix and match and enjoy creating these cool masks!
23. Awesome No-Sew Felt Wings for Kids
Make your child look like a colorful angel by creating these no-sew felt wings by Hello, Wonderful! Who needs feet when they have wings to soar?
24. Easy Socktopus for Your Toddler
The socktopus is coming! And he's cute! This no-sew sock craft by One Good Thing by Jillee is super easy for you and your kiddo to make together!
25. Cool Knight Tunics for Your Boys
The princess must be protected! Make these no-sew knight tunics by Chicken Babies for your little knights in the house! Your kids will surely love making and wearing them!
More Adorable Crafts and Activities from Play Ideas!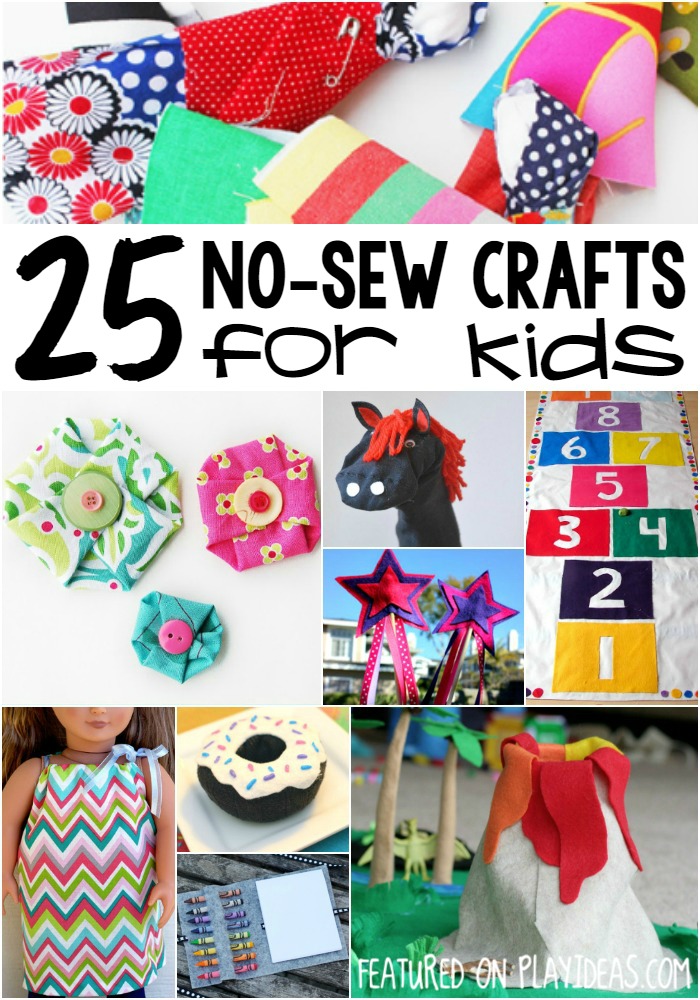 Which no-sew craft are you doing with your kids this week?