From whimsical to monster, pipe cleaners, foam, and felt, you and your kids will have a blast filling up the pencil jars with cute creation after creation. No more dull moments with pencils!
School is more fun with cute and unique pencil toppers for your kids! How many can you make? Happy crafting!
Cute and Creative DIY Pencil Toppers for Kids
1. Cute Apple Pencil Toppers for Your Kiddo
An apple a day keeps the bad grades away! These cute DIY apple pencil toppers ideas from Made To Be a Momma are perfect for your preschooler!
2. Colorful Bug Pencil Toppers from Pipe Cleaners!
Learning is more fun when matched with creativity! These cute pipe cleaner bug toppers crafted by Simplicity Street are a sure-go for kids of all ages to make!
3. Cute Canvas Flag with your Preschooler
These canvas flags pencil topper ideas from Momtastic can be customized in tons of different cute ways and your kids can stack them on their pencils!
4. Awesome and Creative Cat in the Hat Pencil Toppers
The Cat in the Hat is a favorite of almost every grade-school child, and this DIY pencil topper idea from Kid Things will surely make their day!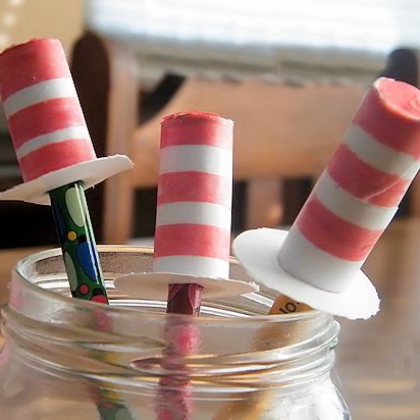 5. Adorable Chestnuts Pencil Toppers for your Kids
Instead of roasting, these chestnuts are doubling as adorable pencil toppers, thanks to Red Ted Art for the idea! Kids of all ages will instantly get hooked with this cute stuff!
6. Cute Clay Pencil Toppers for Your Preschooler
Let your kid's imagination soar with these clay pencil toppers idea from First Palette! Your preschooler won't say no to these cute DIY pencil toppers!
7. DIY Pinwheel Toppers are Perfect Gifts
How beautiful is this rainbow pinwheel topper? This pencil craft topper idea from Criminal Grace is definitely a fun gift for your kid's teachers!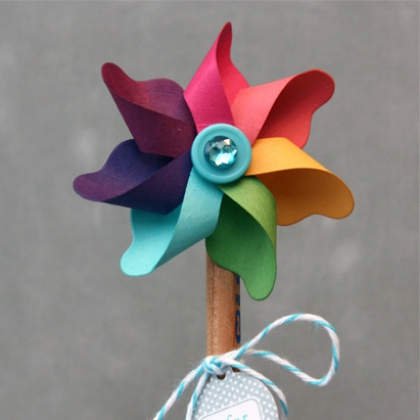 8. Cool DIY Conversation Pencil Toppers
These DIY conversation pencil toppers by Lalymom are super fun to customize! Your kids will love showing them off and even expressing their minds, by writing or by topper!
9. Make Your own Pencil Topper Design with DIY Pipe Cleaner
Tap your child's imagination and create as many pencil toppers as you can! How many different ideas can your kids come up with for pencil toppers using pipe cleaners idea from Club Chica Circle?
10. Cool Dinosaur Pencil Toppers
These dinosaur pencil toppers ideas from And We Play are roaring to get good grades! Your preschooler will surely want this cool stuff!
11. Sweet and Cute Doll Pencil Toppers
These sweet doll pencil toppers are cute to use and to display! Your little princess will surely fall in love in making these DIY pencil toppers from One Crafty Mumma!
12. Colorful and Fun Dragonfly Pencil Toppers
These cute dragonfly pencil toppers ideas by Atop Serenity Hill have wings made out of duct tape! This pencil topper is perfect for kids of all ages, of all genders!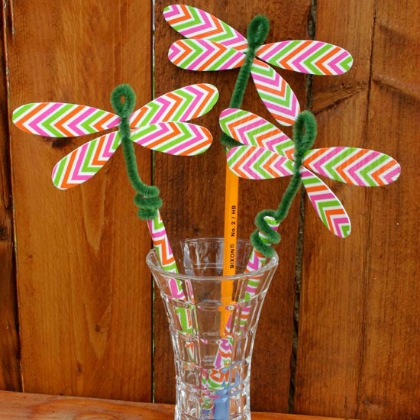 13. Elmo Pencil Topper for Your Preschooler
It might be Elmo's World, but your kids will feel like they can conquer the world with this super cute Elmo topper idea from Wine to Whine!
14. Make as Many Pencil Toppers as You Can with Foam Shapes!
Any bag of foam shapes has a million pencil toppers inside just waiting to be made! Let your kids pick their shape and follow this tutorial from Sturdy For Common Things!
15. Cover Your Kids' Pencils with Swirls of Cloth Felt and Magic!
How whimsical and lovely are these felted pencil toppers ideas from Bockfilz? Your preschooler will fall in love with so many swirly soft colors.
16. Get Some Foam and Dress that Pencil Up!
These foam pencil toppers ideas from Whimsy Love are easy to make, and will totally dress up any pencil. Your kids might not see the pencil immediately!
17. Cute Fringe Head Pencil Toppers
These crazy fringe head pencil toppers idea from The Long Thread will make even the most nervous kid smile. It's so cute your preschooler might just write with it all day!
18. Those Creative Google Eyes on Pencils Can See ALL!
The eyes have it! These monstrous see-everything pencil toppers ideas from The 36th Avenue are perfect treats for Halloween! Write with it and scare them!
19. Furry Pencil Toppers for Your Kids
Ever feel like you might just lose it all? Make these cute and crazy fur pencil toppers from We Made That! Your kiddos will love shakin' 'em up and watching their hair fly!
20. More Felt Pencil Topper Ideas for Your Kiddos!
These sweet felt pencil toppers from Whimsy Love are almost too cute to use…but definitely too cute to waste! Let your kids have fun creating these cute pencil toppers!
21. Wave Some Magic with Wand Pencil Toppers
Abracadabra! Easy A's all around with these wand pencil toppers from Treasures for Tots! Your kid will love waving it in the air and writing some spells!
22. Cute and Fuzzy Dr. Seuss-inspired Pencil Toppers
Does your Dr. Seuss fan kiddo want something fun and fuzzy? Check out these Truffula Tree pencil toppers from Under a Cherry Tree! Your kid will looove the fuzz!
23. Make a Variety of Pencil Toppers From Foam
More fun with foam and your preschooler with these cut-out shape pencil toppers from Parents! How many cute pencil toppers can your kids come up with?
24. Funny Pencil Squid Eraser Toppers
Tweens will go crazy for these funny little squid eraser toppers from Pink and Green Mama! These pencil toppers serve a dual purpose: design and erase!
25. Super Cute Pencil Critter Toppers
Critter pencil toppers from That's Life are a fun way to share a love of writing or drawing with your young creator! Your preschooler will fall in love with drawing and creating these toppers!
More Fun Craft Ideas and Activities from Play Ideas!
Have you chosen which pencil topper to do with your kids today?