Monkeys see, monkey do—monkey crafts are fun for the whole family! Here are twenty-five easy crafts for kids to enjoy that feature monkey and everything else that goes with them.
You're going to LOVE the monkeying around! Don't be surprised if you end up with an entire troop of monkeys running around your home when you start making these cute monkey crafts!
Bring on the shenanigans, crack yourselves up, swing by your toes and get your curiosity going! Enjoy!
FUN AND PLAYFUL MONKEY CRAFTS FOR KIDS
1. Climbing Monkey Craft
Ask your kids to help the monkey climb the rope (unavailable) with this fun craft. These are easy for kids to make and might climb some ropes too!
2. Printable Monkey Face Craft
How about cutting out shapes to make Hubpages' monkey face with your little ones? They will find it so enjoyable while learning different shapes too! Grab some brown construction paper, scissors, and glue and practice those fine motor skills when your kiddo make this monkey's head. Easy peasy!
3. Cupcake Liner Monkey Craft
Here are more fun monkey crafts to make with the little ones. Cupcake liner monkeys by Glued to My Crafts are as fun as, well, a barrel of monkeys! Add this to your list for your kids to make.
4. Clothespin Monkey Craft
How many monkeys are jumping on the bed? You can make Repeat Crafter Me's monkey pins and sing with your kids while taking the monkeys off one by one. Great monkey and math lesson in one!
5. Fingerprints Monkey Craft
Fingerprints make adorable monkeys by Crafty Morning. It would make fantastic cards for kids too!
6. Foam Cups Monkey Craft
Use disposable cups to make monkeys by Kids Activities. And add other zoo animals during your crafting time with your kiddos. You can use brown pipe cleaners for the monkey ears!
7. Footprint Monkey Craft
Want to save that footprint of your little ones? Make Fun Handprint Art's sweet monkey out of it!
8. Handprint Monkey Craft
Or use your child's hand to make it's cousin monkey by Crafty Morning! Or do both and just make a whole jungle of monkeys!
9. Heart Shape Monkey Craft
Kids of all ages will heart these heart monkeys of Housing A Forest! They're so lovable and sweet!
10. Paper Bag Monkey Craft
How about a paper bag monkey by Coffee Cups and Crayons that talks! Kids would love to chat with this little fella!
11. Ice Cream Monkey Craft
Want a treat to help you and your children with all that crafting? How about this adorable monkey ice cream cone by Kid Activities?
12. Letter M Monkey Craft
M is for Monkeys!Your kiddo's will love learning the letter M with Blessings Overflowing's googly eyed monkey.
13. Finger Puppets Monkey Craft
Make some felt monkey finger puppets by Not Just Cute. And your littles can tell stories with their monkeys anytime they want!
14. Monkey Hat Craft
What about Kix Cereal's monkey hat? Your kiddos can make, wear and goof around the house!
15. Monkey Mask Craft
Or Itsy Bitsy Fun's monkey mask that's printable and easy to put together. Your kiddo will love this one!
16. Pudding Monkey Craft
Need another fun monkey snack? Check out this pudding cup by The Keeper of The Cheerios!
17. Monkey Plate Shaker Craft
Make some monkey noise with kids for the Chinese New Year with this fun monkey shaker by Make and Takes!
18. Monkey Bird Feeder Craft
How awesome is this monkey bird feeder by Crafty Moods? It's just hanging around waiting for some friends — the birds and your kiddos!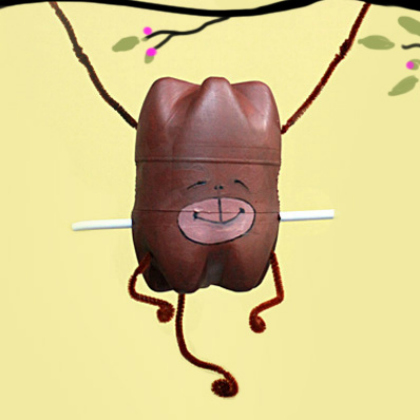 19. Paper Bag Monkey Puppet Craft
This puppet uses a paper bag and paper plate to create I Heart Crafty Things' cute and playful monkey! This fun craft can enhance your kiddo's imagination.
20. Paper Monkey Finger Puppet Rings Craft
Check out these printable paper finger puppets by Playdough to Plato. The children will play with this all day long!
21. Fuzzy Wire Monkey Craft
Ohh, how fun is this fuzzy wire monkey (unavailable)! I bet your older kiddos' could make a ton of these in no time.
22. Pom-Pom Monkey Craft
Or use some pom-pom's to create All Free Craft's climbing monkey. Your older kids will think that it's perfect for the jungle in your own home.
23. Square Felt Monkey Craft
This square felt monkey by Little Family Fun is adorable and super easy to make. The little ones can do this too!
24. Folded Paper Monkey Craft
Or check out these bendy-legged monkeys by Artsy Craftsy Mom. They speak, see, and hear no evil! Kids will enjoy goofing around with it!
25. Tissue Paper Roll Monkey Craft
Make J-Man and Miller Bug's paper roll monkey if you want a monkey that'll stand up on its own! Absolutely easy for children to make!
More Monkey Crafts & Fun from Play Ideas
What are your top 10 Monkey Crafts for kids?