Summer's in full swing, but that doesn't mean the treats have to be boring!
This summer, instead of serving the same ol' boring treats over and over, why not bust out recipes for 25 brand new homemade popsicles that the kids will love? These 25 Mid-Summer Homemade Popsicles For Kids are sweet, colorful, fun, and totally the best way to enjoy the rest of the summer with a smile firmly in place. Enjoy cooling off from the heat with berries, melon, and even candy, not to mention some surprisingly unexpected treats that'll make your kids cheer for more. Enjoy!
This polka dotted treat can't be beat! These blueberry and lemon popsicles are a little taste of summer, on a stick.
Surprise your kids with candy hidden in their popsicles! Next time they ask for sweets, give them something cooler than cool.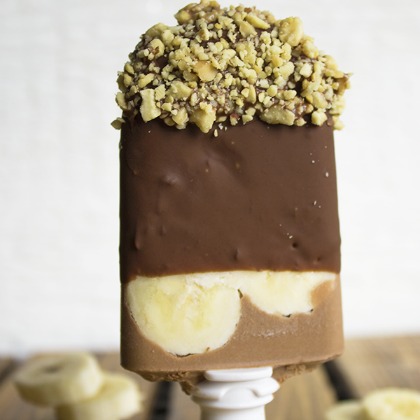 These chunky monkey pops are amazing and filled with sweet banana goodness and nutty flare.
Via Glitter N Spice
Or checkout these coconut kiwi treats. Beautiful, bright, and lickably delicious. Mmmm!
Messy kids love dirty treats, and these worms in dirt pops are deliciously disgusting.
Via Growing Up Gabel
Give those Monster High fans what they're really craving with these Draculaura pops!
Via Hallecake
All the fruit you can imagine can be found in these frozen fruit pops. Delish!
Via Popsugar
Forget complicated, these four ingredient fudge pops can be made in a cup with ingredients you already have. Yum!
Tart is the new sweet with these grapefruit pops.
Via Paper N Stitch
Or check out these key lime pops for a mature, yet playful taste of a classic.
Via Daily Digest
Want something fun, sweet, and super easy? Kiwi slices on a stick. Yup. Covered in chocolate and ready to nosh.
Via Showfood Chef
Or for something a bit more playful, here are some delicious Kool-Aid yogurt pops!
Breakfast is anything but boring when it comes to these bowls of cereal on a stick. Wow!
And for a classic taste that everyone loves, how about these orange dreamsicles. Amazing, am I right?
Via Oven Love
Or for the true ice cream fans, how about cookies and cream pops with a whole, real Oreo in the center of each one?
Can't make it to Disney this year? You can still have the Pineapple pops that make the snack shop so popular!
Or for kids with more mature palates, how about this pomegranate and greek yogurt popsicle?
Via The Kitchn
Rainbow pops are as fun as they are colorful, and these are no exception! Beautifully delicious!
Via Zoku
Girl scout cookie fans will go gaga for these Samoa popsicles. Mmmm!!!
How about some sour gummies on a stick? Tart, sweet, and a totally delicious treat.
Via A Mom's Take
Or check out these strawberry banana pops with a twist. The twist? You'll have to click to see!
Via Lost Garden
One of my childhood favorites are shortcake pops. Every time I hear the ice cream truck, I start craving them. And now I can make them at home!
Or for a healthier version, check out these strawberry and mandarine orange cream pops.
Watermelon, kiwi, and lime will make you pucker in delight with these fun layered popsicles.
Or for those who love the sweet without the pucker, here's a blended watermelon, strawberry, kiwi pop that's so sweet it can't be beat!