Night lights are a thing of the past!
Light up the night with these 25 Lovely Luminaries Kids Can Make. These lanterns, lights, and jars will not only give a little extra light, they truly are absolutely beautiful. With projects for all seasons, your kids can have a different luminary in their room whenever they want! Enjoy!
This colorful wax paper lantern is a bright and beautiful project for the younger kiddo's in your life.
Create these creepy house luminaries with bigger kids and you can display them all fall!
How beautiful are these epsom salt luminaries? Who knew salt could make something so colorful and gorgeous!
Via Play Eat Grow
Any fairy lover will love this fairy lantern. Bonus: it's super easy to make and would be a great kid-made gift, too.
Via Pixie Hill
These fall luminaries will bring the color and beauty of fall in to your home.
This faux stained glass luminary will brighten any room in your home and leave anyone who sees it smiling.
Via Crafts By Amanda
Make these simple glitter luminaries and you can give them away as gifts to anyone who comes to visit.
Via Elmer's
These fairy lights will brighten a room and ignite your child's imagination!
Via DIY Joy
Halloween lanterns are a little harder to make, but your bigger kiddo's would love showing off their final products.
Littles can make these spiderweb luminaries with very little help from you, and the make great Halloween decorations.
Recycle those old baby formula containers to make these jack-o-lantern luminaries.
Via Merriment Design
These leafy luminaries would look gorgeous in any room of your home this fall.
These simple mason jar luminaries are great for kids to make and will send sparkly light into your home.
Make these marbled tin can luminaries and hang them outside for a little extra light this fall.
Your younger kiddo's are going to love making these mummy luminaries as Halloween decorations.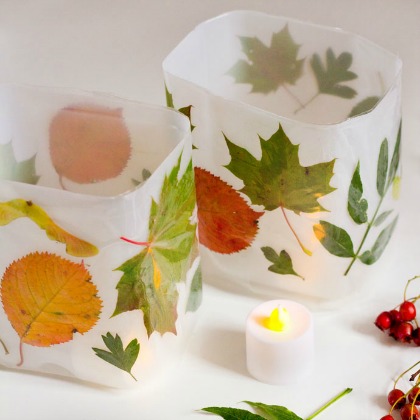 These beautiful leaf luminaries are a great indoor/outdoor activity to share with your kiddo's this fall.
Via Kids Craft Room
How gorgeous is this vellum luminary? It looks like something you'd buy at the store, but your kids can make it right at home.
Via DIY Or Don't
These pool noodle luminaries don't take much to make, but they're great for lighting up a backyard this fall.
These beautiful rainbow fish luminaries are fun for the kiddo's to create, and can be kept for years to come.
This winter, fill your home with these snowman luminaries and enjoy the weather outside from the inside.
Via Chica Circle
This gorgeous Christmas township would make a breathtaking kid-made gift for family or friends this holiday season.
DIY paper lanterns are easy to make and so much fun to show off to friends.
Via Lia Griffith
Your Star Wars fan will love these R2D2 luminaries. Maybe with a little ingenuity you can come up with C3PO, too!
Via DIY Candy
Bring the beauty of outside inside with this starry night luminary.
Work on those scissor skills with this tissue paper stained glass luminary. Your kids can cut the paper, and create this beautiful light all in the span of an afternoon.
Via Mom Spark