Your kids are bound to love these fantastic Under the Sea crafts! Find the perfect craft for everything from sea turtles to mermaids. If it lives under the sea you'll find a fun craft here!
Whether is summer, shark week, or just any plain old time of the year, if you're looking for a fantastic ocean craft you'll find it here! Find crafts for mermaids, sharks, sting rays, fish and more! Don't miss out on these 25 Incredible Under the Sea crafts for kids. 
Recycle paper cups to make a fun fishing game! Your kids will have a blast making the coolest, most colorful creatures in all the deep blue sea, and then playing with them for hours and hours afterwards.
This Recycled Whale Bottle craft is so simple and perfect for kids of all ages. You can easily use materials you find around your house to put together this incredible craft!
Via My Mommy Style
Turned old bottle caps into a darling Fish Scene! You won't believe how fun and simple it is to create with your kids.
This Rainbow Fish is so beautiful and simple to make. Just take some left over celery after snack time and some bright colored paints and have some fun stamping!
Via Crafty Morning
This Cheerio Fish craft is fantastic for your younger kiddos. Turn it into a counting activity while placing their cheerio scales on their fish…the kids will love it!
Via Crafty Morning
What an exciting way to use clothes pins. Your kids will love making chopping sharks with just a clothes pin and some scrap paper! How cool are these?!?!
Via Baby Center
Did you know cupcake liners make the perfect base for a kids fish craft? No matter if they are solid colored or patterned, regular-sized or mini-sized, you can create the most adorable ocean fish scene out of cupcake liners.
Create this darling Recycled Egg Carton Fish with your kiddos and enjoy using up some old materials around your house at the same time! This is a fantastic craft for your slightly older kids who are comfortable painting, pasting and creating!
Via Family Crafts
This egg carton turtle is both easy and fun to make – and seriously… an egg box does not get much cuter than this!!
Via Emma Owl
This foil fish craft is great as part of an 'under the sea' theme or as seaside art. The foil presents children with an interesting material to paint on and you can make a whole ocean full of their designs.
Via Nurture Store
This watercolor Goldfish craft is so adorable. It is really quite simple to create and will bring back so many memories of bringing home your first goldfish (or your kids first fish)!
Via Crafty Morning
Handprint crafts are some of the best! This simple handprint paper bag fish craft will give your kids something to add to their underwater adventures.
These gorgeous paper bowl jelly fish are simply fantastic. They are so simple to make and will add so much fun and color wherever you display them!
Via Red Tricycle
Make a gorgeous under the sea paper plate craft using natural materials collected at the beach! This is such a fun kids craft idea and is great after a family holiday or trip to the beach.
Popsicle sticks are fairly easy to find, inexpensive and even come in fun colors & different shapes/sizes. These beautiful mermaid tails are made out of some jumbo popsicle sticks and are perfect for kids of all ages.
If you have some Nemo and Dory fans, they are going to absolutely LOVE this handprint Nemo and Dory painting craft!
This adorable Recycled Toilet Paper Roll Octopus craft is so beautiful, simple and incredibly fun for kids of all ages to create.
Via Craft Day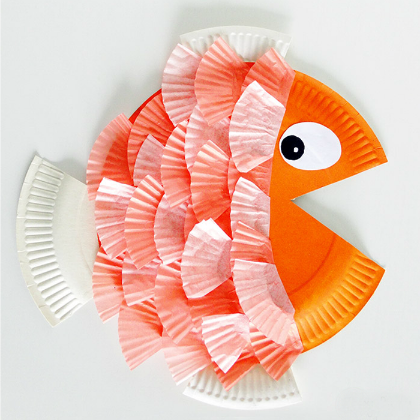 This Paper Plate and Cupcake Liner fish craft is great for kids of all ages. So simple, fun and totally creative!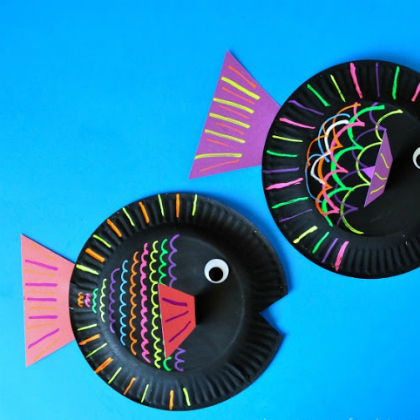 Get ready for a slew of fun with this amazing Chalk Fish Plate craft. The Fun Chalk not only adds fun, bright detail to the fish but it's a great way to make the craft more open-ended where kids can create a truly unique fish.
Are you and your kids dreaming of summer? Tropical fish are so vibrant and beautiful. These Paper Plate Tropical fish are a great way to add some color to your home or refrigerator!
Via Crafts By Amanda
This Under The Sea – Kid Craft is super simple, inexpensive AND completely customizable! The older kids will enjoy it and the younger kids will LOVE it!
This Puffer Fish craft is amazing and so brilliant. So simple kids of all ages can enjoy it and you are sure to love it!
Via Crafty Morning
There are so many things you can make with paper plates, but this Shark Plate is definitely one of the coolest. Just a paper plate, markers, and googly eyes and your kids will have a blast making their own unique sharks.
Kids love slime! This Ocean Slime activity is so simple and cheap to make. It is absolutely the perfect craft for hot summer afternoons or for rainy days.
Toilet Roll Crafts For Kids are the best fun for home or classroom crafting – so simple, so quick and so at hand! In less than 30 minutes your kids will have these Wiggly Octopus friends of their own to play with.