Nobody wants to get sick. Especially kids! As soon as they catch a few flu symptoms like fever or high fevers, cough, vomiting, diarrhea, stuffy nose, loss of appetite, and or aches they go from being happy and playful to sad and down.
As soon as the flu season comes in and any virus or bacteria digs in, consider these sick-day illness essentials a "parent's toolbox" to help sick kids feel better sooner.
Check out these ideas to help your little sick child feel better the soonest!
Helpful Ideas To Make Sick Kids Feel Better
1. Sick Day Playdough
This sick day playdough from Kids Activities Blog will give your kids something to play with, with a little essential oil boost in cool-mist humidifiers!
2. Boo-boo Boredom Buster Activity
B is for a boo-boo, and bandaid, and this activity from Blog Lovin' will be the perfect boredom buster for your babies. Pediatrician approved!
3. Comforting Chicken Meatball Soup
Tuck your kiddo in for some nice chicken soup with meatballs and they'll feel better in no time. A good alternative for decongestants since kids can really smell the soup aroma. Good for nutrition too! Get the recipe from Totally The Bomb!
4. Band-Aid Fireflies Craft
Who knew band-aid fireflies medicine was so beautiful? Fun, relaxing activity from I Heart Crafty Things!
5. Dry-Erase Drawing Book
Make your own dry erase drawing book and your kiddos will have a blast drawing on their family while feeling under the weather and pillows! Such a smart idea from All For The Boys!
6. Colorful Calm Down Bottles
Calm down bottles help kids cool it when they need to chill and relax for a little bit. Make this fun bottle idea from Mess For Less!
7. Vegetable-Fruit Smoothies
Make these vegetable and fruit smoothies for an antioxidant punch and prevents dehydration! An oral rehydration solution and alternative for cold medicines. Check out the recipes and instructions how on Lemon Lime Adventures
8. Homemade Stethoscope
This homemade stethoscope craft by Science Sparks lets kids listen to your heart but well it doesn't sense any serious illness – it actually works! 
9. Fun Sticker Book
Need an activity in a pinch? This sticker book idea from Childhood 101 uses stickers from the junk drawer to keep them busy. Try medication puzzles and board games too!
10. Homemade Ice Pack
This homemade ice pack from Pink Oatmeal is a great ibuprofen remedy for boo-boos, and doesn't get so hard that it hurts!
11. Nice Warm Bath
Sometimes all kids need is a nice lukewarm bath and cold popsicles prescription to help them feel better. Say bye-bye to sick days with this idea from Busy Toddler!
12. No-Sew Heating Pads
These no-sew heating pads from Unsophisticook are colorful and perfect for putting heat where your kiddo needs it most and putting infection and chills away!
13. Practice Patching Band-Aids
Practice band-aids let kids bandage their baby over and over! Nice activity from Glued To My Crafts!
14. Printable Germs Coloring Pages
Your kids will toast and love learning about germs and mold as they color this printable from Crystal and Co!
15. Doctor Role Playing
Your 'doctor' kiddo will have fun playing doctor with this homemade kit idea from Lesson Plans. Prepare the following medications in the list like a saline solution to clean wounds, vaporizer, acetaminophen, aspirin, Tylenol, Pedialyte, and a lot more!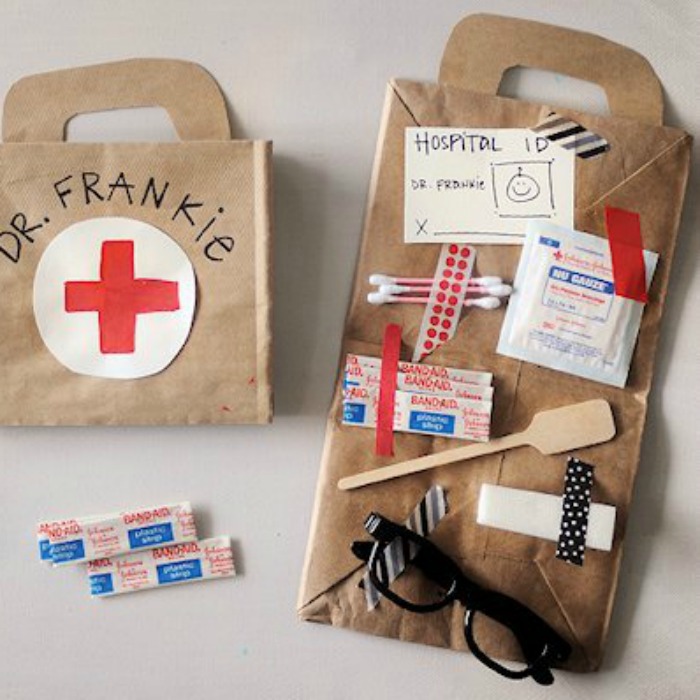 16. Sick Day with Dolls
No one wants to be sick alone. This activity from Doll Diaries will let you set up your child's favorite doll to have a sick day with them.
17. Bandage Letter Matching
Bandage letter matching is a fun learning activity for any sick day! have a fun learning day under the weather with this idea from Living In Happy Place!
18. Lovely Tissue Art
This beautiful tissue art idea from It's Always Autumn is both calming and colorful. It's also an easy project for kids who need some downtime.
19. Sick Day I Spy Jar
This sick day 'I Spy' jar by Ginger Casa will give your kids an activity they can do in the comfort of their bed.
20. Sick Day Slime
This soothing sick day slime by B-Inspired Mom has calming glitter and gives your kiddo something to relax with while they heal.
21. Sick Sensory Soup
Under-the-weather kids will love this sensory soup counter play by Healthy Mama Info. It's not to eat but has plenty of ingredients that'll clear the sniffles in no time.
22. Sleepytime Bath Bomb
A sleepytime bath bomb from Totally the Bomb will let your kiddos relax in the tub before they tuck into bed. Relieves congestion too!
23. Homemade Popsicle Sticks
This homemade popsicle by Love and Marriage is perfect for kiddos who have sore throats and needs plenty of fluids to cheer up!
24. DIY Hammock Under the Table
Need a little to relax, but they don't want to be in their room? Build a hammock under your table, like this one from House Of Kent!
25. Yummy Turmeric Gummies
These homemade turmeric gummies by Dear Crissy are packed with antioxidants and chewy goodness!
More Fun Crafts To Help Sick Kids Feel Better From Play Ideas
Which 'feel better' activity are you letting your little one do on their sick day?