Being sick is miserable. But when you're a kid, it's worse. Kids don't know that these aches and pains and more will go away with time, so they go from being happy and playful to down and sad as soon as that first sniffle hits. Consider these 25 sick-day essentials for under-the-weather kids a 'parent's toolbox' for helping your kids feel better faster. Take Care!
25 Ideas To Help Sick Kids Feel Better
This sick day play dough will give your kids something to play with, with a little essential oil boost.
B is for boo-boo, and bandaid, and this activity will be the perfect boredom buster for your babies.
Via Blog Lovin'
Tuck your kiddo in for some nice chicken meatball soup and they'll feel better in no time.
Via Totally The Bomb
Who knew bandaid fireflies were so beautiful?
Make your own dry erase drawing book and your kiddo's will have a blast drawing on their family!
Via All For The Boys
Calm down bottles help kids cool it when they need to chill and relax for a little bit.
Via Mess For Less
Make these vegetable and fruit smoothies for an antioxidant punch that'll perk them up.
This homemade stethoscope let's kids listen to your heart – it actually works!
Via Science Sparks 
Need an activity in a pinch? This sticker book uses stickers from the junk drawer to keep them busy.
Via Childhood 101
This homemade ice pack works great for boo-boo's, and doesn't get so hard that it hurts.
Via Pink Oatmeal
Sometimes all kids need is a nice warm bath and a nice cold popsicle to help them feel better.
Via Busy Toddler
These no-sew heating pads are colorful and perfect for putting heat where your kiddo needs it most.
Via Unsophisticook
Practice bandaids let kids bandage their baby over and over!
Your kids will love learning about germs as they color this printable.
Via Crystal and Co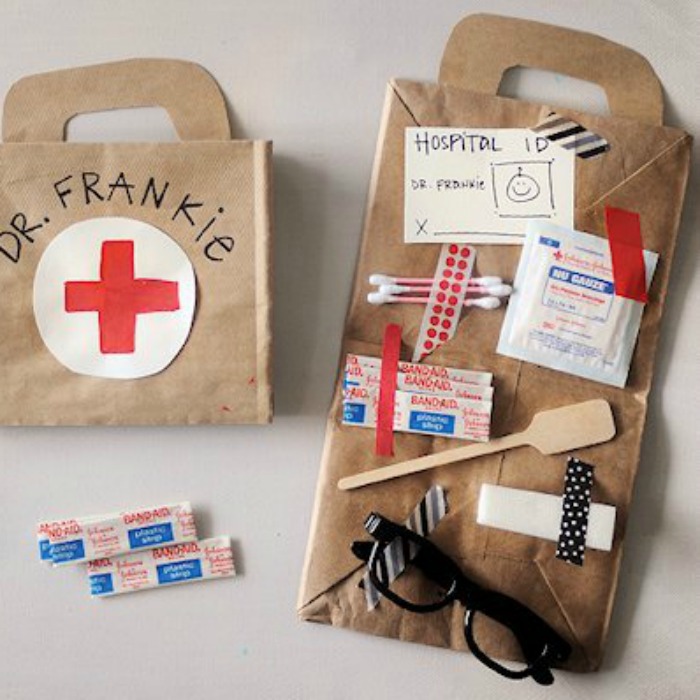 Your 'doctor' kiddo will have fun playing doctor with this homemade kit.
Via Lesson Plans
No one wants to be sick alone. This will let you set up your child's favorite doll to have a sick day with them.
Via Doll Diaries
Bandage letter matching is a fun learning activity for any sick day.
This beautiful tissue art is both calming and colorful. It's also an easy project for kids who need some down time.
A sick day 'I Spy' jar will give your kids an activity they can do in the comfort of their bed.
Via Ginger Casa
Soothing sick day slime has calming glitter and gives your kiddo something to relax with while they heal.
Via B-Inspired Mom
Under-the-weather kids will love this sensory soup. It's not to eat, but has plenty of ingredients that'll clear the sniffles in no time.
A sleepytime bath bomb will let your kiddo's relax in the tub before they tuck into bed.
Via Totally The Bomb
This homemade popsicle is perfect for kiddo's who have sore throats.
Need the little to relax, but they don't want to be in their room? Build a hammock under your table!
Via House Of Kent
Homemade turmeric gummies are packed with antioxidants and chewy goodness.
Via Dear Crissy