Baby mobiles are an awesome part of baby development…and they can be so fun to make!
Baby mobiles are the last thing baby sees before going to bed at night, and the first thing baby sees when they wake up. It's what shapes their imaginations when we are not around, so why would you buy a boring plastic one from the store? These 25 Homemade Mobiles for Babies are easy to make, super creative, and span everything from pretty to pure geekery. Give your baby a mobile they will truly love, and one that you'll love to make. Enjoy!
25 Homemade Mobiles for Babies
This sweet name mobile is easy to make and simply adorable. Baby will love staring up at this bear every day.
Via Petit Pippin

How much more apropos can a baby mobile be than a bird's nest with birds?
Via Apartment Therapy

This black and white shapes mobile will help shape baby's imagination and grow that little brain power.
Via Peek A Boo Pages

Not only is this fish mobile adorable, it's made out of recycled plastic bottles. Cute and sustainable!
Via NJ

If your nursery has a transportation theme, this sweet car mobile is right up your alley.
Via House Tweaking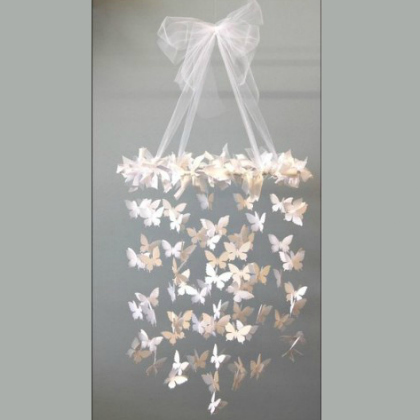 What baby wouldn't love staring up at this cascading butterflies mobile every night before they go to sleep. Sweet dreams, little one.
Via Heartland Paper

These felt stars are soft, colorful, and perfect for any baby mobile.
Via Homemade Gifts Made Easy

Sweet little birds swaying above their bed is what will make this bird mobile a favorite of your little one.
Via Pop Sugar

How much more awesome can you get than a mobile made out of plastic dinosaurs?
Via Project Nursery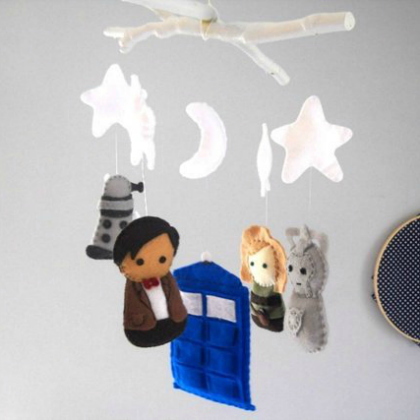 Whovians know how important it is to start their kids on the right track early…that's why this Dr. Who mobile is so fantastic.
Via Apartment Therapy

Are you a GoT fan? This amazing dragon mobile may not be the sweetest mobile around, but for uber fans it's exactly what they've been waiting for.
Via Krafty Kath

This cloth elephant baby mobile is as adorable as anything you'd find at a high end baby boutique.
Via Imperfect Homemaking

This Mario Bros mobile is the kind of old school gaming geekery that Mario and Luigi fans everywhere can appreciate.
Via Nerd Approved

This sweet felt mobile is colorful, soft, and sure to lull baby into restful, sweet sleep.
Via Handmade By Knottygal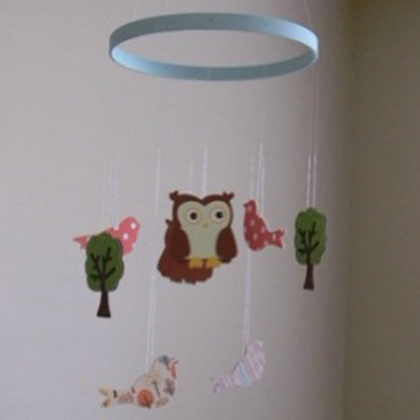 Owls are a favorite of littles and this owl mobile is perfect for your child's nursery.
Via Lakeitha Duncan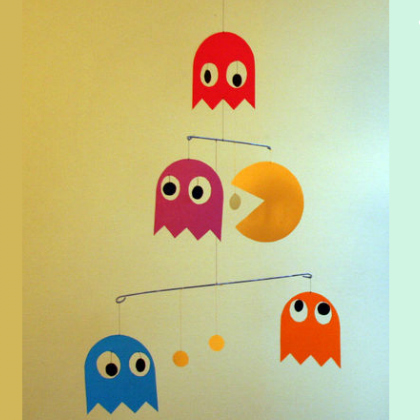 Pacman is chomping his way through your baby's room with this fun and fan-favorite Pacman mobile.
Via Instructables

Origami mobiles are perfect for anyone who loves the art and wants to give their baby a beautiful send off into the land of nod every night. Sweet dreams.
Via Modern Mantle

How amazing is this hot air balloon mobile with colorful raindrops? Something as amazing as this will be passed down through families for generations.
Via Happiness is Homemade

Pinwheels are lovely to watch in the wind, but now you can create a pinwheel mobile for your sweet little one to love.
Via Johnny & Ashley

These cloth pom poms are easy to make, and your baby will go gaga over them every time they see them.
Via First Time Fancy

This ribbon mobile was inspired by a much more expensive mobile, but as you can see if you dream it, you can make it yourself.
Via Between U & Me

Gorgeous roses hanging over a sleepy baby are what beautiful dreams are made of.
Via Project Nursery

This Sharknado mobile may not be suitable for every family, but for fans of the franchise there is nothing better.
Via Dollar Store Crafts

Star light, star night, planets and stars will help baby dream tonight. Also, you should totally include Pluto. You know. 'Cause.
Via A Girl And A Glue Gun

In a galaxy far far away a baby was tucked into bed and dreamed of a world full of Wookies and droids because of this awesome Star Wars mobile. Coolest baby ever.
Via Laughing Squid