Toddlers often have trouble eating vegetables. Make vegetables the star of your toddler's lunch with these healthy lunch ideas!
These recipes range from nuggets to tots to chips to muffins – foods for toddles already love, but with healthy ingredients, you will both enjoy!
Give your toddler a healthier version of the foods they already love!
Yummy and Healthy Lunch Recipes for Young Kids
1. Tasty Broccoli Poppers
Check out this broccoli popper recipe from Super Healthy Kids! Your tot is going to flip out when they try this incredibly fun lunch idea!
2. Broccoli and Grilled Cheese
This toddler-approved broccoli and grilled cheese recipe from Healthy Food for Living is too amazing for words. But your toddler is definitely going to say at least two: More Please!
3. Baked Carrot Chips
These baked carrot chips are a delicious and colorful substitute for regular fried potatoes, plus have amazing beta carotene and none of that fat from frying! Try this healthy recipe from Hub Pages!
4. Carrot Veggie Puffs
These delicious carrot veggie puffs from Sugar Aunts are fun to make and even more fun to eat. Try these on a weekend when the whole family is home 'cause every one is going to love this one!
5. Mac and Cheese with Cauliflower
This ah-mazing-looking mac and cheese recipe (unavailable) from Two More Minutes is hiding a cauliflower secret. Okay, the secret's out: it has cauliflower mixed into the cheese!
6. Cauliflower Nuggets
These cauliflower nuggets sound so amazing! Seriously, try this recipe from Ziplock and see if your kids aren't begging for it again all week long!
7. Chicken and Corn Nuggets
Delicious chicken and corn nuggets are great for dipping, for lunches on the go, and especially for toddlers who are convinced that nuggets are the only food they should ever eat…ever. Follow the recipe from Food For Tots!
8. Choco Avocado Muffin
Need something sweet to go with lunch? How about this amazing chocolate avocado muffin from She Bakes Here? It tastes so rich and delicious that you'll never want to make chocolate muffins without avocado again.
9. Cauliflower Tots
These cauliflower tots from Sweet as Honey are finger food that you'll be proud to serve your kiddos.
10. Homemade Chicken Nuggets
It's so hard to convince kids that fast food isn't the best stuff on earth. But these chicken nuggets by Super Healthy Kids will definitely give the double arches a run for their money.
11. Yummy Kale Chips
Love chips but hate the fat and calories? Start making your sweet little one these kale chips and start them on a path toward healthy living early! Get the recipe from Mom.me!
12. Mac and Peas Recipe
Mac and peas? Sure! Sweet peas make a great addition to mac and cheese and it's a great way to encourage your child to love veggies early! Make this recipe from Daily Garnish and see your toddler start to love veggies!
13. Chicken and Veggie Patties
Your child is never going to be able to tell the difference between these chicken, lentil, and vegetable patties and a plain ol' chicken patty. Not only is the texture the same, but they also taste fantastic! Clever and yummy recipe from Mummy Musings and Mayhem!
14. Zucchini and Carrot Bars
These zucchini and carrot bars by Creative and Healthy Fun Food are perfect for finger-feeding toddlers, and a great substitute for fried tenders or other fried foods.
15. Spinach and Turkey Meatballs
This spinach and turkey meatball recipe from Parents is perfectly bite-sized for those tiny toddler mouths, yet packed full of iron, protein, and a slew of other amazing-for-them flavors!
16. Tasty Tofu Nuggets
Your little nugget of joy is going to love these tofu nuggets from Mary Ellen's Cooking Creations! Try it to believe it!
17. Sweet Potato Chips
Does your little snacker have a major chip addiction? Make them these sweet potato crisps from Food for Tots and watch how quickly they convert.
18. Quinoa-Coated Chicken Nuggets
Not sure how to get your child to try quinoa? Make these quinoa-coated chicken nuggets from Creme de la Crumb and they'll be begging you for it!
19. Turkey and Lentil Meatloaf
Check out this mini-turkey and lentil meatloaf recipe from Iowa Girl Eats. Tiny for those tiny hands, and every bite has delicious healthy protein and vitamin-packed vegetables!
20. Banana Oatmeal Fingers
Need some finger food that's a sure crowd-pleaser? How about these banana and oatmeal fingers by Thrifty Fun? Your kids won't even know how good they are for them!
21. Cheese and Veggie Muffins
These delicious cheese and veggie muffins from Learn with Play at Home are savory and smell amazing coming out of the oven. Your child is going to beg you to make these!
22. Veggie-Packed Pizza Rolls
Does your tot love pizza? With these veggie-packed pizza rolls from Super Healthy Kids, they'll get a taste of their favorite snack jam-packed with nutrients they need!
23. Veggie Pancakes
Want to try breakfast for lunch? How about some pancakes that are made from veggies! This one from Happy Healthy Mama is a family pleaser!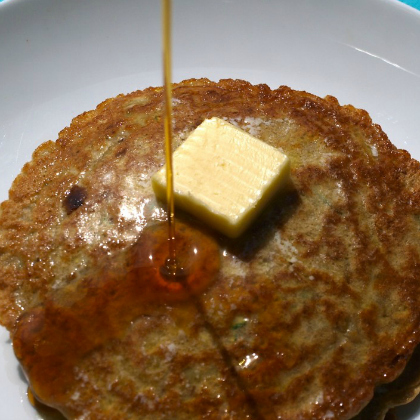 24. Crisp Veggie Pancakes
These veggie pancakes from Parents are crisp, savory, and perfectly finger-food-sized for your active toddler!
25. Cheesy Veggie and Rice
Your toddler is going to love this cheesy veggie and rice from Premeditated Leftovers. Every bite is packed full of veggies, but also just so many flavors!
More Fun and Healthy Food Ideas from Play Ideas
Which yummy and healthy toddler lunch recipe are you cooking for your little one today?