Healthy snacks are popping up everywhere!
These 25 Healthy Spring Snacks for Kids are perfect for giving your kids that little energy boost between meals to help keep you going through all of your fun spring activities. From snacks you can take to the park, to snacks that'll be perfect for those long days of cleaning, these snacks will give your littles the perfect combo of tasty and fun for their romp into sunny spring. Enjoy!
Peter Rabbit has nothing on this cute little apple bunny!
Via Kitchen Fun With My Three Sons
Buzzing bee pineapple snacks are chocolaty and delicious.
Via Meaningful Mama
Make this delicious rabbit food bento box for a snack on the go!
Via Meet The Dubiens
Cheesy rabbits are a perfect afternoon pick-me-up!
Rabbit print deviled eggs are delicious and cute as can be!
How about this fruity bunny? What a great way to snack and play.
Via Meet The Dubiens
Have a crowd? Give them all the little nibbles they'll want with this bunny platter.
Via Worth Pinning
Need something crunchy on the go? How about these snack bag butterflies!
Bring on the afternoon snack plate with this cheese stick and fruit butterfly.
These carrots look like they're growing right out of this cup of hummus! Delicious!
This sweet little buzzer is great finger food for those littler littles, and cute as can bee!
Via Kix Cereal 
No time to prepare? How about snack cups that look like baby chicks!
Via No Biggie
These chicky crackers are fun for a quick snack between lunch and dinner.
Via Meet The Dubiens
These chickie cuties are super sweet.
Via Kitchen Fun With My Three Sons
Prepare for time away from home with this carrot cutie bag.
Hot day? No problem when you've got egg popsicles.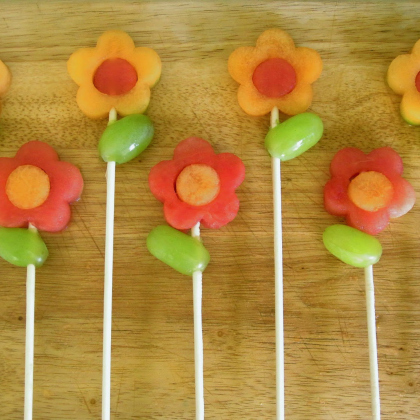 Fruit flower kabobs are delicious little bites of sweet.
'Lamb' sandwiches are so cute for those adorable little kiddos in your flock.
Via Parents
How about some peanut butter and cereal eggs for snacking on the go?
This bunny snack plate has fruit, veggies, dairy, protein – it's the perfect snack!
Give your kids a tiny bit of sugar with these peep kabobs.
Did you miss breakfast? It's okay! These chickie egg sandwiches are small enough to fill the tummies before lunch.
Via Kids Activities Blog

Ladybug strawberries are tasty and beautiful.
Via The Soccer Mom
Sweet potato bunnies are hopping delicious and a great alternative to chips!
Give your kids the bouquet of love they'll love with this veggie bouquet.
Via Eats Amazing