If your child's favorite color is green, you won't have to worry about mixing yellow and blue. These groovy green crafts for preschoolers have everything your kiddo could possibly want!
Make some green crafts with joy while learning about ccolors and letters. Let the fun begin!
If green is what they want, green is what we've got!
Creative and Groovy Green Crafts for Kids of All Ages
1. Fun Alligator Clothespin Craft
Your kids are going to want to snap up this alligator clothespin craft idea by Kids Activities Blog!
2. Apple Tree Made from Cupcake Liners
This fun apple tree craft from I Heart Crafty Things is a great way to play with cupcake liners and make fun art for your child's wall!
3. Groovy Bubble Wrap Snake
Break out the bubble wrap for this bubble wrap snake project from Crafty Morning! Your kids will get a kick out of rolling on the ssscales!
4. Chicka Chicka Boom Craft
If you haven't read Chicka Chicka Boom yet, you need to! This fun craft from I Heart Crafty Things is a great way to celebrate a classic children's book!
5. Christmas Minecraft Ornament
Minecraft ornaments are easy to make and this creeper idea from Totally the Bomb will look fantastic on your tree!
6. Green Cricket Craft
If you didn't get enough crickets over the summer, you should definitely make them in your home, like this one from Jenwa!
7. Green Egg Carton Shamrock
Glory be, this egg carton shamrock idea from The Pinterested Parent is a fine lookin' St. Patty's Day craft if I do say so!
8. Groovy Egg Carton Turtles
Your kiddo can use those egg cartons to make these green egg carton turtle crafts from Emma Owl!
9. Cool Frankenstein Suncatcher
Check out this Frankenstein suncatcher (unavailable) by From ABC's to ACT's! How cute will he be in your window this October?
10. Awesome Popsicle Stick Crafts
These popsicle stick frogs by Kids Activities Blog are easy to make and cute as a button! Just look at that tongue!
11. G is for Green and Grass!
G is for grass, and green (and groovy!)! Want to make it even more fun? Use actual grass when your kiddos make this craft by Hub Pages!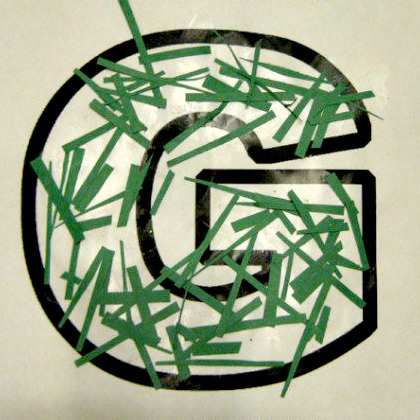 12. Coffee Froggy Stirrer
This green coffee froggy stirrer idea from Kids Activities Blog will hop into your kiddo's 'favorite craft' pile in no time!
13. Groovy Heart Frog
Your kiddo hearts are green. And they're going to heart this green heart-frog craft from Crafty Morning! So much to love!
14. Neat Leprechaun Frogs
These green leprechaun hats can be traded in with leprechauns for actual leprechaun gold! let your kiddos make this super awesome craft by The Resourceful Mama!
15. Minecraft Treat Bag
Don't use a pumpkin to collect treats! Your little Steve will want to use this Minecraft treat bag from Simplistically Living instead!
16. Cute Paper Bag Frog Puppet
This bag frog is a fun hand puppet that'll set your green-lovers heart all a-flutter! This craft by I Heart Crafty Things is made out of paper bags, by the way!
17. Cool Paper Plate Frog for Toddlers
Next time your kiddo wants to go bug hunting, make this green paper plate frog by Glued To My Crafts first!
18. Shopkins-Inspired Mask
This Shopkins-inspired mask by The Pinterested Parent is perfect for your green fan and such a cute craft for your kiddo!
19. Green Polka-Dotted Turtle Craft
Bring this polka-dotted paper plate turtle to life and watch your kiddo's eyes light up with delight! Plus, this green craft from The Resourceful Mama is super easy to create!
20. Awesome World Map Made from Pasta
Make a map of the world that is so awesome you could eat it up! This greeny pasta map idea from 123 Homeschool 4 Me will let your kids learn about our world one noodle at a time!
21. Green peas in a Pod Craft
If your kids are already peas in a pod, they'll definitely love this green craft from Little Family Fun!
22. Four-Leaf Clovers Made From Cupcake Liners
Your child can make these four-leaf clovers using cupcake holders you find in your cabinet! Lovely green idea from Crafty Morning!
You're lucky with these green clovers!
23. Green Crepe Paper Shamrocks
Green crepe paper shamrocks will brighten your room and bring you luck year round! Try this cute green craft by The Resourceful Mama with your kids for more luck!
24. Cute Tissue Paper Apple
This tissue paper apple craft by Blissful Roots is so much fun to make, your preschooler will love watching the colors bring it to life!
25. Cool TMNT Stick Puppets
These TMNT stick puppets by Kids Activities Blog are ready to fight baddies from the sewer to the penthouse!
More Colorful and Fun Crafts for Kids from Play Ideas
Which super fun green craft is the grooviest of all for your kiddo?