Need some spring nail ideas? We've got you covered!
These gorgeous spring nail ideas are the perfect way to show your blooming spring spirit. Show off those pretty nails with styles that stand out!
Have colorful spring hands this season with these nail art ideas! Fun fact: you can try these with your little girls too!
Colorful and Gorgeous Spring Nail Art Ideas
1. Cute Bear Nail Art
These nail art ideas from Glam Radar are so cute and you will love them so "beary" much!
2. Sweet Cupcake Nail Art
Is there anything sweeter than these cupcake nails from Heartnat?
3. Pretty Dandelion Nail Art
If you wished for pretty nails, these dandelion nails (unavailable) by Makeup Tutorials are wish granted!
4. Simple Dot Nails
There's dot a lot going on with these dotty nails, but that's what makes them special! Minimalist nail art idea by Lulu's!
5. Awesome Marbled Nail Art
This marbled nail art idea from Totally the Bomb are about as spring-tastic as they come!
6. Easter Egg Nails
These Easter egg nails by Hot Beauty Health are all cracked up, but they're still lovely!
7. Easter Bunny-Inspired Nails
These make me feel all warm and fuzzy, like a little Easter bunny! Such a cute idea from Totally The Bomb!
8. Sassy Fox Nail Art
What does the fox say (unavailable)? He says he loves your nails inspired by Divine Caroline!
9. He Loves Me, He Loves Me Not Nails
He loves me, he loves me not? He loves my nails, everyone loves this nail art idea from Websta!
10. Ducky Nail Art
These nails from Nail that Accent will make you feel just ducky (unavailable)!
11. Cool Ladybug Nail Art
Everything about this little ladybug nail art by Mademoiselle screams SPRING!
12. Squeezin' Cool Lemon Nail Art
Your main squeeze is going to love you in these lemon nails by Sieze The Nail!
13. Flower Nail Art
Pretty in pink? Definitely! Pretty in pink, blue, and peach? Absolutely! These flower nails by So Nailicious are pretty, pretty!
14. Pastel Leopard Print Nails
This pastel leopard-printed nail idea from Brit Nails is Totally going to be the thing!
15. Refreshing Grapefruit Lemonade Nail Art
Pink lemonade? Ahh, yes! You'll definitely be craving these grapefruit nails by Lulu's!
16. Lovely Daisy Nails
Daisy, daisy, show me your nails, please do! Such a lovely nail art idea from Being Genevieve!
17. Poppin' Poppy Nails
This poppy nail art by Paulina's Passions is preciously pretty and perfect for your poppin' spring style!
18. Groovy Spring Nails
These are the grooviest spring nails (unavailable) you'll ever see! Groovy nail art from Divine Caroline!
19. Colorful Raindrop Nails
These raindrops keep fallin' on my nails! So cute nail idea by So Nailicious!
20. Easy Rainbow Nail Art
There's a pot o' gold at the end of these rainbow nail art ideas by Totally The Bomb!
21. Adorable Scalloped Nails
These cute scalloped nails by The Crafty Ninja are perfect for spring!
22. Strawberry Shortcake Nail Art
Strawberry shortcake, banana split, you can make these nails on a spring! Cool nail art idea by Lulu's!
23. Tie-Dye-Inspired Nails
Can you believe this nail art idea by Nailuminum? It's tie-dye, man! Groovy!
24. Sunflower Nail Art
Can you get much more springy than bright yellow flowers against a pretty blue sky? You'll fall for this nail art idea by Wonderously Polished!
25. Lovely Waterfall Nails
These waterfall nails are dreamy! The pastel colors in this nail art idea by The Crafty Ninja go perfectly together!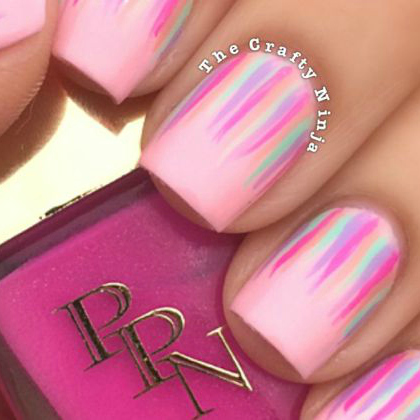 More Cool Nail Art Ideas for All Seasons from Play Ideas!
Which lovely spring nail art idea are you trying out this season?