Looking for a different look on your cookies because kids say they're eating the same thing? These 25 tricks on making funny decorated cookies for kids will surely be a big hit for a level up on your everyday snacks!
These are all time treats that kids will love over and over again. Kids love cookies, but plain ol' cookies get boring after a while. These 25 funny decorated cookies for kids are anything But boring! They're everything from crayons to pizza, mermaids Star Wars, and some Christmas themed ones! With directions any parent can follow, you'll be a cookie pro at your next playdate! Welcome to the world of 25 eye catching funny and decorative cookies you and your kids will surely love making and eating! 
These recipes are great for your little baker. Most of these recipes require an oven, rolling pin, a sheet of parchment paper, a large bowl or a small bowl, a measuring cup, a baking sheet and a whisk. for ingredients, food coloring (or gel food coloring), all purpose flour, egg, sprinkles and the usual dry ingredients required for cookies. there is also sugar cookie recipe which requires sugar cookie dough. They burst with flavor and are well worth the time investment!
Fun and Easy Homemade Decorative Cookies for Kids of All Ages
1. Holy Crab Cookies
Crabby crabs? I think not! These crab cookies look pretty happy to me! This treat for me takes you on the side of the beach. You can have a crab cookie cutter or be creative in another way.
2. Cute Round Shaped Angry Birds Oreo Cookies
Angry birds? No way! These Angry birds cookie are happy to bust through that defense. These are Oreo coated cookies and candies as decorations, how cool is that?
3. Awesome Darth Vader Cookies
These Darth Vader cookies are simple as a bell to make. For someone who loves Star Wars… you're in for some awesome cookie treat!
4. Colorful Crayon Cookie for kids Learning Colors
Colorful crayon cookies by are fun for those first day of school, back to school lunches! This is a great recipe to learn colors while having fun with treats, with endless choice of colors as you want.
5. Fabulous Butterfly Design Cookie
Watch these beautiful butterfly cookies bloom under your careful hand. It's made of royal icing. You can definitely make them with your prefered color!
6. Healthy and Fun Apple Cookies
An apple a day may keep the doctor away, but these beautiful apple cookies are perfect for teachers! You can definitely share these cookies with the important people in your life.
7. Exciting Fun Dory Themed Cookies Kids will Love
There's Dory! I found her! Perfect treat after a long play of hide and seek….what do you think? These are also great for themed birthday parties.
8. Easy and Fun Teenage Mutant Ninja Cookies For Kids
Here comes the Teenage Mutant Ninja…cookies Aren't they perfect for a party, along side with ninja turtle giveaways, fun games and costumes?
9. Tasty Silly Looking Easy monster Cookies
I'm not sure what these silly monster cookies are, but they sure look like they'll be fun to eat! On top of being easy to make you can create your own version of these silly monsters and…have tons of fun with your kids! Give them a vanilla glaze!
10. Yummy Cookies Shaped like Cookie and Milk
Want some milk with your cookies? How about cookies shaped like cookies and milk! A little confusing right.. but they sure make adorable treats!
11. Beautiful Creative Mermaid Themed Cookie
These beautiful mermaids are swimmingly adorable and fun for the little mermaid in your life. You can make them using Snowman cookie cutter. Add fun colorful icing decorations and viola!
12. Fishing Cookies
If you're fishing for compliments, these fishing cookies are the perfect lure. They make the cutest treats while or after fishing.
13. Kids Own Colored Cookie
These own colored cookies are cookies that your kids can color themselves and create their own designs. How fun is that! These are made from markers and are edible. You and your kids can enjoy coloring! Just grab a plain cookie and start the fun.
14. Pizza Pie Cookie
Cookies that looks like a pizza pie? This one is perfect for parties or friends! They may look like pizza but they sure taste cookie.
15. Awesome and Creative Ninja Turtle themed Pizza Cookies
Or these Ninja Turtle pizzas which are perfect for anyone who can eat a pizza by themselves. They make an awesome themed party or just a regular day having fun with one of your kids favorite movies!
16. Cute and Easy Pumpkin Cookies for your little ones
Pumpkin cookies are a perfect fall treat, and such a cute idea for bake sales! They make cute and fun treats for a 'Trick or Treat' activity!
17. DIY Awesome Rainbow Cookies
Or how cute are these rainbow cookies!? They'll make anyone's day a little brighter! They sure would make a lovely treat for your kids. So good you will be eating scraps off the plate!
18. Four Leaf Clover Yummy Candy coated Pretzel Cookies
Four leaf clover cookies? My lucky day and yours! These adorable leaf clover are pretzels coated with a green candy coating. You can definitely make them using a different color just for fun!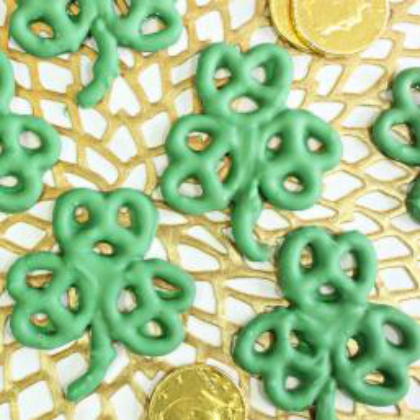 19. Lovable and Yummy Sheep Cookies for you Kiddos
Or let's show some love for Shaun the Sheep with these sheep cookies! Definitely nothing too bahhh about these. You need a flower cookie cutter for this one, not that hard as it looks right?
20. Penguin and Polar Bear DIY Nutter Butter Cookies
Have fun with winter and these adorable penguin and polar bear cookies. These are nutter butter cookies so all you got to do is add the black and white candy melts. Then you'll have these adorable penguin and polar bear cookies for your little ones!
21. Sweet Sliced Watermelon Cookies for kids of All Ages
Take a slice out of life with these sweet watermelon cookies! The seeds are dark brown chocolate covered sunflower seeds but you can definitely use black food marker as an alternative.
22. Smile Spreading Sunshine Cookies for your Sunbeams
Brighten anyone's day with a little sunshine cookie. They make a great gift to someone when you want to make them smile.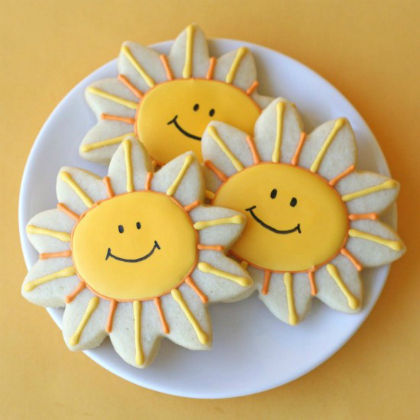 23. Santa Stormtroopers Cookies for Kid's Christmas Party
These Stormtroopers may not be able to shoot, but these cookies will certainly bring all the fa la la to your Christmas party. They are going to kill giving sweet treats for your Christmas celebration! These make for great Christmas cookies, and you can even use gingerbread to make gingerbread cookies!
24. Sparkling and Sweet Starfish Cookie
Starfish cookies are adorable and easy to make for anyone with cookie decorating dines! These cookie are dipped in royal icing and topped with sparkling sugar and candy eyes.
25. Cool and Yummy Chewbacca Cookies
Invite Chewbacca to your next party…in cookie form, of course! These cookies can be made using the Santa cookie cutter and you will just have to cut off the tip for the hat. There you have your Chewbacca cookies.
More Fun and Easy Crafts for Your Little Ones From Play Ideas:
Among the many fun cookie decorative ideas, which was your favorite?