Bring your child's inner paleontologist to life!
Even the tiniest tot has a thing for dinosaurs and all things ancient. There's just something magical about finding creatures who lived millions of years before we were even a speck, and more so finding fossils that still exist today. That's why the young paleontologists of your household are going to love these 25 fun fossil ideas for kids. They're twenty-five of the most brilliant ways you can think of to explore fossils, the concept of fossils, and even eat cookies while learning about fossils. Your kids are going to be agog at all these different ideas, and you'll love watching their brains expand. Enjoy!
Instead of just animals, and plants, why not make alphabet fossils for your kids to find!
Kids love to explore, so let them explore in the tub with this amber fossil soap. It's creepy, and totally fossilicious.
Or if they want to experience amber in the early stages (pre-fossil), you should try this amber slime.
Via Totally The Bomb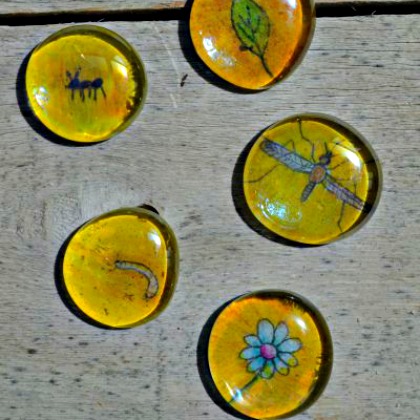 One last amber craft for the road? How about this mosquito in "amber" craft. It can be turned into a necklace, or kept in a safe place to show off to all their friends.
Via A Thrifty Mom
Want to see how animals are determined from fossils? This clay pressed fossils craft will show your kids exactly that!
Via Little Brick House Clayworks
And if you want some more realistic, sandy fossils, make these coffee ground fossils.
Via Crafts By Amanda
Littles might not enjoy exploring as much as they'll enjoy these colored leaf fossils.
Have a kiddo who wants hands on experience? Let them excavate their own dinosaur fossil with these tools and tips.
Via Paper Vine
Or they can use toys out of their own toy chest to create a dyno fossil excavation using their own imaginations.
Your kids are going to love this dinosaur tracks matching craft. It's like a craft and a game mixed together.
Create your own fossil rocks and let your kids break into them to discover what's inside!
These air dry clay fossils use materials you can find at any craft store, and will let your kids make fossils using toys from their rooms.
There are many ways to excavate dinosaurs, and this frozen egg excavation activity is a fun way for your kids to have a sensory experience and excavate at the same time.
Via Little Bins For Little Hands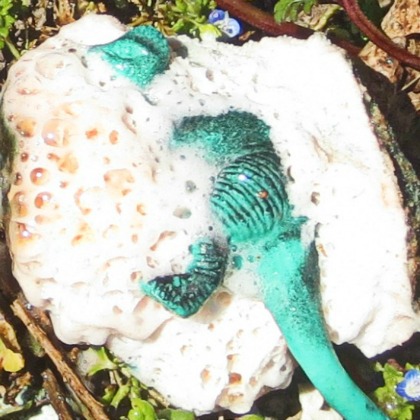 Another fun excavation activity is this fizzy fossil reveal.
Who says fossils have to all be dirty? These fossil cookies are fun fossils your kids can eat!
Via Makezine
Create this fun fossil necklace and your child can wear their fossil adventure wherever they go.
Via K-8 Art
Make your own fossils using play dough, and dinosaur skeletons out of your child's toy chest.
Sometimes excavating dinosaurs is about putting them back together. This toilet roll dinosaur activity lets your children use their imaginations to decide which dinosaur fossils they've uncovered.
Here's another great way to explore fossils: make a glue fossil.
Wash up from all that fossil hunting with this fabulous fossil soap.
These fossil casts are truly beautiful and will give your children an idea of what real fossils might look like.
Here's another realistic fossils experience. This one is made using plaster of paris and the casts come out so very detailed!
Via Broogly
For a less detailed, more fun approach, make some playdough casts. Your kids will have fun pressing their toys, squashing the fossil, and repeating.
This tabletop dig would be a fun fossil hunting experience for a party, or on days where the kids can't go outside.
Via DIY Ready
Check out these dyno bones fossils. You'll be surprised to find out what ingredient is used to give them this texture, but how cool do they end up looking!